INDIAN FOOTBALL TRANSFER NEWS 2019-20
REDEEM EXTENDS HIS CONTRACT WITH NORTHEAST UNITED
25.5.19:
NorthEast United extends the contract of winger Redeem Tlang for one more season. Redeem joined NorthEast United from Shillong Lajong last year.
"It feels great to continue with NEUFC this season after the historic run last year! We will be looking to do one better this year. "the player told the official NorthEast United after putting pen to paper.
MOHUN BAGAN SIGNED TOMASZ AS NEW ASSISTANT COACH, RETAINED 8 PLAYERS
25.5.19:
Mohun Bagan announced UEFA A and UEFA A Elite Youth Diploma holder football coach Tomasz Tchórz will be appointed as the assistant coach of Kibu Vicuña for the upcoming season of 2019-20.
27 year old Polish Coach Tomasz worked with Kibu Vicuna in Wisla Plock in last season for 19 games.
Meanwhile Mohun Bagan retained 8 players for the upcoming season. Players are -
Shankar Roy, Arijit Bagui, Sukhdev Singh, Bikramjit Singh, Gurjinder Kumar, Shilton D Silva, Britto PM, Azharuddin Mallick.
All these players contract have been extended to the 2019-20 season.
MOHUN BAGAN SIGNED ASHUTOSH AND DHANCHANDRA
24.5.19:
Mohun Bagan strengthen their central defense when they signed Ashutosh Mehta and Dhanchandra Singh in their squad.
Dhanchandra had a successful campaign with Mohun Bagan before he joined ISL franchisee Chenniyian FC. He was a important member of Mohun Bagan that won the I League and Federation Cup some years back. Dhanchandra joined Mohun Bagan from Jamshedpur FC where he was injured in the recently concluded season.
RANJAN CHOWDHURY JOINED MOHUN BAGAN AS ASSISTANT COACH TO WORK UNDER HEAD COACH KIBU VICUNA. RANJAN WORKED UNDER TREVOR MORGAN IN EAST BENGAL AS ASSISTANT COACH QUITE SUCCESSFULLY.
Ashutosh Mehta's inclusion in the Mariners squad is equally important. Ashutosh joined Mohun Bagan from Mumbai FC, played successfully both in ISL and I League. Ashutosh was an important member of Aizawl FC which won I League under Khalid Jamil.
CORO EXTENDS HIS STAY AT FC GOA
24.5.2019:
Ferran Coronimas extends his stay at FC Goa for one more season. Spanish striker Coro joined FC Goa in the 2017-18 season. He scored 18 goals for FC Goa in his first season of Indian Super League.
Coro played a integral part of FC Goa team in this season where they won their maiden Indian Super League title. Coro scored 16 goals in this season. He also have 12 assists so far in his ISL career.
SEIMINLEN DOUNGEL SIGNS FOR FC GOA
20.5.2019:
Kerala Blasters FC striker Seiminlen Doungel signs for FC Goa on a free transfer and will be part of the squad util 2021.
A JCT Football Academy product, Seiminlen Doungel started his senior career from East Bengal, then played for India Arrows, Shillong Lajong. Later he joined Bengaluru FC, Delhi Dynamos, NorthEast United and Kerala Blasters.
25 year old Manipur's striker have more than 50 caps in Indian Super League.
"Goa, as a team, have been consistently improving every season and playing a very good brand of football. I am looking forward to playing at Fatorda in front of the Goan faithful and I wish to win the Hero ISL with the Gaurs," the player told the official FC Goa website after putting pen to paper.
UTPAL GANGULY NOT TO CONTINUE AS IFA HONY SECRETARY
20.5.2019:
In a press meet held at IFA office Hony. Secretary of Indian Football Association (WB), Utpal Ganguly expressed his desire not to continue and participate in the next IFA Secretary election.
Mr Ganguly said that he is 74 years old and he wants to quit from his position. Utpal Ganguly was elected as the Hony. Secretary of IFA in the year 2007. He came in place of Subrata Dutta.
EELCO SCHATTORIE IS THE NEW COACH OF KERALA BLASTERS
19.5.19:
Kerala Blasters confirmed the appointment of their new head coach, Eelco Schattorie. Dutchman Eelco was the coach of NorthEast United in the last season of Indian Super League.
UEFA Pro License holder 47 year old coach Eelco have a huge coaching experience in middle east over 15 years. He came to India first in United SC of Kolkata, later joined East Bengal club.
"It is an honour to start leading this club back to glory. A club with the biggest fan base in Hero ISL should be entertained with a winning team. That's what we are going to try and accomplish with passion, teamwork and dedication at all levels. Let the journey start soon," the Dutchman said after his appointment.
Under Eelco , NorthEast United reached knock-out stage and lost against Bengaluru FC in semis. He will replace Nelo Vingada, who was appointed the Kerala Blasters head coach back in January 2019.
AHMED JAHOUH EXTENDS CONTRACT WITH FC GOA
17.5.19:
Moroccan defensive midfielder Ahmed Jahouh extends his contract with FC Goa for one more season until 2020.
CHENNAIYIN FC SIGNED EDWIN VANSPAUL
17.5.19:
Chennaiyin FC announced the signing of 26-year-old Edwin Vanspaul from I-League side Chennai City FC (CCFC) on a permanent move subject to transfer window regulations. Edwin joins Chennaiyin on a two-year contract from CCFC.
Local Tamil Nadu boy, Edwin moves to Chennaiyin after three seasons at Chennai City FC, with whom he recently won the 2018-19 I-League title. Edwin played in all their 20 league games in the previous campaign, starting in 19 of them, proving to be a vital cog in their title-winning wheel.
"I feel I have made the right move in my career, at the right time. I always believe that learning never stops and I look forward to learning more with my new teammates under Head Coach John Gregory. And having familiar faces around me like Sabir (Pasha) Coach, (Dhanpal) Ganesh and (Sinivasan) Pandiyan will surely help me. I am also waiting to connect with the fans of the club and repaying their support with good performances on the pitch," said an excited Edwin on his transfer to Chennaiyin FC.
Starting his career as a striker, Edwin has been deployed as a central midfielder, winger, right-back and left-back over the years. He played majority of last season with CCFC at right-back.
"Edwin brings versatility and experience to our ranks. He was a pivotal player in Chennai City's title winning side. And being from Tamil Nadu himself, he will be well aware of the responsibilities that come with representing a team from the state. We're truly delighted to have him on board," said Head Coach John Gregory on CFC's new signing.
Edwin began his career with a short stint as striker for the Food Corporation of India (FCI) team in the Chennai Football Association (CFA) Senior Division League in 2010. Impressed with what they saw, another CFA Senior Division side Indian Bank signed him shortly after, where his coach for three years was current CFC Assistant Coach Syed Sabir Pasha.
"I remember Edwin being a raw talent at Indian Bank. He has come a long way since then and has always showcased the eagerness to learn. He is a technically strong player and we expect him to hit the ground running," said Pasha on Edwin's arrival.
After Indian Bank, Edwin went on to represent semi-pro outfit Chennai FC before joining Chennai City FC in 2016. He cemented his place in the CCFC starting lineup, scoring eight goals in a total of 22 appearances over the 2016 and 2017 CFA Senior Division League campaigns. His three-year spell at the club culminated in an I-League trophy last season. Edwin also started in all the three games in CCFC's run to the 2019 Super Cup semis last month.
KEAN LEWIS EXTENDS HIS CONTRACT WITH BENGALURU FC
16.5.19:
Winger Kean Lewis signed a contract extension with Bengaluru FC until the end of the 2019-20 campaign.
"I'm very happy to have signed on with Bengaluru FC for another season. I was given the opportunity to play in several positions last season, which shows that the coach has faith in me. It gives me more chances to play, which was a key factor in my decision. Further to that, the team, the management, and the core of the club is intact, which bodes well for our chances of retaining the title and I'm really looking forward to that," - TFA Product Kean quotes after signing the one-year deal.
EAST BENGAL SIGNED MIDFIELDER NAOREM TONDOMBA SINGH
16.5.19:
East Bengal club signed midfielder Naorem Tondomba Singh from Neroca FC on a 4 years deal. Club announced officially today "In line with Head Coach Alejandro's special eye for young talent, Tondomba joins QEBFC on a permanent transfer for 4 years.".
20- year old midfielder, Naorem Tondonba Singh played for the Shillong Lajong FC Youth Academy and then the NEROCA U-18 before leaving to join Manipur State League side KLASA. He returned back to Neroca FC in last season.
He played 12 I-league matches for Neroca FC in the last season.
EDWARD ANSAH JOINED CHURCHILL BROTHERS AS THE SUBSTANTIVE MANAGER
16.5.19:
Former Ghana's goalkeeper and coach Edward Ansah has joined Churchill Brothers FC as the substantive manager.
Edward is the part of the Ghana's technical team at the 2006 and 2010 World Cups in Germany and South Africa respectively.
Edward played for Churchill Brothers for 5 years, from 1999 to 2004 and retired from here at the age of 41. He even played for Ghana where they won silver medal after losing in tie-breaker against Ivory Coast in 1992 African Nations Cup in Senegal.
His International Career as a Ghana's Goalkeeper is as follows -


Date 	      Home Team 	Away Team 	Result 	     Event 	
2003-06-22     Ghana	         Uganda	        1:1	     African 2004 - Group 13	
2003-06-13     Ghana      	 Kenya	        1:3	     Friendly	
2003-05-30     Nigeria  	 Ghana	        3:1	     Friendly	
1994-04-03     Ghana    	 Ivory Coast	1:2	     African 1994 - Quarter Finals	
1994-03-31     Ghana    	 Senegal	1:0	     African 1994 - Group D	
1994-03-27     Ghana     	 Guinea	        1:0	     African 1994 - Group D	
1992-01-26     Ivory Coast       Ghana	        0:0 (11:10)  African 1992 - Final	
1992-01-23     Ghana     	 Nigeria        2:1	     African 1992 - Semi Finals	
1992-01-20     Ghana    	 Congo	        2:1	     African 1992 - Quarter Finals	
1992-01-17     Ghana    	 Egypt	        1:0	     African 1992 - Group D	
1992-01-15     Ghana     	 Zambia	        1:0	     African 1992 - Group D	

DIPANDA DICKA SIGNS FOR SOUTHERN SAMITY
13.5.19:
Aser Dipanda Dicka finally signs for Kolkata CFL club Southern Samity. The prolific striker from Cameroon joined Southen Samity from Mohun Bagan. Dicka scored ten goals in the recently concluded I League for Mohun Bagan.
BENGALURU FC ADDED 2 ARROWS YOUNGSTAR
13.5.19:
Bengaluru FC added two Indian Arrows player, midfielder Suresh Wangjam, goalkeeper Prabhsukhan Gill ahead of 2019-20 season.
U-17 World-Cupper, 18 year old Suresh Singh Wangjam is a product of AIFF Elite Academy. he represented India in U-17, U-20 category. He played for Indian Arrows in I-League in last two season.
18 year old goalkeeper Prabhsukhan Gill is a youth product of Chandigarh Football Academy, later he joined AIFF Elite Academy. He played for India in U-17 category. He joined Indian Arrows as a back up keeper of Dheeraj Singh. Later after Dheeraj left, he become the first choice keeper to play for Indian Arrows and played 32 matches in last two seasons.
BLACK PANTHERS TO START PRE-SEASON ON JUNE 15
12.5.19: MSC Press Release
Newly appointed Mohammedan Sporting Club Head Coach Subrata Bhattacharya had a meeting with Club General Secretary Jb. Mohammad Qamaruddin, Football Secretary Jb. Sharique Ahmed and Team Manager Jb. Belal Ahmed Khan on Sunday evening at Club tent regarding the upcoming football season.
The Club has handed over a list of 25 players to the new gaffer. The list includes consistent performers from the previous season such as Priyant Singh, Kamran Farooque, Satyam Sharma, Prosenjit Paul, Arthur Kouassi, Balwinder Singh, Firoz Ali, Mohammed Amirul, Moniruzzaman Ansari, Asif Ali Molla and Safiur Rahman beside some new faces.
It has been decided that The Black Panthers will begin their pre-season training from June 15, 2019 at Mohammedan Sporting Stadium, which will be followed by a month long residential camp at Kalyani starting from July 1, 2019.
John Gregory extends Chennaiyin FC stay to 2020
11.5.19: CFC Press Release
Two-time Indian Super League (ISL) champions Chennaiyin FC are delighted to announce that Head Coach John Gregory has signed a new deal that keeps him at the club till the end of the 2019-20 season.
In his first season in India, John led CFC to a second ISL title in the 2017-18 campaign, thus helping them become the first side from the competition to qualify for the prestigious Asian Football Confederation (AFC) Cup. And despite a disappointing 2018-19 ISL campaign, Chennaiyin went on to finish as 2019 Super Cup runners-up last month and currently occupy top spot midway through the 2019 AFC Cup group stage.
"It truly is a great feeling extending my stay with the Chennaiyin family. My journey so far in India has really given me the whole range of emotions and experience, after the ISL title triumph in the first season followed by the disappointment in the same competition last season. And I feel I have some unfinished business here. The objective is to reward our loyal and unconditional supporters with a memorable AFC Cup journey and the chance to challenge for a third ISL trophy. We will all fight together and certainly come back stronger than ever before to achieve these goals," said the Englishman as he celebrates his 65th birthday with the contract renewal.
The success in his first season at the club along with the unity and togetherness displayed, especially during a difficult second season is largely down to John's ethos and philosophy as a leader. John was presented with the esteemed League Managers' Association (LMA) Special Achievement Award in May last year for becoming the first Englishman to win the ISL title. Then in July 2018 he was also awarded the ISL Coach of the Year trophy by the Association of Indian Football Coaches (AIFC) for winning the ISL in his first-ever coaching stint in India.
John and Chennaiyin went on to endure a disappointing 2018-19 ISL campaign, finishing in the bottom spot. But the troops also bounced back under John's watch and put together a memorable cup run, progressing to the 2019 Super Cup final where they lost by a narrow 2-1 margin to FC Goa.
At the same time, Chennaiyin made their continental bow under John's guidance in the 2019 AFC Cup. It has been a steady show so far with Chennaiyin currently in top spot midway through the group stage, with two wins and a draw. Chennaiyin have kept eight clean sheets in their last eleven games in all competitions and are yet to concede a goal in five AFC Cup matches, including the qualifying play-off round against Colombo FC earlier in March.
Chennaiyin FC co-owner Mrs. Vita Dani was delighted with the latest development. "John continuing to lead us is fantastic news for everyone associated with Chennaiyin FC. Despite a difficult ISL campaign, the team has displayed incredible resolve to turn things around in the Super Cup and now the AFC Cup under John's tutelage. His professional attitude and commitment to the Chennaiyin cause is exemplary. We look forward to a memorable AFC Cup run before fighting it out for a coveted third ISL trophy next season."
Youth continues to be given a platform to flourish and develop with John at the helm, as three players from the CFC youth teams – defender Hendry Antonay (U-18 & B team), midfielder Zonunmawia (B team) and winger Bedashwor Singh (B team) – were promoted to the senior team ahead of the 2018-19 ISL campaign. It is a trend that has continued in the AFC Cup campaign as well, with Hendry, Zonunmawia, defender Reamsochung Aimol (B team), forward Bawlte Rohmingthanga (B team) and goalkeeper Samik Mitra (B team) part of the CFC squad. The club's young talent continues to progress through the ranks, from the age-group teams right up to the senior team.
John's first challenge after renewing terms will be the club's first away AFC Cup group game as they take on Abahani Limited Dhaka at the Bangabandhu National Stadium in Dhaka, Bangladesh on Wednesday 15th May with kick-off at 6:30 PM IST. The team departs for Dhaka on Sunday 12th May from Kolkata; arriving there from Ahmedabad on Saturday.
SAHAL ABDUL SAMAD SIGNS CONTRACT EXTENSION
11.5.19:
Sahal Abdul Samad has extended his contract with Kerala Blasters till 2022. 22 year old attacking Midfielder joined Kerala Blasters FC last season.
BRANDON SIGNS CONTRACT EXTENSION
10.5.19:
Midfielder Brandon Fernandes put pen to paper on a contract extension with FC Goa until the end of 2021-22 season.
He joined Gaurs in 2017-18 season and being a important part of the team with his valuable assists and goals. He is also the part of the Super Cup 2019 winning squad.
"PROFESSOR OF TACTICS" ANTONIO VICUNA APPOINTED AS COACH OF MOHUN BAGAN
KFC NEWS DESK - 10.5.19:
Jose Antonio Vicuna appointed as the new coach of Mohun Bagan for the year 2019-20. Mohun Bagan followed the path of their arch rival East Bengal when they officially announced the name of the experienced Spanish coach at Kolkata today. Vicuna was appointed in place of Khalid Jamil who had an unsatisfactory performance in the recently concluded season.
Antonio Vicuna, is an experienced UFEA Pro Lisence holder Spanish coach worked successfully in European football circuit for years specially in Spain and Poland. He was associated with Wisla Plock a first division club of Poland before he join Mohun Bagan.
Antonio Vicuna was associated with youth teams of former La Liga club CA Osasuna and coached highly ranked Spanish footballers - Raul Gracia, Cesar Azpilicueta, Javi Martinez and Nacho Monreal. He earned the tittle Professor of Tactics and Master of Physical Preparation from Spanish football association.
Vicuna was one of the coaching staff which won the Polish League and the Polish Cup in 2012-13 . In 2015-16, he won the Polish Super Cup as part of the Lech Poznan coaching staff. He worked extensively as an assistant with Jan Urban, an experienced Polish coach who represented Poland in 1986 World Cup. He was an integral part of Legia Warsaw coaching team which was beaten in final playoff round of UEFA CHAMPIONS LEAGUE and subsequently played UEFA EUROPA LEAGUE group stage in 2013-14.
There were many coaches who were in the que to sit in the dugout of the Mariners. But finally Antonio Vicuna wins the race leaving behind Moroccan Karim Bencherifa, who had coached them before, Portuguese Paulo Menezes, former Gokulam Kerala head coach, Fernando Santiago Valera, head coach Lluis Planaguma and Astley Westwood the former coach of Bengaluru FC and ATK.
While interacting with the media during the announcement of new coach Directors of Mohun Bagan Srinjoy Bose & Debashish Dutta said, "We have spoken with Vicuna and he is happy and excited about the challenges of coaching in Mohun Bagan. Vicuna has the ability, knowledge and experience. He promotes young players and has a style and a way of working similar to ours. He has a philosophy of the game that is very much like Mohun Bagan's philosophy and is a hard worker. Also, he is passionate about applying advanced technology to both training and matches."
SHORT PROFILE OF ANTONIO VICUNA:

Club	         Appointed               In charge until           Position	  Matches 
Wisla Plock	18/19 (Oct 10, 2018) 	18/19 (Apr 3, 2019) 	Manager	           19	
FK Trakai	17/18 (Jun 18, 2018) 	18/19 (Oct 9, 2018) 	Manager	           15	
Slask Wroclaw	16/17 (Jan 5, 2017) 	17/18 (Feb 19, 2018) 	Assistant Manager		
Assistant Manager of: Jan Urban (41 Games)
Lech Poznan	15/16 (Oct 12, 2015) 	16/17 (Aug 29, 2016) 	Assistant Manager		
Assistant Manager of: Jan Urban (44 Games)
CA Osasuna	14/15 (Jul 3, 2014) 	14/15 (Feb 28, 2015) 	Assistant Manager		
Assistant Manager of: Jan Urban (27 Games)
Legia Warszawa	11/12 (May 30, 2012) 	13/14 (Dec 19, 2013) 	Assistant Manager		
Assistant Manager of: Jan Urban (80 Games)
Zaglebie Lubin	10/11 (Mar 10, 2011) 	11/12 (Oct 25, 2011) 	Assistant Manager	
Assistant Manager of: Jan Urban (24 Games)
Legia Warszawa	07/08 (Jul 1, 2007) 	09/10 (Mar 14, 2010) 	Assistant Manager		
Assistant Manager of: Jan Urban (91 Games)
CD River Ega	05/06 (Jul 1, 2005) 	06/07 (Jun 30, 2007) 	Manager	

Majority of his coaching career he worked as an assistant manager of UEFA Pro License coach Jan Urban
AIFF ALL SET TO APPOINT IGOR STIMAC AS THE COACH OF INDIAN FOOTBALL TEAM
9.5.19:
Croatian World Cupper Igor Stimac appointed as the new coach of Indian National Football Team. Igor, the central defender was in the Croatia World Cup Squad in 1998,which ranked third in the tournament. He played various clubs in Croatia as well as in English clubs like West Ham United and Derby Country. In his coaching career he managed Croatia national team and Zagreb Club. His last stint was in Qatar with Al-Shahania SC.
The AIFF Technical Committee headed by Shyam Thapa along with AIFF Technical Director Mr. Isac Doru, Vice-Chairman Mr. Henry Menezes, Mr. Prasanta Banerjee, Mr. Pradip Datta, Mr. GP Palguna, and Mr. Sundar Raman conducted detailed interviews with all the four shortlisted candidates for the post of the Indian Senior Men's Team National Coach – Mr. Hakan Ericson, Mr. Albert Roca, Mr. Igor Stimac, and Mr. Lee Min Sung .The Technical team forwarded their final recommendation to the executive committee of AIFF for the final decision.
Meanwhile Indian national football team will face off against Curacao (FIFA Rank - 82) in the opening match of the King's Cup on June 5.
DICKA IN TALKS WITH SOUTHERN SAMITY
9.5.19:
Aser Dipanda Dicka, the striker of Cameroon is likely to join Kolkata CFL team Southern Samity. Dicka played for Mohun Bagan in the last two season. According to the sources Southern officials are in talks with some important footballers of Goa along with Kaushik Sarkar, the central defender of East Bengal.
CUADRAT PENS NEW DEAL WITH BENGALURU FC UNTIL 2021
8.5.19: BFC Press Release
Bengaluru FC have reached an agreement with Carles Cuadrat to further the Spaniard's stay with the Indian Super League champions in a new two-year deal that keeps him with the Blues till the end of the 2020-21 season, the club announced on Wednesday.
Having taken over the reins from Albert Roca at the end of the 2017-18 season, Cuadrat – in what was his first stint as head coach of a team – led the Blues their sixth title in as many seasons when they beat FC Goa in the ISL final at the Mumbai Football Arena, in March, this year.
"I am delighted to continue my stay at a club that functions like a closely-knit family. I have spent three years at Bengaluru FC and the fact that I'm willing to add two more, is testament of how happy I am at the club and in the city. We achieved success last season and I would like to build on it. Importantly, we will be competing in Asia again and that's a challenge we are all relishing. All footballing reasons aside, the love and support the fans have shown me definitely had a part to play in my decision of signing on a new deal," said Cuadrat.
Cuadrat, who arrived at the club as Roca's assistant in 2016, took over from his mentor last year in what was a seamless transition. And while he kept the foundations that Roca laid, intact, Cuadrat brought his own ideas to the table that the dressing room were quick to credit as the reason the Blues got across the finish line in the ISL.
Under the Spaniard, Bengaluru became the first team in the history of the ISL to have won the title after finish on top of the table in the group stages. The Blues also boasted of an unbeaten record at home through the season.
Speaking on the deal, club CEO, Parth Jindal said, "After winning the Indian Super League last season and getting the team to perform the way it did, Carles attracted attention from a host of clubs in the country and even the continent, who wanted to secure his services. However, the fact that he has chosen to stay with Bengaluru FC is a fantastic testament to his belief in the project of this club and country, which is to put Indian football on the world map. He's turned down lucrative deals to stay with us, and that is a very encouraging sign.
Given his La Masia background, he has been the perfect mentor for the young Indian players and that is an important aspect for us at Bengaluru FC. I am certain we will enjoy more success with Carles at the helm."
SERITON SIGNS CONTRACT EXTENSION
3.5.19:
Seriton Fernandes put pen to paper on a three-year contract extension with FC Goa. 26 year old, right Back Seriton joined FC Goa in 2017-18 season.
FC Goa's star performer, Seriton played each of 21 games for FC Goa in the least season. Being a local lad he is also the fan's favorite player in FC Goa.
SUBRATA BHATTACHARJEE JOINED MD SPORTING AS HEAD COACH
3.5.19:
Subrata Bhattacharjee joined Mohammedan Sporting Club as the Head Coach for the upcoming season. The experienced coach of Indian football joined after Raghunath Nandy's term completed in the last month.
Subrata Bhattacharjee, one of the leading central defenders of the country was quite successful in managing clubs like Mohun Bagan, East Bengal and United Sports club of Kolkata.
MOHUN BAGAN SET TO APPOINT FOREIGN COACH
3.5.19:
Mohun Bagan is likely to appoint foreign coach for the upcoming season. This was stated in a press release today. According to the sources, Mariners are in discussion with the coaches who had an experience to work in India along with some experienced Spanish coaches who worked in Spain and in European football. In the press release Mohun Bagan mentioned that out of the five short listed coaches, three of them had an experience to work in India.
After David Robertson decided to continue with Real Kashmir FC for yet another year Mohun Bagan are in discussion with the British coach Astley Westwood. According to the sourcesh Mohun Bagan had a discussion with Astley who managed Bengaluru FC and ATK. But it is really a question now that who will going to be in the dugout of Mohun Bagan finally ?
KERALA BLASTERS ANNOUNCED THE SIGNING OF ZAYED
3.5.19:
Indian Super League side Kerala Blasters announced the signing of 17 year old midfielder Zayed Bin Waleed fo the upcoming season.
Zayed previously played for the Du LaLiga HPC U-18 Team in UAE. The du LaLiga HPC, led by UEFA pro-certified coaches from La Liga, is the official training ground for selected national players scouted through duFC.
ANTONIO HABAS RETURNED TO ATK
2.5.19:
ATK signed Antonio López Habas as the Head Coach for the upcoming season of Indian Super League. This was intimated by ATK in a press release at Kolkata. Habas was responsible for victory in the inaugural season of ISL in 2014 and lead the team to the semi-finals in the next edition at 2015.
While reacting Antonio Habas said, "I am very proud to be the Head Coach of ATK. I have always had the feeling that I will be back to train the team. I am sure that with the support of the fans, and us working together, we will get the recognition and the results that the club deserves. Success will be achieved when we aspire to compete hard and add to the professional growth of the club. Many thanks to ATK for showing their confidence in me yet again."
ROBIN SIGNS CONTRACT EXTENSION
2.5.19:
Jamshedpur FC is announced that Indian defender Robin Gurung extends his contract on a one-year deal.
On signing with Jamshedpur FC, Robin added, "I am extremely happy to continue my journey with Jamshedpur FC. Jamshedpur has been my second home and I am really fond of the city and its people. It's been an absolute honour to wear the badge of JFC for the last two seasons and I am looking forward to bringing a lot of joy to our fans. The management has been very supportive, and I am looking to start afresh this season. The dream is to win the ISL with Jamshedpur FC. "
DAVID AND MASON SIGNS CONTRACT EXTENSION
30.4.19:
Real Kashmir FC announced that father son duo of David and Mason Robertson have extended their contracts with Real Kashmir FC for one more season.
AUGUSTIN, PENA SIGNS CONTRACT EXTENSION
30.4.19:
Defender Augustin Fernandes has signed a one-year contract with Jamshedpur FC, which will keep him at the club until the end of the 2019-20 season.
Spanish Defender, Carlos Pena put pen to paper on a one-year contract extension which will keep him at the club for the Hero Indian Super League (Hero ISL) 2019-20 season.
27.4.2019: PRASANTA CHAKRABORTY - AFC 'A' LICENSE HOLDER AND EX INDIA SR TEAM PLAYER -- APPOINTED AS COACH IN IFA CFL PREMIER-A- SIDE RAINBOW AC. EARLIER HE COACHED TALTALA DIPTI SANGHA- POLICE AC LIKE CFL TEAMS..
ROMANIAN ISAC APPOINTED AS TD IN INDIAN FOOTBALL ------- CLICK
JAMSHEDPUR FC SIGNED JOYNER
26.4.19:
Jamshedpur FC announced the singing of Indian Central Defender Joyner Lourenco. Joyner played for Mumbai City FC in last season.
TIRI STAYS WITH JAMSHEDPUR FC
25.4.19:
Spanish defender Jose Luis Espinosa (Tiri) stays with Jamshedpur FC until next season. There have been many rumours regarding Tiri's departure in this season.
"After many rumours of amy departure to other clubs. I want to say that I have one more year of contract with Jamshedpur FC and I stay until the end of the season." - Commented Tiri.
HUGO RENEWS CONTRACT WITH FC GOA
24.4.19:
Moroccan attacking midfielder Hugo Boumous renews his contract with Indian Super League side FC Goa for 3 more years.
Hugo joined FC Goa in 2018 and played two seasons for FC Goa.
KEEGAN PEREIRA SIGNED FOR JAMSHEDPUR FC
24.4.19:
Indian defender Keegan Pereira joined Indian Super League side Jamshedpur FC for an one year deal.
Keegan played various I-League side like Mumbai FC, Salgaocar, DSK Shivajians and Bengaluru FC. He also played for various Indian Super League side Mumbai City FC, ATK, NorthEast United. In his career he won 2 I-League trophy, 2 Federation Cup, and one Indian Super League.
On signing with Jamshedpur FC, Keegan quoted to Jamshedpur FC official that, "I am looking forward to my new home Jamshedpur FC. I enjoyed playing in front of such a massive crowd at JRD Stadium last season and I hope this upcoming season they will continue to support the team and me so that together we can win silverware for the club.
The facilities in Jamshedpur are excellent and I am really looking forward to visiting the city soon. Personally, have been following Jamshedpur FC since their inception and their progress over the last two seasons have been heartening."
JERRY SIGNED FOR DELHI DYNAMOS
23.4.19:
Midfielder Jerry Mawihmingthanga signed for Delhi Dynamos. Jerry played for Jamshedpur FC last season.
"I am really happy to join the club. I have had fantastic seasons with my former coaches and clubs, and want to thank them for it. But now under coach Josep Gombau, I would like to explore my potential even more."-Jerry commented after joining Delhi Dynamos
SANDESH RENEWS CONTRACT
20.4.19:
Indian International Defender Sandesh Jhingan extends to stay at Kerala Blasters FC for at least three more seasons.
Sandesh played for Kerala Blasters from the beginning of Indian Super League and will the continue his journey once again.
SAMAD RENEWS CONTRACT, SALAM DEPARTS
20.4.19:
After a prolonged discussion Samad Ali Mullick finally decided to extend his tie up with East Bengal. Samad proved to be as one of the utility footballer under Spanish coach Alexandro Menendez in the recently concluded season. In a press release today East Bengal announced the contract with the wing back Samad Ali Mullick which will last for three years.
After Jonny Acosta, Salam Ranjan Singh the central defender of East Bengal will going to join the ISL franchisee ATK for the forth coming season.
East Bengal are in discussion with the goal keeper of Real Kashmir Bilal Khan. According to the sources the discussion are at the final Stage.
LALRIMDIKA RALTE EXTENDED CONTRACT WITH RED AND GOLD
17.4.19:
East Bengal extend contract with the central midfielder Lalrindika Ralte for two season. This was officially intimated in a press release today. Dika was the captain of East Bengal in the recently concluded season. Dika joined East Bengal in the year 2012 from Churchill Brothers and played till 2017. He played for ISL franchisee Mumbai City FC, ATK as a loan footballer in 2015, 2016 and 2017 respectively. He joined North East United in 2017.
Dika proved himself as a utility footballer during his long relation with East Bengal.
STANLEY EXTENDED CONTRACT WITH AIZAWL FC
16.4.19:
Aizawl FC Coach Stanley Rozario Henry extends his stay at Aizawl FC for two more seasons till 2021.
Ex-East Bengal, Mohun Bagan Coach Stanley joined Aizawl FC in the last season. Aizawl FC finished 8th position in the I-League.
CHENNAI CITY FC SIGNED JAPANESE MIDFIELDER KATSUMI YUSA
15.4.19:
The I League champions Chennai City FC signed the Japanese midfielder Katsumi Yusa for the year 2019-20. Katsumi joined the I League champions as a footballer of Asian quota. Katsumi played for Neroca FC in the recently concluded season.
It was a rumor that the Japanese is likely to join Mohun Bagan. But finally he opt to signed in favour of the I League champions. Katsumi started his mission for ONGC in India. Later he played for Mohun Bagan and East Bengal before he joined Neroca FC .
EAST BENGAL RENEWS CONTRACT WITH BROJA GOMES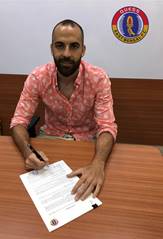 12.4.19
East Bengal renews contract with the Spanish central defender Broja Gomes Perez. In a press release East Bengal stated that the new contract will last for next two years. Broja joined Red and Gold in the year 2018 and performed quite successfully in the recently concluded season.
East Bengal are in discussion with the wing back of FC Pune City Ausotosh Mehta. While ISL franchisee Chenniyian FC had a series of discussion with Lalram Chulova, the wing back of East Bengal.
AFTER MINERVA PUNJAB FC, NEROCA FC IS GOING TO SHUT DOWN ?
08.04.2019:
Neroca FC today shared their disgrace regarding ongoing problems of I-League clubs. They even wanted to shut down the club if I-League is treated as the second division league.
Neroca FC promoted to I-League in 2017 and finished as a runners up in their first season. This year they finished in 6th position.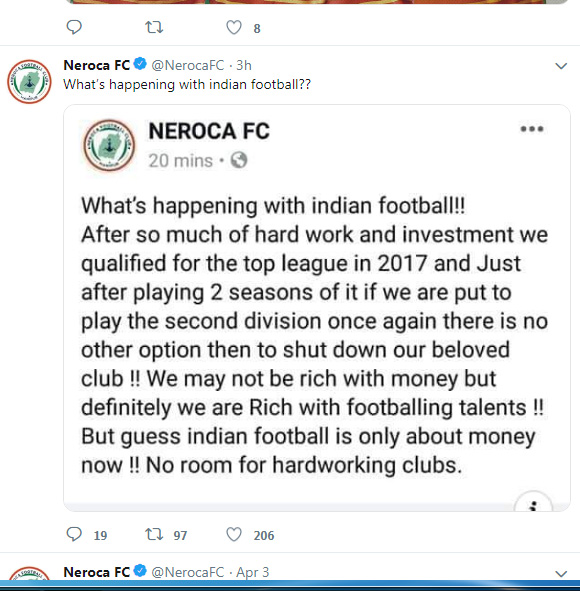 MINERVA PUNJAB FC TO SHUT DOWN ? BAJAJ TWEETS
05.04.2019:
The owner of Minerva Punjab FC Ranjit Bajaj twitted in his account, "'with a heavy heart' that Minerva Punjab FC is going to shut down."
Minerva Punjab FC booked Kalinga Stadium ,Bhubaneswar for their AFC Cup matches. But after the start of AFC Cup, Odisha FA conveyed that due to U-17 Women's World Cup, ground need to renovate so the stadium will not be available after Super Cup. Minerva played against Chennyian FC in their opening match of AFC Cup at Ahmadabad. So, the chance of venew at this stage may lead to a punishable offense in AFC. In fact AFC approved Kalinga stadium as the home venew for Minerva Punjab two months back.
With a very heavy heart 💔 today I have decided that @minervapunjabfc will have to do what so many others have done/CHAMPIONS of @ILeagueOfficial for 2018-19 for SENIORS/Under 13/ under 15 /under 18 - SIX TITLES(4 years) 60 plus boys to various Indian teams is going to shut😰

— Ranjit Bajaj (@THE_RanjitBajaj) April 5, 2019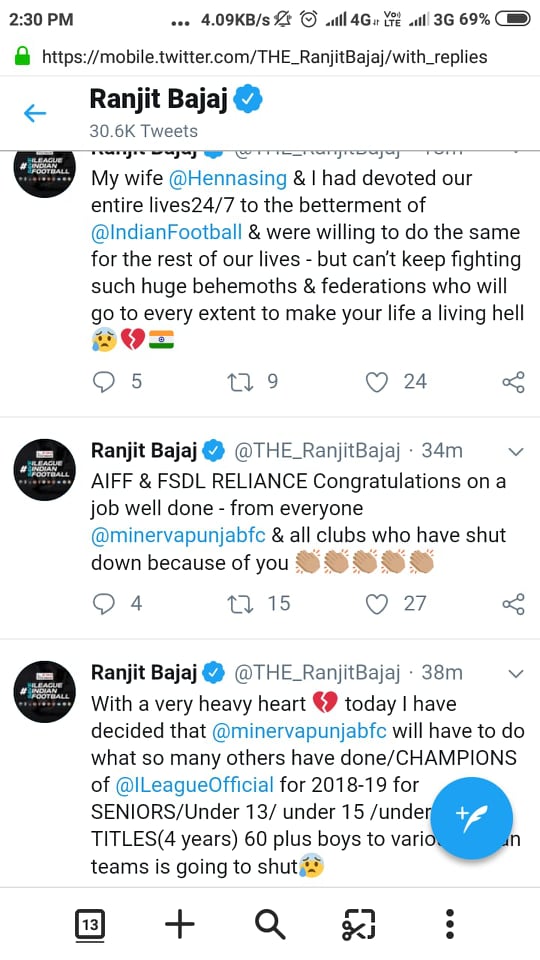 Minerva Punjab FC were champions of 2017-18 I-League as well as I League champions of Under 13, Under 15 and Under 18 category. Minerva is a club with more than 60 footballers playing in different age groups in Indian football.
BRANDON RENEWS CONTRACT WITH EAST BENGAL
04.04.2019:
East Bengal announce the renewal of contract with Brandon Vanlalremdika for the next two seasons. In a press release today Red and Gold announce the renewal of agreement with the Mizo footballer. East Bengal are in discussion with Samad Ali Mullick, Lalram Chullova and Laldanmawia Raltey for the coming season.
Meanwhile, the signing of Jobby Justin in ATK lead to a controversy. Jobby's "token" are with East Bengal while he signed for ATK. According to the rule of IFA, token is required for a footballer to sign in a club. There is no such rule for a footballer to sign in a ISL franchisee.
BRANDON RENEWS CONTRACT WITH EAST BENGAL
04.04.2019:
AIZAWL FC
:Liberian defender, Aizawl FC skipper Alfred Jaryan extended his stay for one more season.
JOBBY JOINS ATK
03.04.19 :
PRESS RELEASE ATK : East Bengal striker Jobby Justin signed a three year pre contract with the ISL franchisee ATK, which will commencing from June 2019. This was stated in a ATK press release today. ATK also retains the services of Manual Lanzaroute, Edu Gracia and John Johnson.
Jobby was in the radar of ATK since long. Recently, after the board meeting with Quess East Bengal officials had a long discussion with Jobby. East Bengal claimed the meeting was positive, but ATK wins the race finally when they signed the most successful Indian striker in the recent times.
03.04.2019:
AIZAWL FC
:Ugandan defender, Juuko Richard Kassaga extended his stay with Aizawl FC for one more season.
03.04.2019:
ATK
: Edu Garcia, John Johnson and ManuelLanzarote will stay with ATK on for one more season
SAM ALLARDYCE LIKELY TO REPLACE CONSTANTINE
30.03.2019
: The former Premier League and England national team manager Sam Allardyce has reportedly shown his interest to Stephen Constantine's successor as India coach. AIFF are in search of a new coach who will took charge of the senior Indian National team.
TULUNGA IN A NEW ROLE
30.03.2019
: Mizoram Footballer, Shylo Malsawmtluanga (Mama) is the new head coach of Mizoram Premier League side Chanmari FC. Shylo was a successful midfielder played for East Bengal, Mohun Bagan and United Sports club in KOlkata.
KOUASSI EXTENDS CONTRACT WITH MD SPORTING
30.03.2019
:Mohammedan Sporting Club extends the contract of 30 year old Ivorian striker Desmos Arthur Kouassi until the end of Calcutta Football League 2019-20 season.
"I am very happy to be extending my contract with the club. We are building a strong team and I am excited to be part of the future of Mohammedan Sporting Club. I have a lot more to offer and I will make sure I contribute to the cause," the Ivorian said after extending the deal.
29.03.2019
:Minerva Punjab FC signed Nigerian Central Defender Kareem Omolaja on loan from Aizawl FC ahead of their AFC Cup clash.
29.03.2019
: FC Pune City extends the contract of their head Coach Phil Brown for two more seasons.
27.03.2019
: Brazilian Midfielder Emerson Moura has extended his contract for one more year with Jamshedpur FC.
27.03.2019
: Shillong Lajong Football Club announced the signing of Mr Jose Carlos Rodriguez Hevia as the Technical Director, Coaching and Youth Development.
26.03.2019
:Samuel Lalmuanpuia have joined Minerva Punjab FC on loan from Shillong Lajong FC for the rest of the season.