FOOTBALL BOOK RELEASE - 2016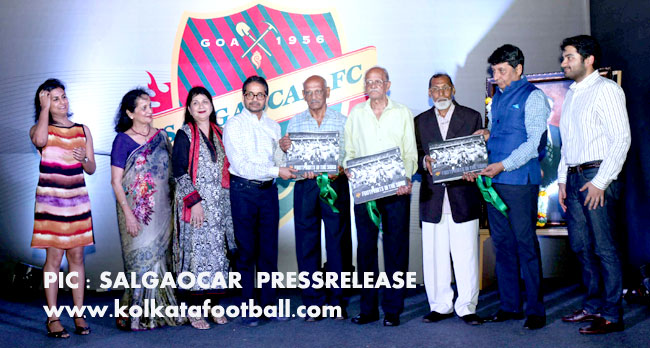 Mr Shivanand Salgaocar releasing the book along with three seniormost players from the 1950s -- Alcantara Barreto (defender), Candido Abreu (defender) and Alisab Sadekar (midfielder)

'Footprints in the Sand' – A 60 year journey with Salgaocar FC
18.05.2016
: On the occasion of Salgaocar Football Club completing 60 years, the club launched a book 'Footprints in the Sand' to commemorate the history and legacy of their journey. The club also honoured some of its long-time serving players at the celebration which took place at Panjim on the birth centenary of its founder, the late Mr. V. M.Salgaocar.
Launched in 1956-57 under the name Vimson, the club went on to win the Second Division League in its debut year in an unrivalled manner. Later, the club came to be known as Clube Desportivo Salgaocar before 1961 and Salgaocar Sports Club post Goa's liberation. The current name and logo was coined and launched in 2012. Speaking at the event; club president Mr Shivanand Salgaocar said "My father started the club to give back to Goa and to promote Goan footballing talent, a responsibility which I take very seriously. Our youth development and grassroots initiatives are an extension of this mandate."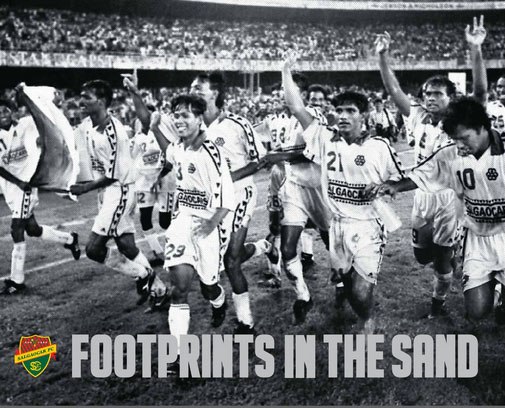 Since its inception, Salgaocar FC has evolved from a team of part-time footballers playing locally in Goa, to a formidable national-level club with an acclaimed grassroots programme, but the purpose of the existence of the club has remained the same – to promote football in Goa and give an opportunity to Goan footballing talent. The Community Outreach Programme saw over 650 children from in and around Vasco enrolled in its third year. In the Youth Development Programme, the U-14 and U-16 teams were both crowned Goa Football Association league winners, while the U-18 team topped the Goa zone of the junior I-League and the U-20 team is on the verge of being promoted to the GFA First Division.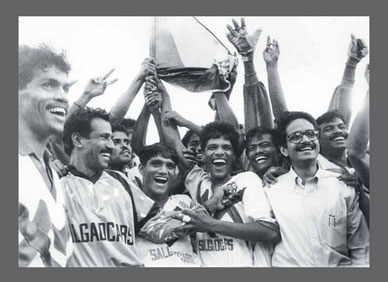 Vice-President – Youth Development, Ms. Swati Salgaocar, added "We at Salgaocar FC have always maintained that football is more than just a game, it's our passion, and looking at everyone gathered here today I can safely say that Salgaocar FC is more than just a club, it's a family. It was these sentiments that led us to document the history of the club and chronicle its achievements. Having personally been involved with the book, it has been overwhelming to read accounts of players and coaches over the years and it makes me proud to be a part of this tradition."
Written by senior football correspondent Marcus Mergulhao, 'Footprints in the Sand' was launched at the hands of three of Salgaocar's senior most players, Alisab Sadekar, Candido Abreu and Alcantara Barreto in the presence of Mr Shivanand Salgaocar, Mrs Ranjana Salgaocar club's vice-president Mr. Vivek Salgaocar and Ms Swati Salgaocar.