TEAM NEWS - JAIPUR FC in 2012
JAIPUR FOOTBALL CLUB, RAJASTHAN - 2012 ( REPRESENT INDIA IN GOTHIA CUP-SWEDEN)
Jaipur Football Club, Rajasthan left for Sweden to participate in Gothia Cup 2012..
13.07.2012 : KFC. | www.kolkatafootball.com HOME PAGE


Jaipur Football Club just went to delhi for their Sweden Flight. Officials of Rajasthan Football Association & District Football Association flagged off the Journey of JFC to Gothia Cup.
Jaipur Football Club was given a proper send off by the officials of RFA & DFA, on 13th July, in the evening when the team left for the IGI airport's terminal -3, towards catching their flight to Sweden for participating in the coveted Gothia Cup at Gothenburg.
Those who were present to see off the team with their Manager Robin Xavier and Nitasha Jain, were the RFA convener Mr. Lal Chand, Convener RFA, Mr.Abdul Jabar, Secretary DFA.
This team of 19 players if lead by Captain Vijay Vikram Singh and the Vice captain is Jibran Ali.
01. Kunal Dutt
02. Akash Raj Sharma - Goal Keeper
03. Virendra Pratap
04. Vijay Vikram Singh (Captain)
05. Sahil Palsaniya
06. Prasenjeet Rathore
07. Ishan Maghnani
08. Laveen Maghnani
09. Adi Raj Shekhawat
10. Akhil Fofaliya
11. Darshil Samota
12. Suyash Jangid
13. Phenix Samota
14. Jeanet Jacob
15. Shiv Pratap
16. Alok Poonia
17. Abhishek Meena
18. Prashant Choudhary
19. Jibran Ali (Vice Captain).

The team felt real high with the football administrators from Rajasthan wishing them luck. With JFC's Gothia cup's experience Rajasthan's football circle is all set to witness a new horizon in near future, says Sandeep Hora, Director & CMO Jaipur Football Club & Golden Sparrow Sports Academy Private Limited

Youth Champions of Jaipur Football club Shines through an extensive media campaign...
12.07.2012 : .KFC. | www.kolkatafootball.com HOME PAGE


Golden Sparrow Sports Academy under its aegis is taking a young team of boys from its 'Jaipur football club', to Gothia cup, the ultimate youth football tournament and carnival. The unsung young heroes of the team were caught unawares on one fine morning of July 3rd, when they started getting calls from their families, friends and from some ones whom they didn't even know; as the Jaipur city had series of Outdoors Up, towards this dream teams visit to Gothia Youth Cup 2012.
The first ever club from Rajasthan representing the state at an international Platform. And this team is very inspired and excited.
Now, with the Outdoors On, and the interview of these players on air in Radio City, with a PR mileage at local publications, our team is gradually making inroads in the minds of Rajasthan People. We are as such in no hurry, to build brand beyond manageability out of JFC; and that's why building a gradual peer group and circle for the Team JFC through these basic initiatives in regular interval. Says Director & CMO, Sandeep Hora.
We were already doing the heavy rounds of promotions using social networking; and we have a decent fan following being developed in last couple of months for the various initiatives we have taken, and football crazy youth is all gaga over JFC's vision and the developmental programs; which has helped us generate various requests and queries for professional association etc. Says Robin Xavier, Director & CEO, GSSA.
The media presence of our kids before the tournament has got them kicked up and added a lot to their positive mindset and now they have started believing more in their abilities and this self belief will do a sea of good to not only for them but for their families, friends and of course ultimately the Club, says CAO Dr. Nitasha Jain.

GOTHIA CUP 2012 SWEDEN : Indian teams in the Tournament..
03.07.2012 : ..KFC.. | www.kolkatafootball.com HOME PAGE

38th edition of the Gothia Cup in Sweden will start on July 15. A total of 1625 teams from 80 Different countries will be participated in this years tourmanet which is call as the world's biggest youth sporting event. Last year 1570 Different teams from 73 nations participated in the Tournament. Over 4000 matches between 1600 teams from 80 countries.

After this year's tournament, nearly one million players from 137 Different nations Have participated in the Gothia Cup since the beginning in 1975. Each year the tournament is expected to Contribute POUND 350 million in revenue to local Businesses and 148 million in tax revenue to the state.

Sweden is the home of Gothia Cup. The 39th edition of this great event. jr. footballers from Africa, Asia, Europe and some countries will gather the greatest cultural experience. The Jr. Boys will arrive a day early, to prepare, and stay for 8 nights in Gothenburg.

The age category of for Boys in Under 11, 12, 13, 14, 15, 16, 18 and Girls in Under 12, 13, 14, 15, 17, 19.

The opening ceremony at Ullevi Stadium will attract more than 50,000 spectators, while 1,100 volunteers will work to maintain the grand programme. The 2012 Gothia Cup will again be the world's largest and prestigious international soccer party for both soccer players and soccer fans.

"We continue to grow Shows That the Gothia Cup today is an international event That just gets more and more well known and popular", says the tournament's General Secretary Dennis Anderson.

The following nations are registered for Gothia Cup 2012.

Albania, Argentina, Australia, Belarus, Belgium, Bosnia & Herzegovina, Brazil, Bulgaria, China, Czech Republic, Canada, Colombia, Cyprus, Denmark, Ecuador, Egypt, El Salvador, England, Estonia, Germany, Philippines, Finland, France, Georgia, Greece, Guatemala, Hungary, Honduras, Hong Kong, India

, Indonesia, Ireland, Iceland, Italy, Japan, Jordan, Kenya, Kosovo, Croatia, Latvia, Lebanon, Lithuania, Macedonia, Malaysia, Morocco, Mexico, Nigeria, Norway, Palestine, Peru, Poland, Portugal, Romania, Russia, Saudi Arabia, Switzerland, Serbia, Singapore, Scotland, Slovakia, Slovenia, Spain, Sweden, South Africa, Syria, Tajikistan, Tanzania, Tunisia, Turkey, Uganda, UAE, USA, Venezuela, Zambia.

The participating teams from India in Gothia Cup - 2012.

Boys U12 - Sakti Sports Academy and Maharashtra.
Boys U15 - Podder International and Young Guns FA
Boys U14 - Utpal Sanghvi School and Simla Youngs.
Boys U13 - Utpal Shangvi.
Boys U11 - Capions School and Maharashtra.
Boys U18 - Jaipur Football Club and Phonix India
Boys U16 - Kenkre FC and Maharashtra.
Girls U13- Mumbai Football Academy.

FIXTURES of JAIPUR FOOTBALL CLUB In GOTHIA CUP - 2012 (U18)
16.7.2012 : ASC Pessac Alouette (FRANCE) VS Jaipur Football Club (INDIA)
17.7.2012 : Jaipur Football Club (INDIA) VS Oxie IF (SWEDEN)
18.07.2012: IFK Ostersund (SWEDEN) VS Jaipur Football Club (INDIA)


Jaipur Football Club (JFC) celebrates its second anniversary with Euro cup Finals.
01.07.2012 : KFC.. | www.kolkatafootball.com HOME PAGE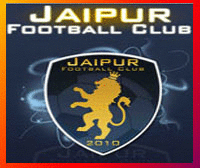 ... Jaipur Football Club (JFC) is all set to make the best use of the coinciding dates of Euro Cup finale and it's Anniversary.
Euro cup final's telecast as per IST will begin around 12:00 AM on 2nd July and the Finale match is expectedto start post Midnight on 2ndJuly, thus falling on the anniversary day of JFC.
JFC is celebrating its birthday at Hotel Imperial at Mirza Ismail Road (Popular amongst the tourists) starting 12:00 AM on 2st July lasting till the match ends.
As part of the arrangement, JFC has invited all its patrons, Players and their families, sponsors for a special big screen screening of the match at Hotel Imperial with Mocktails and snacks to be served to all till the breathtaking finale between Italy & Spain lasts.
Watching the match together will definitely build stronger bond amongst the JFC players, and will surely help the team preparing for the Gothia Cup, to do better than the expected, says Nigerian Coach Felix.
We have been thinking of working this celebration mode for club's anniversary for quite some time, and looking forward to have a great time with the Kids, their parents and our well wishers, says Robin Xavior, Director & CEO of Golden Sparrow Sports Academy and JFC.
"This is the first of its kind arrangement at Jaipur and we are getting numerous enquiries from football crazy people for the invites and mode of participation for the event. The demand is high despite our efforts to make it a low key private affair, but the Strength of Social media cant be discarded and our club member's face book, twitter profiles are doing the tricks for the event. This is encouraging and exciting", says Sandeep Hora Director & CMO, GSSA & JFC.
"This year's knock out matches in Euro Cup have been unprecedented and exciting; and now with the best teams with varied techniques at Finals, the interest for witnessing the Euro Cup's finale in a euphoric environment is in full stream".
"And the icing on it is the JFC's remarkable success and growth story in such a short time due to its students and the patrons and parents who have believed in our endeavor and has been extending full support. This event will definitely further stamp the dedication and seriousness of GSSA's and JFC's endeavor to take the football in Rajasthan to the national and International levels", says Dr. Nitasha Jain, CAO GSSA and JFC.