All Text, Datas, PIC Copy right by @kolkatafootball.com only
I-League: East Bengal starts win 4-0 away win beat Shillong Lajong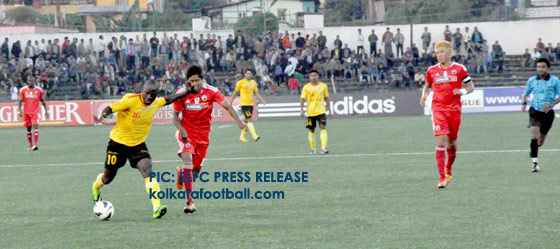 06.10.2013 : KFC. | www.kolkatafootball.com HOME PAGE

09.10.2013: Shillong Lajong

0-4 East Bengal (SLNG - FT..) || SCROLL DOWN 4 ALL
KEB : Moga 22', 63', Chidi 45+2, lobo 54'

KEB : Abhijit, Abhishek, Gurwinder, Okpara, Robert, Vasum, Subodh, Dika, Lobo, Moga, Chidi..
SLFC: Binoy, Passah, Robin, Min-Chol-Son, Lalramluaha, Milan, Cornel, Subhash, Zuala, Boithang, Tuboi.
REFEREE : Raktim Saha.

LIVE UPDATE and REPORT: Jaydip Dasgupta: It's a smooth take off for the Red and Gold in their opening encounter at the I league. At Shillong today they displayed a improvised brand of soccer to register their first win against Shillong Lajong FC at Shillong by a convincing margin of 4-0. The Phalopa Brigade was leading by a brace at the breather.

Marcos Phalopa had rested four of his prime footballers in view of the AFC cup semifinal. But his young and talented midfield controlled the match all through, leading by Dika and Lobo and earn the most valuable and crucial three points in the opening match.

East Bengal scored the first goal in the 20th minute of the match when the Sudanish international headed in a perfect corner from Dika. The second goal came in the added time just before the break when Cheddi Eddeh increased the margin following a center from the left wing.

In the second session East Bengal continued to maintain the pressure in the Lajong deep defense and increased the margin when Cavin Lobo dribbled pass the Lajong defenders and places with his left foot. East Bengal looked more dangerous in the second sesssion as they were attacking like waves. Moga increased the margin in the 80th minute and icreased the tally to 4-0 in favour of the Red and Gold.

East Bengal could have score more if Vinay Singh, the Lajong goalkeeper did not came as a barrier. In fact this is East Bengal's first ever win at Shillong against Lajong. East Bengal to play their second I league match at Kalyani on the 17th of this month before they clash against the Kuwait SC at the AFC Cup semifinal.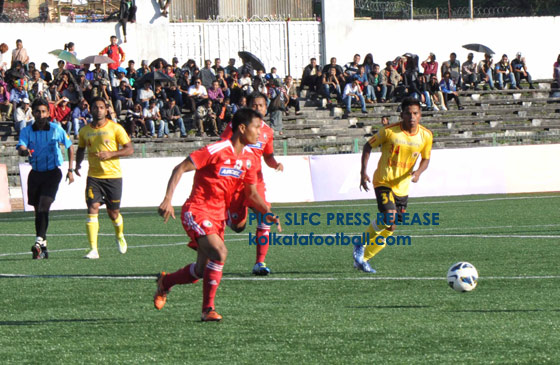 --------------- Mohammedan SC has signed Rakesh Masih today
FT : Match end. East Bengal win the match 4-0 in opening match of I-League 2013-14. The Next match of East Bengal is home Match against Dempo on 17th October at Kalyani Stadium.
90': 2 minuted added time. East Bengal is leading 4-0 in Away.
85': East Bengal 4-0 Shillong LAjong.. See United SC 1st eleven against Mumbai FC at Home page GO HOME PAGE
82': PLAYER CHANGE: KEB : Khabra in and Subodh Kumar out.
80': Still 4-0 leading by East Bengal.
78': East Bengal played 9 away match so far as the opening game of all past NFL/I-League. Where East Bengal last won in 2002-03 NFL as starting away where they beat Mohun Bagan .2-0.
72': PLAYER CHANGE: KEB : Abranches in and Lobo out.
70': 4-0 is the scoreline for East Bengal.
66': This the highest score margin of East Bengal against Shillong Lajong.
65': East Bengal is leading 4-0, Moga scored 2 goals while Chidi and Lobo scored one each.
63': GOALLLLLLLLLLLLLLLLLLL.4th goal of East Bengal. 2nd goal of James Moga.
60': East Bengal is leading 3-0, Moga, chidi and Lobo scored.
55': Cavin Lobo dribbled past in the Lazong defense.His left footed shot beat the goa;lkeeper to give East Bengal the 3-0 lead.
54': GOALLLLLLLLLLLLLLLLLLLLLLLLLLLLLLL 3rd goal of East Bengal. Kevin Lobo scored.
53': Still 2-0 is the scoreline for East Bengal.
46': Starts of 2nd Half.
HT : East Bengal is leading 2-0, Moga and Chidi scored.
45+2': GOALLLLLLLLLLLLLLLLLLLLLLLL 2nd goal of East Bengal. Chidi scored
45': PLAYER CHANGE: KEB : Tulunga in and Vasum out.
40': Still East Bengal is leading courtesy: James Moga in 22nd minute assisted by Dika.
33': East Bengal is leading 1-0.
25': East Bengal is leading 1-0.
22': GOALLLLLLLLLLLLLLLLLLLLLLLL East Bengal scored goal through James Moga, his brilliant header from Dika's corner beat Vinoy.
20': No score yet .
2': Match starts at Shillong.
0': East Bengal are in yellow shirts today, while Lajong are in red shirt.

I-League: Goan Derby ended 1-1 between Salgaocar and Dempo
09.10.2013 : KFC. | www.kolkatafootball.com HOME PAGE
09.10.13: Mumbai FC

Vs United SC (PUNE - 7.00 FT)
USC : Sangram, Bello, Deepak, Anupam, Dhanachandra, Souvik, Jayanta, Asif K., Vineth CK, Ranti and Eric.
USC : Vineeth CK 16'
MFC : Sandjar Ahmadi 20'

MFC PRESS RELEASE : Mumbai FC was held to a third consecutive 1-1 draw at home by United SC in an I-League 2013-14 Round-4 encounter at the Balewadi Sports Complex, Pune on Wednesday. Striker CK Vineeth opened scoring for the visitors in the 16th minute before Mumbai FC new-signing Sandjar Ahmadi (20th min) equalised for the hosts four minutes later.

With this point, Mumbai FC stay in the 4th place still unbeaten with six points (4 games) while United SC stay 3rd in the table with seven points (4 games). Coach Khalid Jamil opted to field the same starting XI which beat Churchill Brothers in the previous round.

The game burst into action inside two minutes when Vineeth did well to set up strike partner Ranti Martins. The Nigerian ran clear of his marker, defender Anwar Ali, to create space and shoot, only for the upright to deny him. At the other end, Mumbai FC kept pressing and had medio Dane Pereira go over with his acrobatic overhead volley.

However it was the visitors who took the lead at the quarter hour mark. With almost the entire Mumbai FC team charging ahead on a corner, United SC medio Souvik Chakraborty won the ball in his half and set up Vineeth on a counter with a long ball. Vineeth held off challenges from two defenders before slotting home past 'keeper Kunal Sawant.

The hosts equalised almost instantly with Ahmadi opening his account for Mumbai FC. Striker Orok Essien did well to get a shot from the left straight towards United SC custodian Sangram Mukherjee who managed to block. However the rebound fell for Ahmadi, cleverly timing his run to finish.

The goal spurred on the hosts who thereafter created chances aplenty. In the 24th minute, Essien saw shot saved by keeper after he controlled a clever lob pass from medio Ashutosh Mehta. At the half hour mark, skipper Nicholas Rodrigues' ambitious long range attempt was tipped over by Sangram for a corner. Defender Haroon Amiri's header off Nicholas's corner in the same move went agonisingly over.

In the final minutes of the first period, playmaker Climax Lawrence did well to capitalise on defender Bello Rasaq's failed clearance, but Sangram produced a brilliant save to deny him. Both teams went into the break tied at a goal-a-piece.

The second half was a different story with United SC finally coming out of their shell. Five minutes into the second period, Vineeth's powerful shot was brilliantly palmed away to safety by Mumbai FC 'keeper Kunal. At the other end, Mumbai FC too kept pressing in search of their second goal. However poor coordination inside the final third let them down.

Into the final twenty minutes, Coach Jamil brought in medio Lalrin Chhana Tochhawng in place of Mehta. However, both sides failed to find the net in the second half and the game ended 1-1. Man of the Match: Sandjar Ahmadi

I-League: Goan Derby ended 1-1 between Salgaocar and Dempo
09.10.2013 : JAYDIP DASGUPTA..KFC. | www.kolkatafootball.com HOME PAGE
I-LEAGUE : 09.10.2013: SALGAOCAR SC

1-1 DEMPO SC (GOA - FT'..)
SAL : Duffy 39'
DEM Jeje Lakpekhlua 80'

SAL : Karanjit, Augustine, Chika, Duffy, Claude, Nicolou, Rahul, Rocus, Cliffton, Francis, Gilbert.
DEM : Subhasish, Debabrata, Honda, Simon, Samir, Carvalho, Jewel, Clifford, Beto, Jeje, Billy ....REFEREE: M.B.Santosh Kumar.

FT : The Goan Derby ended at a 1-1 draw.Salgaokar took the lead which was equalised by Dempo. Dempo is yet to register their first victory in the league.
FT Goan Derby ended 1-1.
90': 5 minute added time.
88': Dempo are creating pressure for the last 10 minutes .But a bit unlucky in converting.Jeje and Beto combining well in the middle and often utilizing the wings.
87': Attack of Dempo. Beto's freekick went off a defender for a corner.
80': Jeje equalize. Clifford shot defelected off a Salgaokar Defender and jeje places beating Subasish.
80': GOALLLLLLLLLLLLLLLLLLLLLL Dempo scored goal through Jeje.
75': Dempo is creating pressure in Salgaokar defense.
66':Beto's head went out from Clifford corner.
61': Salgaokar maintaining the lead and keeping the pressure in Dempo defense.
53': both the teams tryin g to gain control ,Salgaokar still leading 1-0.
47':Jeje 's curling shot went wide.
46': 2nd half match starts.
HT : It's half time now. Salgaocar is leading 1-0 in Goan derby, Duffy scored.
45': 2 minute added time.
39 ': Clifford's Corner cleared by Karanjit
39': GOALLLLLLLLLLLLLLLLLLL.. Salgao kar scored, Durfy advances Salgaokar Places a places a pass from Noicolau Colaco.
36': Still 0-0 at Goa, Both team had the chances, but failed to convert.
30': No score, 0-0 still.
28': Duffy missed a open chance. failed to connect Gilbert cross.
23': Chiffton Freekick straight to subasish.
21': Yellow card to Carvalho of Dempo, Free kick for Salgaocar.
20': No score, 0-0 still.
16': Gilbert Olivera failed to beat subhasis. missed a open sitter
12': Still no score in the match.
8': Chance to Dempo- Beto's shot missed the target.
6': Corner for SAL..Francis corner kick cleared.
5': No score Yet.
4': Salgaocar missed a chance, Duffy's shot hits the post.
1': Match starts.