WORLD FOOTBALL MAGNET : TOP HEADLINES 4 u..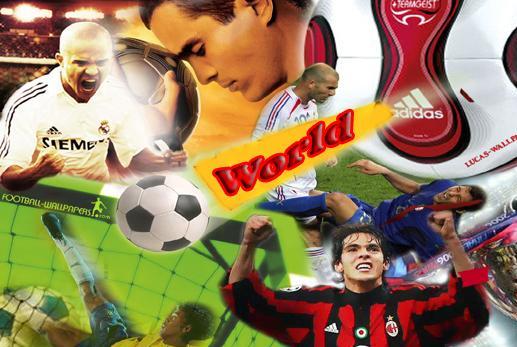 26.03.2012 : SOHAM DEY....KFC.. | www.kolkatafootball.com HOME PAGE
The FIFPro Division Asia will meet for the first time in India for two days on May 10/11 in the fourth annual FPAI (The Football Players Association ) Indian Football Awards 2012. The meeting will be held at the Marriot Resort & Spa Hotel in Panjim, Goa which is owned by the V.M. Salgaocar Group of Companies.
Former manager Glenn Hoddle wants to lead England on a caretaker basis at Euro 2012. The 54-year-old took charge of England in 1996 before he was axed three years later.
Arsene Wenger believes his squad is capable of challenging for the title next season. The Arsenal boss considers his current crop, when fully fit, to be up among the best.
Frank Lampard delivered a withering assessment of Chelsea's failings, warning they can forget about Champions League football unless they give everything.
Thierry Henry paid tribute to his former Arsenal team-mate Fabrice Muamba with the stricken Bolton midfielder's name emblazoned across his captain's armband.
Chelsea goalkeeper Petr Cech believes it would be a major setback if the club fail to qualify for the Champions League - but not the end of their mission to conquer Europe.
AC Milan's health coordinator Jean-Pierre Meersseman admits he is unsure what is wrong with sidelined striker Alexandre Pato. The Brazilian has been plagued by thigh injuries this season and is flying to the United States on Monday to meet with Professor Frederick Carrick in the hope the famed doctor can cure his persistent muscular problems.
Former Barcelona president Joan Laporta believes that star player Xavi Hernandez will be appointed a new coach when Josep Guardiola decides to step down from the post. Pep Guardiola has yet to extend his contract at Camp Nou, which led to speculations that he could leave the club at the end of the season.
Real Madrid coach Jose Mourinho has rejected accusations he was responsible for the club's recent media blackout.The La Liga leaders refused to speak to the press after Wednesday's 1-1 draw with Villarreal at El Madrigal in protest at their alleged unfair treatment at the hands of officials.
Lazio will 'continue to dream' of the Champions League according to assistant coach Giovanni Lopez after they beat Cagliari in Serie A on Sunday. The Rome club took until the 85th minute of the match to break Cagliari's resistance, when Mobido Diakite's header sealed a 1-0 win.
A Millwall fan has been banned for 10 years after taunting Leeds supporters with a Turkey flag at The Den.
Saturday's defeat by Wigan meant Liverpool have won just five of their 15 home games in the league this season - their worst home record since 1953.

I-LEAGUE : Mohun Bagan scrape through a 2-2 draw against Air India.

26.03.2012 : .KFC.. | www.kolkatafootball.com HOME PAGE

Odafa Okolie saved McDowells Mohun Bagan the blushes as he assisted one goal before scoring an equalizer, as the Kolkata outfit held Air India to a 2-2 draw in the 21st round I League encounter at the Balewadi Sports Complex on Monday.

With a clear chance to inch closer to league leaders Dempo SC, Bagan were not in their usual self—striker Sunil Chhetri was totally off-colour while defenders Surkumar Singh and Syed Rahim Nabi were listless for quite some time. Essentially they were lucky to have escaped with a draw after Air India pounded in two goals through man-of-the-match Manandeep Singh.

The day, however, belonged to Air India no doubt as they played bravely under the hot and humid conditions even as the match had an evening start. The home side left the famed Bagan line-up virtually ineffective. Odafa though, was in his elements creating chances after another. After both teams tested the waters, Okolie moved from the right to take the ball right into the box before he sent it back for Manish Maithani after he was outnumbered by Air India defenders.

Maithani was just outside the box and he judged it well to send a lob which completely foxed the Air India custodian Pawan Kumar to score the first goal in 20th minute. But the home team wasn't in a mood to give up so easily. On the counterattack, the Air India forward line sprinted up with purpose and in a melee a header from Bagan defender came to Manandeep Singh, who executed a bicycle kick into the post in 21st minute.

Air India's best move came in the 39th minute when local lad Prakash Thorat broke through Bagan defence from the left and charged up before reaching the box having beaten one defender on the way. Thorat had an open goal with Shilton totally waylaid, but his shot from five yards hit the post, but Manandeep was in place and despite a few fumbles he shot in for a 2-1 lead.

On changing the ends, it was Mohammed Shafi in the 49th minute who made the move from the right, but his shot was punched out by Shilton well in time. Finally Odafa struck the equalizer in the 64th minute after he got a free ball in the box. Five minutes later he would have given Bagan the winner goal but his shot struck the goalpost.

With one point from the draw, Bagan moved to 38 from 21 matches while Air India now have 28 points from 21 matches.

LIVE COMMENTARY : MRINAL KANTI NATH

26.03.2012 : Air India 2-2 Mohun Bagan (Pune - FT.)
MMB: Manish 21', Odafa 61'
AIR: Manandeep 19' 39'

MMB : Shilton, Surkumar, Kingshuk, Anwar, Nabi, Manish, N.P. Pradip, Masih, Snehasish, Odafa, Chettri.
AIR : Pawan, Collin, Tamba, Immanuel, Md. Shafi (Rahul), Bansfore, Omi, Manandeep, Kalialauddin, Sandip(Royston), Prakash(Sandesh).

FT: Match end. The final result is 2-2.
90+2': AIR india got a final chance to lead for a mistake in Bagan defence but finally ball cleared.
90+1': 7th corner of Bagan, Maithani kick cleared.
90': Referee added 4 minutes.
90': Free kick in danger area, Ashim fouled Rahul, Bijoy passto Omi and Omi's shot went out.
88': 8th corner for AIR, Rahul corner cleared and went to Sunil in left, Sunil passed to Odafa and Odafa to Rakesh and Rakesh's cross and Sunil header went wide.
87': PLAYER CHANGE: AIR INDIA. Rahul Vikee in and Md. Safi out.
85': Chettri missed a chance. His close ranger went over the bar.
83': Mohun bagan is now attacikng more and more using right side.
81': AIR India won 7th corner, Bijoy Bansfore kick cleared by Bagan defence.
80': PLAYER CHANGE: AIR INDIA. Sandesh Gadkari in and Prakash out.
78': Beautiful attack of Baga,, Nabi's left sided cross and Odafa's header beat Keeper but went wide over the cross bar for an inch.
74': Good attack of Manish Jr. but finally went out.
PLAYER CHANGE: Mohun Bagan. Manish Bhargab in and Snehasish out.
73': Still the scoreline is 2-2.
72': Odafa missed a chance. His shot hit the post and out.
70': Well attack of AIR, Kali Alauddin to Manandeep in left, he entered in Bagan box but finally well tackle by Kingshuk.
67': Manandeep's header went wide.
66' STATS.. AIR india and Mohun Bagan ended 2-2 in 2nd leg of 1997-98 NFL match..


65': AIR won a coenr in left, Collin's kick cleared.
64': Again Odafa, Rifht sided attack, Surkumar's pass and Odafa's right footer missed the target.
63': PLAYER CHANGE: Mohun Bagan..N.P.Pradeep out and Ashim Biswas in.
63': Mohun Bagan is attacking now more and more.
62': Sunil to Odafa and Odafa beat his marcar Tamba and scored through left footer. Now the score line is 2-2.
61': GOALLLLLLLLLLLLLLLLLLLLLLLL...Mohun Bagan equalized through Odafa. 20th goal of Odafa in this I-LEAGUE and 30 goals for Bagan.
60': Still AIR India is leading 2-1.
59': Chance missed by Bagan form a corner kick, Masih got the ball in box but cleared before his shot.
58' STATS.. AIR india beat Mohun Bagan in Durand Cup match by 1-0 in 1998-97 season..
56': N.P.Pradeep passed the ball towards whom? ball out for Throw in.
55': AIR india is plying passing football more than Bagan.
54': Free kick for Bagan near left corner flag of AIR side, ball cleared. by AIR defence, Ball went to Odafa byt he was in offside position.
52': Odafa's shot went out.
50': Corner for Bagan. Nabi's left sided cross and Sunil's header well saved by Pawan by corner. No fruitful effect of corner.
50': Collin got the ball from Bijoy's corner and his shot missed the target.
49': Again attack of AIR, Well saved by Shilton for a corner of Md. Safhi's right footer.
48': Again good attack of AIR, Manandeep's shot from top of the Bagan box went wide.
47': Lamine Tamba all time marked Odafa.
46': 2nd half match starts.
HT : It's half time now in the match. AIR India 2-1 Mohun Bagan.
45': Referee added 2 minutes more as injury time.Air India is leading 2-1 now.
44': Free Kick for Bagan. Pradeep kick went to Manish in right, and his cross went to Pawan's safe hand.
41': Bijoy's throwin in Bagan box from right, Collin's left sided cross cleared by Kingshuk.
40': AIR India is leading 2-1 now. 8th Goal of Manandeep Singh who joined AIR from Indian Arrows( PAILAN)..
39': Prakash attacked from left beat 2 defenders of Bagan in speed, his shot deflected to 2nd bar and came to Manandeep, Sur kumar was unable to stop him and his right footer beat Shilton.
39': GOALLLLLLLLLLLLLLLLLLLLLLLL...2nd goal of AIR India. Manandeep again scored for AIR. Bagan defence????.
37': Good effort of Surkumar from right, his left footer went direct to Pawan Kumar's hand.
36': Manish got a ball in right side from Odafa but missed to pass properly in Box.
35: STATS.. Mohun Bagan was unbeaten in last 18 matches against AIR from 1997-98 2nd leg to 2011-12 1st leg..
33': Nice save of Pawan Kumar, Odafa's shot from top of the box.
32': surkumar well cleared an attack of Omi in Box but referee said Omi's foul. Free kick in own box .
31': YELLOW CARD : Anwar of Mohun Bagan. He will miss the DEMPO match for two cards.
29': Free kick for Bagan. Tamba fouled Odafa.
28': STATS.. Mohun Bagan's only one lost to AIR India in away match on 1997-98 NFL where they lost 0-1 to AIR..
27': PLAYER CHANGE: AIR.. Sandip Sanga out and Royston D' Souza in.
26': Bagan won a corner in left. hand ball, N.P. Pradip's kick went wide.
25': Bagan attacked. Odafa to Sunil to Odafa but finally cleared from AIR box.
23': The scoreline is 1-1 now in the match.
21': GOALLLLLLLLLLLLLLLLLLLLLLLLLL AIR equalzed through Manandeep, Prakash crossed from right, flight missed by Shilton, and Manandeep's bicycle kick went to goal. 1-1.
19': GOALLLLLLLLLLLLLLLLLLLLLLLLLL..Mohun Bagan scored goal through Manish. Odafa well passed to Manish in right and Manish shot went to goal after deflecting Tamba's leg.
18': Good attack of AIR, Tayo to Sandip to Manamdeep and his long shot went over the cross bar.
17': STATS.. Mohun Bgan's highest win against AIR in 2009-10 when they won 5-0, Barreto scred 4 goals.
15': Still no score in the match. In first leg Bagan scored in 41 minutes through Odafa.
13': right sided attack of AIr, Prakash shot from top of the box went wide.
11': STAT..Total Head to Head in NFL/I-LEAGUE : 20 times, Mohun Bagan win 13 lost 1, drew 6, scored 35 and conceded 9 goals.
9': Good attack of AIR, Sanga's header well saved by Shilton.
8': Throw in for Bagan in right side of own area. Surkumar's throw in to Masih, Cleared.
7': Odafa shot from right sided box went wide. First chance of Bagan.
6': AIr India attacked from left but cleared.
5': Still no score in the match.
3': Air India won Free kick just right side of Bagan box, Sandip Sanga's shot went wide.
2': Bagan attacked trhough Odafa in right side of AIR Box, cleared.
1': Match starts.
0':
0': 1st leg result on 28.12.2011 : M. Mohun Bagan 3-1 Air India
AIR : Md Safi 54' :: MMB : Odafa 41', 83', Asim 79'


66th AIFF SANTOSH TROPHY FOOTBALL TOURNAMENT 2012 : Full Fixtures of the Tournament.
26.03.2012 : OFA PRESS RELEASE...KFC.. | www.kolkatafootball.com HOME PAGE
THE All India Football Federation 66the editon of National football tournament Santosh Trophy -2012 scheduled to be held in Odisha which will start from 11th May 2012. The said Championship will be inaugurated on 11th May 2012 simultaneously at four venues Cuttack, Bhubaneswar, Sambalpur and Bargarh. Below is the Full Fixtures of Santosh Trophy.

FOOTBALLL in KALIMPONG : RONGO LAUNCHES A FOOTBALL COACHING CENTRE.
26.03.2012 : Gyaltshen Dorjee Moktan....KFC.. | www.kolkatafootball.com HOME PAGE
... Rongo a village in the Kalimpong subdivision of Darjeeling district has set an example by setting up a decent Football Coaching Centre for the under-20 boys of that area.
It has been christened as "Rongo Football Coaching Centre". This region has a lot of talented footballers but till now they were deprived of quality training and this centre has filled that void.
A group of like minded individuals led by Saurabh Rai (former Media Manager of United Sikkim FC) are responsible for giving Rongo this centre. Launched on the 10th of this month.
the centre currently has 17 boys who are imparted training two times daily by their coaches Saroj Rai and Indra Chettri (both former district level footballers).
The Secretary of the Centre Dhurwa Chettri said "Our main aim is to provide these boys with training at par with any other big towns of this area and help them become professional players in future"
The centre is also getting a lot of support from the people of the village and also from two clubs based in Kalimpong. Share Football Club and Apex FC, both these clubs recently donated training equipments to the centre.
Dhurwa Chettri further added "When we were planning this centre we were bit worried about the funding and other aspects as Rongo is a far flung area but we have started getting people who are ready to help us which is really inspring".
On the 23rd of this month Nilendra Dewan who is currently playing for Southern Samity in Kolkata paid a visit to the centre and shared his knowledge with the boys. Nilendra has also played for Mohammedan Sporting and was the member of Bengal team which won the Santosh Trophy in 2010. He has also pledged his full support for the centre and has donated training kits for the boys.
The centre has plans to invite more professional coaches and players in future to help the boys get more information on the modern football training and other aspects of the game