All Text, Datas, PIC Copy right by @kolkatafootball.com only
Legendary Real Madrid Veterance beat Legendary Manchester United Veteran in a Charity match..
02.06.2013 : KFC. | www.kolkatafootball.com HOME PAGE
last Year on June 3rd 2012 the Veteral Legendary footballers of Real Madrid beat the Veteran Legendary of Manchester United by a marginof 3-2. In that Classic match of the two world famous teams veteran's Reals sdorers were Fernando Morientes, Luis Figo and Fernando Redondo, while Manchester United's scorers were Lee Sharpe and Teddy Sheringham.
Today at Old Trafford again the two top temas veteran palyers face to face once again which organised by Manchester United Foundation, who are raising money for disadvantaged young people under their Red Heart United banner. From the earning of the match, over Pound 800,000 donated to the Manchester United Foundation.
Today Manchester United's as well as World famous Legendary Coach Sir Alex Ferguson watched the match from VVIP seat and Bryan Robson took charge of the English side. Ruud van Nistelrooy is scheduled to appear for both teams after representing the two clubs.
Today again Real Madrid won the game 2-1. Former Liverpool striker Fernando Morientes who scored last game also scored the first for Real and but Dutch Star Ruud van Nistelrooy equalized the score line 1-1 who played half for each team, equalised for United.
finally, in 2nd half, from a shot of Dwight Yorke which hits the bar and came to Ruben de la who scored the winning for visiting team brilliantly.
MAN UTD VETERANCE : Van der Sar, van der Gouw; Berg, Blackmore, Irwin, Johnsen, Martin, Stam; Fortune, Robson, Scholes, Sharpe; Cole, van Nistelrooy, Yorke.
REAL MADRID VETERAN : Contreras, Sanchez; Cannavaro, Helguera, Hierro, Pavon, Salgado, Sanz; Amavisca, De la Red, Figo, McManaman, Makelele, Zidane; Alfonso, Butragueno, Morientes, van Nistelrooy.

Brazil to face England in a friendly in Brazil. Follow the all head to head.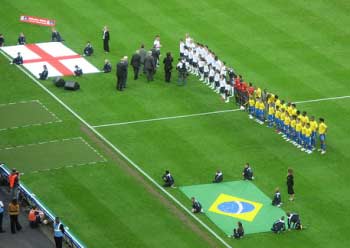 01.06.2013 : KFC. | www.kolkatafootball.com HOME PAGE

PIFA students will get MESSI signed Barcelona Jersey during their next Barca Tour.
31.05.2013 : KFC. | www.kolkatafootball.com HOME PAGE
Mumbai Based football Academy PIFA is going to start a tour camp in Barcelona. It will their 31st Champions Tour from 18-29 June 2013 to Barcelona. This being their 10th year. PIFA which started in 2003 to develop football in and around Maharashtra. The Academy team is playing in AIFF I-league 2nd Divn and got 3rd position in Mumbai Elite League also. The Academy director Nirvan Shah and Anjali shah told us the news.
Mr. Shah told that the campers will attend the reputed Hristo Stoichkov Academy. Hristo Stoichkov is a football legend from Bulgaria. He was a member of the Bulgarian national team that finished fourth at the 1994 World Cup, in which he was the top scorer with 6 goals that earned him the World Cup Golden Boot. At FC Barcelona, he was part of Johan Cruyff's 'Dream Team', it was one of the most successful eras of the club, winning the La Liga four years in a row and the European Cup .
The training will be conducted by UEFA licensed coach Antonio Sanchez, one of the most qualified technical professional from the Spanish football youth academy, he is also scouts for Barcelona FC. The players will be prepared for the International tournament as well as to enhance the ability.
The players will stay and train at a luxurious resort & training facilities. These facilities are also used by Barcelona teams for their outstation camp.
The organizers have also invited the Dutch legend Johan Cruyff to have dinner with the campers, the children will be able to interact with the Barca legend. Cruyff is synonymous with the playing style of "Total Football" and master of the 'Cruyff Turn'. He won the Ballon d'Or three times, a record recently broken by Messi. '
The children will get a tour of Nou Camp Stadium and Museum, as well as a city tour.
In the second phase of the tour, the children will play an International tournament in the beach town of Lloret, where over 200 teams are expected from all over the World. Famous young players like Neymar have participated in, the tournament is truly an opportunity for talented players to show case their skills and to be invited for club trials.
The camp is open to children between 10-20 years of all abilities. The camp is designed to develop children into better players, understand the diet & healthy habits of professional players, to understand the Spanish culture and to make new friends.
All campers will be awarded a camp certificate and a football. One lucky participant will win a FC Barcelona jersey signed by Lionel Messi.