All Text, Datas, PIC Copy right by @kolkatafootball.com only
CFL PREMIER - Highest Margin win of Mohammedan SC,beat Police AC 7-0.
18.11.2013 : KFC. | www.kolkatafootball.com HOME PAGE
18.11.2013: MOHAMMEDAN SPORTING

7-0 POLICE AC (YBK - FT...) :: SCROLL DOWN FOR ACTIONS
MSC : TOLGEY-2, PENN-2, ISRAIL - 2 AND DIPENDU BISWAS

MSC : Barreto--Dhanarajan--Mejrajuddin--Rakesh--Gagandeep--Penn--Israil--Isfaq--Manish--Ashim--Tolgey.
PAC : Jhantu--Henry--Goutam---Arijit--Biswajit--Paresh--Samir--Bira--Maidul---Henry--Amal :: REFEREE : Barun Saha --- I-LEAGUE ALBUM

FT : Match end. Mohammedan Sporting win 7-0 against Police AC, the biggest margin win so far in the running League. THE SCORERS ARE - TOLGEY-2, PENN-2, ISRAIL - 2 AND DIPENDU BISWAS.
90': 3 minute added time.
86': Mohammedan SC is now leading 7-0. Sukdeb Murmu's shot hits the post and came deflected to follower Dipendu who scoredn 245th Career goal.
85': GOALLLLLLLLLLLLLLLLLLLLLLLLLLLLLLL Dipendu Biswas scored the 7th goal for Mohammedan SC.
80': Same score 6-0 for Mohammedan SC.
76': Back to back 2 corner kick, IUsfaq's corner kick cleared.
75': Dhanarajan's well pass but Ajay Singh missed the chance to score.
74': Player change- Mohammedan SC - Sukdeb Murmu in Gagandeep out.
70': Mohmmedan Sporting is leading 6-0.
68': Gagandeep to Israil in left and Israil lobbed the ball over advancing Jhantu and scored a brilliant goal.
67': GOALLLLLLLLLLLLLLLLLLLLLLLLLLLL 6th goal of Mohammedan Sporting and 2nd of Israil.
65': Still Mohammedan SC 5-0 Police AC.
62': Corner for Police AC butg aimless kick.
60': Penn also replaced so he missed his chance for a hattrick.
58': PLAYER CHANGE- MOHAMMEDAN SC : Ajay Singh in and Penn out.
57': TOLGEY replaced so he missed his chance for a hattrick.
56': PLAYER CHANGE- MOHAMMEDAN SC : Dipendu Biswas in and Tolgey out.
55': Mehraj's shot went wide.
54': Foul to Tolgey by Maidul. Free kick for Mohammedan SC.
53': Offside offence of Israil Gurung.
53': Good effort of Manish from top of the box but went out.
50': Dipendu Biswas is warming up- Mohammedan SC is leading 5-0.
50': TOLGEY HATTRICK Missed - Close shot from out side box beat keeper but wide.
48': CHANCE MISSED - Ashim's header from Tolgey cross went wide.
47': Ashim's shot went out.
46': 2nd half match starts just now.
HT: Mohammedan Sporting is leading 5-0 in half time against Police AC.
45': 2 minute added time.
44': Yellow card to Henry as he fouled Tolgey.
42': Mohammedan Sporting is leading 2-0.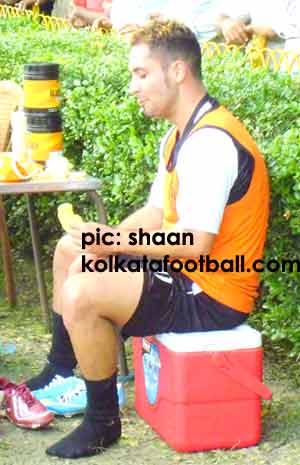 40': GOALLLLLLLLLLLLLLLLLL Tolgey's left footer bear Jhantu. Penn's shot deflected from keeper and Tolgey's left footer beat Police AC keeper. Tolgey-2, Penn-2, Israil are the scorers.
35': Mohammedan Sporting is leading 4-0.
33': Tolgey forward pass to penn, and penn beat advancing Police keeper and pushed in the blank net.
32': GOOOOOOOOOOOOAAALLLLLLLLLLLLLL - 4th goal of Mohammedan Sporting, Penn scored his 2nd.
31': Merajuddin's ling ball in Police box cleared.
30': Still Mohammedan Sporting is attacking more and more.
28': Mohammedan Sporting is leading 3-0 now.
27': GOOOOOOOOOAAAAAAAAAAAAAAAALLLLLLLLLL 3rd goal of Mohammedan SC, Now penn scored from Tolgey's left sided pass.
25': Mohammedan Sporting 2-0 Police AC. 25': AGAIN CHANCE---- Mohammedan Sporting - Ashim lost a chance from 6 yards, his shot saved by Jhanu.
23': Isfaq well defended Henry in Mohammedan Sporting box and Henry fouled Isfaq.
20': Mohammedan Sporting lost 3-0 chance just now.
19': CHANCE --------- Tolgey to Penn, Penn's shot goalline saved by Samir.
18': Dhanarajan missed pass.
15': Mohammedan Sporting is leading 2-0 now.
12': GOOOOOOOOOOOOOOAAALl : Tolgey scored the 2nd from Spot Kick.
12': Yellow card to Samir of Police.
11': Penalty for MSC, Samir fouled Penn and Referee awarded Penalty for MSC.
9': GOALLLLLLLLLLLLLLLL Mohammedan SC score goal. Israil scored. Penn's cross from right missed by Tolgey but Israil well followed and his shot went to net.
6': Miss pass of Police went for Throw in.
5': Henry offiside.
4': Gagandeep's effort from left sided pass of Rakesh but too long, ball out.
3': Mehraj long ball for Tolgey but he missed.
2': CHANCE--------------- Ashim's header from Penn's long pass went wide.
1': Match kicked off by Mohammedan SC.
0': Two players from Jammu & Kashmir and India International player Mehraj and Isfaq is playing today in Mohammedan SC. 0': Match is going to start. Debut of Mehrajuddin Wadoo in this season for Mohammedan SC.


FIFA WORLD CUP -2014 : Nigeria, Ivory Coast and other 21 teams got ticket.

18.11.2013 : KFC. | www.kolkatafootball.com HOME PAGE
Ivory Coast and Nigeria qualify for World Cup. The 2nd leg match between Senegal and Ivory Coast ended 1-1 and Ivorians win 4-2 on aggregate as Ivory coast beat Senegal 3-1 in first leg. Another Qualified team Nigeria beat Ethiopia 2-0 and win the aggregate of 4-1 as they won 3-1 in first leg.

Three remaining play-offs are Ghana vs Egypt where Ghana beat 6-1 in first leg, Cameroon vs Tunisia where the first leg match ended 0-0 and Burkina Faso vs Algeria where Burkina beat 3-2 in first leg.

Four more teams will get ticket from Europe, In first leg play off Greece beat Romania 3-1, Portugal beat sweden 1-0, Ukraine beat France 2-0 and Croatia and Iceland ended 1-1. The teams will face in 2nd leg on 19th Nov.

Out of total 32 teams the remaining teams will come from Europe-4, Asia or South America 1, Africa - 3 and Ocenia or Concacaf - 1.

23 Teams already got the ticket of 2014 Brazil World Cup.

EUROPE

: Netherlands, Italy, Belgium, Germany, Switzerland, Spain, England, Russia, Bosnia - 2nd leg play off match on 19th Nov between, Portugal vs Sweden, Ukraine vs France, Iceland Vs Croatia and Rominia vs Greece.

ASIA : Japan, Australia, Iran, South Korea -(Jordan will take on Uruguay in a playoff in November)

SOUTH AMERICA : Brazil (Hosts), Argentina, Colombia, Chile and Ecuador - (Uruguay will play Jordan in a playoff in November)

CONCACAF : United States, Costa Rica, Honduras - (Mexico will take on New Zealand in a playoff in November)

AFRICA : Ivory Coast, Nigeria - (2nd leg of Ghana vs Egypt, Cameroon Vs Tunisia, Burkina Faso vs Algeria on Nov - 19)

OCEANIA : (New Zealand will take on Mexico in a playoff in November)