TO VIEW THIS WEBSITE PROPERLY, YOU NEED FLASH PLAYER
EXCLUSIVE INTERVIEWS
Former India captain, Pune FC skipper Sammugam Venkatesh is going to touch another history tomorrow (3rd Feb 2010). He is going to play 200th Indian National League match. On the eve of this historical event, he shares his feelings with our Volunteer correspondent of Pune Raj Ghosh . Excited Venkatesh expresses his long 14 years career's various unknown beautiful moments exclusively for KFC fans.
INTERVIEW WITH S.VENKATESH
KFC :A very hearty congratulations to you on the eve of this great achievement from www.kolkatafootball.com

VENKATESH : Thank you. Its not only my achievement. Its the achievement of all who has supported, coached & gave me chance to play.

KFC : What the special feelings on this special occasion?

VENKATESH : I am feeling happy to came here. But there is nothing more special. Firstly we have to win tomorrows game. We are in a good run & just want to continue that. If we win tomorrow we will reach at 21 points which will equalize us with Mahindra. We can finish up the first leg with a good position. Thats the most important thing.

KFC : As a legend touching a new milestone - the exact feelings?

VENKATESH : There are so mane legends in Indian football. Like IM Vijayan, Bhaichung Bhutia. I am quite lucky to get the chance to play with them. They could easily touch this milestone. I am feeling lucky to acieve this.

KFC : You have played with Dkshina Murthy, your brother - how can you define him in your career?

VENKATESH : He is the roll model of mine. I have learned a lot from him. Basically he is the man who brought me in football. In 97-98 in India football was very much neglected. But it is Dakshina Murthy who always rmained the reason of my inspiration in football. I am quite lucky to get him as a big brother in my life.

KFC : What about your coach Krishnaji Rao in ITI?

VENKATESH : Well, he is another peson to whom I ll be greatfull always in life. When I started career giving chance to an unknown newcomer was rare incident. But he kept confidence on me & I proved it. He is the person who promote me to Salgaocar.

KFC : You played twice in Kolkata. In 2002-03 for East Bengal & in 2007-08 for Mohun Bagan. How will define Kolkata football?

VENKATESH : Kolkata is a dream city in India for football. Lakhs of supporters & their inspiration is totally unforgettable. My favourite club is East Bengal. But my dream is to play in both club & I played. I was also lucky that I never lost the derby match. Always I was in the winner side.Today it is easy to get those big giants jersey. But its really an honour to any Indian footballer to have the chance to wear those jerseys. Kolkata is the football capital of India, so if you play in India & not get chance to play in Kolkata your career will be incomplete.

KFC : How was the pressure in the derby matches where lakhs of people gathered with lots of expectation?

VENKATESH : I never felt the pressure. It always charged me up. Whenever you will go to plays those match some will come from inside to chrge you extra to bring out your best output.You were telling about legends. I ll tell one man also as the legend. He is Tushar Rakshit. I have learned a lot from him.I was also lucky to play with Derek Perrera, Savio Medeira in Salgaocar. I was lucky to play with Barreto & Yakubu. I felt honoured when I played both with Barreto & Bhaichung in Mohun Bagan. That was a golden phase in my life. Bruno Kutinho, Steven Dias also the talented people with whom I felt lucky to play.

KFC : Coming from Kolkata football how are you adjusting in Pune where the spectators are not so highly football mad?

VENKATESH : Pune FC is one of the best club in India. It is best in its proffesionalism. I really enjoy to play here. Just wait 2-3 more years, Pune FC will be the biggest infrastructural club in India.

KFC : How can you define the dream run of your club?

VENKATESH : The management showed a high spirit in player recruitment. In India every year the teams change 60-70%. But Pune has kept the neucleous of the team for a long. We have only injected some key players in the vital position like Subrata, Edmar, Douhou, Arata Sunil Kumar.So, we took a little longer time to make the understanding. But now we are in the right shape. So, we are getting the expected result.

KFC : Player Of The Year in 2004-05, 1st from Begalore or captain of India in Canada for Nation's cup in 2006 - which is the bigger achievment?

VENKATESH : Obviously captain of India. Every player dreams to get that. I also dreamed for it. Best player awrds came as I played well, but getting captaicy is really the greatest honour in my life cause very few people got that.

KFC : What about your academy "Venkatesh Youth FootBall Academy" in Bangalore where at present 50 youth under the age group of 12 and 14 coached by your brother Dakshina Murhty?

VENKATESH : Its a dream project for me. There are so many example where academy has started but was closed in few days.I don't want this with my academy. I want to bring up players who are talented but poor, have a very little scope to explore the talent. This guys will be maximum from the zone of bangalore from where I am. I want to gift Indian football some talented player who deserve the ball for a longer time.

KFC : Thanks Venkatesh Once again, congratulations for this big acievement. All the best for the match also. Hope a great win will be the best gift from your team mates to make this achievement memorable.

VENKATESH : You are most welcome. I kept always lucky in my life & I never took presure. I just enjoyed the beauty of the game, the honour acievement came automatically. Thanks a lot for your wish.
SHORT PROFILE OF S.VENKATESH - AS A NATIONAL TEAM FOOTBALLER
1. Rajiv Gandhi Gold Cup Tournament held at Goa 9U-23), 1997
2. Asian Youth U-19 Championship 1997,Thailand.
3. Asian Games 1998 - Thailand.
4. SAF Cup 1998 Goa, WINNERS.
5. Millennium Cup 2000 - Cochin, Kerala.
6. World Cup Qualifying Round held at Brunei, U.A.E., Yemen & India,2000.
7. L.G Cup 2002 - WINNERS, Vietnam
8. England Tour 2002 - England.
9. Asian Games 2002 - BRONZE
10. SAF Games 2003 - BRONZE
11. Afro - Asian Games 2003 held in India - Silver Medalist (II place)
12. Played in World Cup Qualifying Round held in Japan, Oman,Singapore and India,2004
13. Represented as CAPTAIN for the World Cup Qualifying Match against Singapore 2004.
14. Captain of India Team for the Pakistan Friendly Series 2005
15. Member of Indian team to SAFF Cup, Karachi 2005 (India won the SAFF Cup)
16. Captain for the Fiji Tour - three friendly match series 2005
17. Captain of Indian Team for Nation's Cup played in Vancouver -Canada 2006
18. Played in AFC Asian Cup 2007, Qualification Competition match held in Kolkata against Saudi Arabia, 2006.

S.VENKATESH - CLUBS
1. 1996 ADE ( Aeronautical Development Establishment) Sports club, Bangalore.
2. 1996-97 ITI ( Indian Telephone Industries) Sports club, Bangalore.
3. 1997-2000 SALGOACARS Sports Club, Goa.
4. 2000-02 Mahindra United, Mumbai
5. 2002-03 East Bengal, Kolkatta.
6. 2003-2007 Mahindra United. Mumbai
7. 2007-2008 Mohun began, Kolkatta.
8. 2008-2010 Pune FC,Pune FC.

S.VENKATESH - HONOURS
1. Awarded Best Player of the National League 2001
2. AIFF National League Award for Best Player 2003
3. 2003-2004 Mahindra United "Best Midfielder of the year award" in National football league.
4. All India Football Federation "player of the Year " - 2004-05.
5. Hero Indian Sports Academy Awards for 2004 - HISA Award "Best Player of the Year" 2004.
6. Mahindra United- Federation cup 2005 champions as a captain held at Goa and named "Most Valuable Player of the Tournament".
7. Karnataka(India) State Government's Ekalavya Award, 2005
8. Karnataka Olympic Association "Player of the Year" 2006
9. AIFF National League Award for " Best Mid Field Player" 2006
10. Player of the Tournament of Federation Cup 2006.

What happens when great talent and passion for football is wasted.. we end up with interviews like these which seem to do nothing but fan a dieing flame of Hyderabad football. With several such attempts it can only make us feel like it's futile. Nevertheless the stories of our heroes may inspire our future talent to strive to achieve the kind of passion needed for this beautiful game of football.
One cannot fail to notice the disappointment Mohammed Akbar had in his eyes when he reminisces over efforts and glory of Hyderabad footballers and how they are forgotten. Their awe inspiring stories only make us more sad about the current state of Hyderabad football.
The soft demeanor and hint of Kolkata Hindi in his speech could not be hidden from us pakka hyderabadies, he of course smiles shyly when we point out his grammatical inconsistencies and influence of Kolkata in his speech. Being from Hyderabad and from a middle class family we were in for a ride when we heard from him the accomplishments and contributions hyderabadies have made. We would never have thought we have so much to be proud of. They have truly paid their debt to the city only to get nothing in return. This is the human side to the legends from our City.
(24.10.2009) SAMIRA SULTANA - Volunteer Reporter from Hyderabad of www.kolkatafootball.com talked with Ex- Indian International Striker MD. Akbar (Chote Mia) .
KFC

: What has your childhood been like?

MD.Akbar : We were a middle class family. My father worked as a school teacher and loved sports. We are six brothers.Our first brother Mohammed Habeeb was renowned player in Hyderabad and Kolkata. 2 years later my second older brother Mohammed Moin joined Mohammedan Sporting and played with good players such as Mr.Salam. Then after another 2 years gap Mohammed Fareed my third brother also joined football.

Then after all bothers followed suit and played football. We used to watch them play matches in Fateh Maidan bare foot or with anklets. So we all turned to football naturally as I also saw how famous they were for their quality football skills. Sadly, no one in Hyderabad recognizes them like that anymore. In junior school I and Habeeb bhai used to play for the same team in school and always won the finals. But when I started High school he left for Kolkata. Thus he became a role model for me. Habeeb Bhai guided me well and encouraged me to play for Hyderabad City Police for pocket money. I played there for 2 years. Since I used to play well I started getting offers from different organizations to come and play for them.

KFC : Did you have sufficient support from your family? Did they not pressure you about your studies?

MD.Akbar : Well in those days studies were not given as much importance. We were ofcourse encouraged to study better but were not pressured as the children today are. I passed my multipurpose SSC and then followed my brother's footsteps to start a career in football. As in those days it was not less than a religion. People used to flock to the grounds to watch us play. There was great passion for the sport.

KFC : Did the job offers from various Depts of Govt and private sectors serve as motivation to play football?

MD.Akbar : No, no no the passion for the game was a motivation.We used to think of taking India to an international level, to make successful careers. Had that been a motivation I would have joined the Hyderabad Police in 1968 and would have had a high position too, or in a bank. We chose to go to Kolkata as players there were held in high esteem. They were considered world class players as Bengalis love football. It was a different feel altogether. Bengal to football is like Mecca to Muslims. Everyone aspired to play in Kolkata.

KFC : How did your transition to Team India happen?

MD.Akbar : In 1969 I got selected for the Jr Indian team. The system earlier was that Olympic selection committee selected players from the Under 19 National team. From there I got selected for the first Indian Team Camp as a substitution player. Though I did not get to play for the Indian Team at the time, I had the best coaching. I was not disappointed that I did not get to play as the 2 months coaching I received there was very valuable. That was the kind of coaching I should have had when I was younger.I was lucky to be playing for Hyderabad City Police with great players like Zulfiqar saab, Yousuf khan saab etc.

KFC : How much of an influence was your Older Brother Habeeb in your career?'

MD.Akbar : Major! He was a role model for me. His move to Kolkata Inspired me to play better. When I was down with Jaundice and a fractured leg it was their career in Kolkata that kept me motivated despite my sickness and injury. Not to mention the Hakeemi treatment I underwent.

KFC : The brother duo are still renowned and no one seems to have quite matched their symphony on the ground. How does that make u feel?
MD.Akbar : Great! I don't really know what to think of it as we played because we loved to play. We read each other's moves and practicing and playing together made us anticipate our moves and strategies.
KFC : From the current clubs in India which would you support?
MD.Akbar : I have not been able to follow the local matches as much as I want to thus can really comment.
KFC : What about international clubs?
MD.Akbar :Same there. Unable to watch the matches. But I personally I like Thierry Henry.(this alone makes him my best football player in Hyderabad)
KFC : How would you describe the quality if modern day football to earlier times?
MD.Akbar : Too much is expected out of players these days with a desire to make them all-rounders . I think this greatly reduced the kind of quality one would see in earlier days as attack midfield and defense were specialist in their own areas. Those days were definitely different.
KFC : Have any of your children taken interest in football careers?
MD.Akbar : No. Since they did not show interest we did not push them. They have turned out successful in academics.
KFC : Your peers have moved on to either coaching or commentary or in some way stayed with football. Have you also done the same post retirement?
MD.Akbar :I coached Hyderabad Sporting for a year but then ventured into merchandising business.
KFC : What has been your contribution to Hyderabad football?
MD.Akbar :With the current situation of the association and the legal litigations surrounding it, we have not been able to do much. However we did try and take talented players to Goa to try and get them exposure.
KFC : What is your opinion on the situation in Hyderabad about the association?
MD.Akbar :It's very sad that the issues are not getting resolved despite our best efforts to get AIFF to intervene constructively. Meanwhile we are aware that a lot of careers are being wasted and can't help but feel sorry for them.
KFC : In your opinion, do Indians have the capacity to match international teams?
MD.Akbar : Yes. If the child's talent is capitalized when he is young like in Tata FA then it is possible. Proper nutrition and discipline for the game can definitely produce very good players from India aswell. When we played against international teams we realized all that we lacked was the physical strength and stamina to match them. We had great understanding of the skills and tactics needed to beat them. He fondly remembers their 2-0 win against S.Korea and how he was commended by their coach for his efforts.
KFC :Don't you think you could have accomplished more had you continued playing football in Kolkata?
MD.Akbar : Yes I do think I could have done a lot more with my career but the need of the time was different. I had some other priorities too.
KFC :How would you sum up your football experience?
MD.Akbar : I got a lot from football. Especially since I played in Kolkata. Had I not played in Kolkata I would not have been able to accomplish as much. I feel great to have been able to live my passion.
KFC : Finally, which would you say are your most memorable goals?
MD.Akbar : Well all of them as I was the top Scorer in Kolkata for 4 years. But, I would say goal in 13 seconds against East Bengal when playing for Mohun Bagan and the First Half goal against North Korea when playing for East Bengal in 1973.
KFC :By the end of this interview we are only left wondering what more Hyderabad could have achieved, given the opportunity, with such amazing talent that we see every day.
---
Kalyan Choubey - The custodian of this year's Salgaokar Sports Club is all set to touch a milestone which never before done by any custodian of India.

In the forthcoming 18 October game of Salgaokar versus Mahindra United Kalyan will make his 150th appearance in National League.(I –League).Just one night way from the history www.kolkatafootball.com's Associate Editor Subhransu Roy had telephonic conversation with Kalyan Choubey on 17th Oct.
KFC : With the forthcoming match between Salgaokar SC and Mahindra United you are going to create a history by making 150th appearance in National League. What is your feeling?

KALYAN : Iam really very happy. To be honest with you it is that kind of feeling which can't be exactly expressed through words. Right now I can remember my first match in national League when I was in Kingfisher East Bengal, my team manager came and informed me that Iam in the team, and I was thrilled.

I never assumed that time that one day I could make my 150 appearance in this top tournament of the country. But I did it. I have donned the jersey of almost all of the top clubs of the country. Played almost all the best venues of country and I have many top national and some of the best foreign coaches who have come to India. You know its really gives a satisfaction for any professional player. So, Iam happy for whatever I have achieved as a professional player.

KFC : You have played all the edition of National Football League (I-League) till now. Do you observed any change in Indian football scenario?

KALYAN : Absolutely. A great change has taken place in Indian football and all credits should go to All India Football Federation (AIFF) for introducing the national league. You see in mid 90s when this league was introduced what was the scenario of Indian football? Only two- three teams from Calcutta, one or two teams from Goa and few other teams from other states like JCT of Punjab were main teams in the fray for all the top tournaments in the country. Just shift your attention to present day Indian football.

All top 14 teams participating in this year's ONGC National League are working hard to prove themselves. And on their day they any club team can beat his opponent. It just proves how competitive Indian club football has become. Clubs like Shillong Lajong FC, Pune FC are making appearance in the top level which is also opening new quality venues for Indian domestic football Secondly after introduction of National League and the competitive consequences all clubs are desperately trying for best results which pushing Indian domestic football more and more towards the professionalism. Now we have goal keeper coaches, physical trainers, professional managers, and other supporting stuffs which altogether creating a healthy atmosphere in Indian football.

Thirdly, a good number of foreign players are coming to play in different clubs of India. I do agree that all are not class players like Berrato, Odefa, Yakubu and others but average standard of foreign players are quite good and it is in my opinion causing good for Indian football. And last but not least this league has given chance lot of new talents groom. When it was introduced it was Bengal player we dominating.

Then came the terms of Manipuri players. Now days, a lot of young talents of Punjab showing their skills in the football ground. Now pujabi football players no longer just reaming in their state teams but, they are playing almost in every teams from different parts of country. So I feel the situation is quite optimistic.

KFC : What is your advice to young kids who are dreaming to become goalkeepers of your caliber?

KALYAN : Work hard with discipline in your life and should have a determination for achieving your goal. These much I can say to any young player who has dream in his eyes to become a quality custodian in future. You may be talented but there is no short-cuts in the way to success. It is not applicable to a football player but almost every-sphere of life.

KFC : Best of luck for tomorrow's match and thank you for talking with www.kolkatafootball.com

KALYAN : Thank you very much.
---
MacPherlin Dudu Omagbemi (born 18 July 1985) is a Nigerian Striker. Previously playing in the Indian National Football League he had many great successes with Sporting Clube de Goa even becoming the leagues top goalscorer in 2004 - 2005 season.

He joined Poland Premier Divn Club Wisła Krakow in 2007-2008 as loan and From 5th of August 2008 he joined the 3 time Hungarian champion DVSC.Currently he played there 13 matches and scored 4 goals. kolkatafootball. com has taken an interview of Striker Dudu Omagbemi.

27.08.2009 :: MacPherlin Dudu Omagbemi to rest for few months to play in Champions League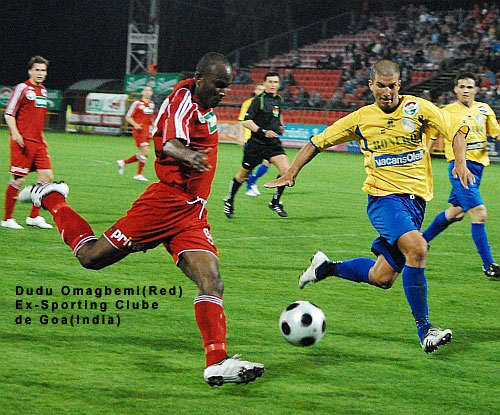 KFC: Dudu, We heard that you are injured now in Hungary?
Dudu : Yes, I got injured few days back and I have to take rest for six months.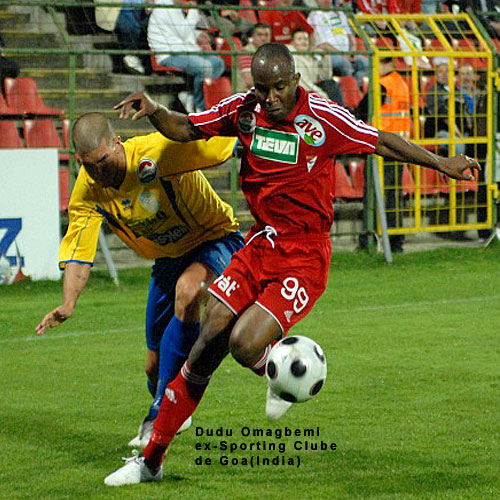 KFC:Do you miss Indian football? Do you want to come back to India?

Dudu : Yes I definitely miss Indian football, but right now I am enjoying my game in Hungary. Definitely, if any team can meet my demand, I can come back to India.

KFC: Is there any difference between I-League and Premier League of Hungary where you are playing now?

Dudu : Of Course ! It's very very high and professional than Indian League which I played.

KFC:Is there any chance that we can see you in action in Champions League if your team qualify?

Dudu : Yes, definitely there is a chance, that is why my team is asking me to do operation for the injury, so that I can get fit as soon as possible after taking rest.As you know, I am an important member of our team.

KFC:Ohh that's a great news. Where is your team placed in league now?

Dudu : We won 2 - 1 lst match. We are in Champions league now. We have to draw the last game next week and then we will be playing qualifying round of Champions league.

KFC:That means you just need 1 point in your next match to qualify?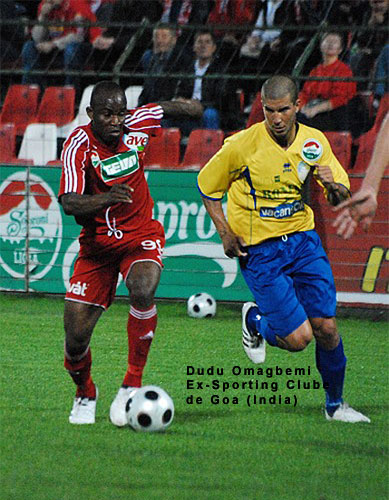 Dudu Yes we need 1 point in the next game and then we will be the Champions league qualifying stage.

KFC

:Who is your favorite footballer?

. Dudu : I have got many.

KFC:Please name some.

. Dudu : Thiery Henry, Ronaldo, Ronaldinho, Zidane, Samuel Eto and the list goes on and on

. KFC:You heard news of Freddy Mascarenhas? your team mate in Sporting Goa?

Dudu : Yeah, I heard about him. He retired from football and went to Barmuda to do service. He was a very good player. This is very surprising news for me, you know.

KFC:What is your jersey number now in Hungary?

Dudu : Jersey no 99.

KFC:What?

Dudu : Yes, that is my current jersey number with DVSC F.C of Hungary, when I was in Wisla krakow F.C of Poland I was using jersey number 40

KFC:Lastly, you played in Goa but never in Kolkata club, if any offer comes, will you be interested?

Dudu : I told you, firstly they have to meet my demand. Secondly, I can come for 3-6 months in my off season here and not more than that

KFC:That means in lien?

Dudu : Yeah.

KFC:Thanks a lot Dudu for this interview. on behalf of www.kolkatafootball.com, We pray to God that your recover as quickly as possible from injury and start scoring goals for your team

Dudu : Thanks a lot.

.
04.08.2009 :Mr.Nuno Mousinho Esteves of SPUNP - (Sports Unlimited Partners) Portugal said to Kolkatafootball.com Reporter A. Bhattacharyya
Q :: Is it right that your agency "Football & Friends is involved with the Indian team's this year Barcelona Trip? Apart from India , is there any other country for which you have arranged such practice matches?
A :: FOOTBALL & FRIENDS WAS ONLY RESPONSIBLE FOR THE 2006 GOAN CONFERENCE. FROM 2007 ONWARDS, WE HAVE BEEN OPERATING UNDER OUR NEW COMPANY SPUNP www.spunp.com WE HAVE BEEN FOCUSED IN INDIA FOR THIS TYPE OF EVENT. OUR AUSTRALIAN BRANCH WILL SOON LAUNCH AN ACADEMY PROGRAM UNDER THE BANNER OF A SPANISH CLUB.
Q :: In 2007 & 2008 also you arranged the conditioning camp for India in Portugal? Isn't it? if you compare between the training facelities between Portugal and Barcelona which you fell better? Why?
A ::YES WE HAVE ALSO ORGANIZED THE 07 AND 08 CAMPS. THE PLAYERS CAN ANSWER THIS QUESTION. WE BUILD THE CAMPS ACCORDING TO THE NEEDS OF TEAM INDIA. THE FACILITIES HAVE BEEN THE BEST IN BOTH COUNTRIES.
Q :: We saw that after returning from the training and practice match in Portugal last two years.India won Nehru Cup and AFC challenge cup.Can India give a good performance in the coming Nehru Cup? What is your expectation in this regards?
A :: WINNING IS ALWAYS EVERYONE'S AMBITION AND WE ARE NO DIFFERENT. NEVERTHELESS THIS IS JUST ANOTHER STEP IN THE LADDER THAT TEAM INDIA IS TAKING TO IMPROVE ITS POSITION IN AFC RANKS. WINNING IS IMPORTANT BUT MORE IMPORTANT IS TO KEEP THE STEADY GROWTH WE HAVE WITNESSED IN THE LAST 3 YEARS.
Q :: As you know that this year's Indian Squad has not changed much from previous Portugal trip.How you rate this year's Indian Team?
A :: MORE MATURE. THERE ARE A GOOD NUMBER OF PLAYERS THAT SHOW SIGNS OF REAL IMPROVEMENT. NOTHING WILL CHANGE OVERNIGHT AND THESE TRAINING CAMPS HAVE SHOWN THAT A LONG TERM PROJECT IS THE RIGHT WAY TO STEP UP THE GAME IN INDIA.
Q :: In this year's Barcelona Trip, which of the players of India side do you think have potential to play well ? In your opinion what are the basic lacunas of the Indian Footballers that have let them so behind from their European counterparts?
A ::IT WOULD BE UNFAIR TO NAME JUST A FEW. THE BEST QUALITY THE INDIAN PLAYERS HAVE COMPARED WITH EUROPEAN PLAYERS IS THE HUMILITY TO ACCEPT THAT THEY STILL HAVE A LOT TO LEARN. BOB HOUGHTON'S EXPERIENCE AND REPUTATION HAVE BEED EXTREMELY IMPORTANT TO CLOSE THE GAP BETWEEN INDIAN REALITY AND EUROPEAN STANDARD.THERE IS NOTHING WRONG WITH INDIAN PLAYERS. THE HUGE DIFFERENCE LIES IN THE INFRASTRUCTURES AVAILABLE.
Q :: It is seen that whether it was in Portugal or now in Barcelona,India team is playing aagainst 2nd /3rd Division Teams.Do you think that the India National Team deserves to be pitted against far superior sides?
A ::THAT IS A TECHNICAL DECISION THAT I UNDERSTAND AND AGREE. IT WOULD BE POINTLESS TO FACE 1ST DIV TEAMS. WE WOULD BE LOOKING AT COMPLETELY DIFFERENT WORLDS. THE MAIN GOAL OF THESE CAMPS I AM SURE IS TO BUILD A TEAM SPIRIT, TO CREATE A TEAM ROUTINE WITH THE OBVIOUS RESULTS WE HAVE SEEN IN RECENT YEARS.
Q :: You being the Countryman of C.Ronaldo, Figo and Legaedary Eusebio,It is obvious that you have enough experience in Football.From that view point, dou you think that Indian Football team has good future?
A :: NO ONE SHOULD EXPECT OVERNIGHT MIRACLES. I AM PRETTY SURE THAT ONLY A LONG TERM STRATEGY WILL PAY DIVIDENDS. YOU COULDNT ASK FOR BETTER RESULTS FROM THE NATIONAL TEAM. PORTUGAL IS A COUNTRY OF 10 MILLION PEOPLE ... AND WE HAVE AT LEAST 6 STATE-OF-THE-ART TRAINING CENTERS AND 10 RECENT (2004) STADIUMS WITH A CAPACITY OF AT LEAST 30,000 SEATS. NOT TO MENTIONS DOZENS OF SMALLER STADIUMS ACROSS THE COUNTRY. INFRASTRUCTURE IS KEY, TO DEVELOP A STEADY AND LONG TERM WINNING STRATEGY.
Q :: We came to know that last year some Club Football scouts from different Countries used to attend the Indian teams matches at Portugal and did spot some of the players. Can you let us know whether this year the Football Scouts are present in Barcelona? Any player spotted by them?
A :: NO I AM NOT AWARE OF ANY SCOUTS.
Q :: It's fact that, you are closely associated with the Indian Football from few years, have you any programme in future to come to Kolkata - The Football Capital of India?
A :: YES WE DO. LIKE I HAVE STATED ABOVE, I BELIEVE IN LONG TERM PROJECTS AND DEFINETLY KOLKATA IS A CENTER PIECE IN OUR PLANS.
Q :: on behalf of the millions of Indian Soccerfans in general and Kolkatafootball.com in particular, we thank you once again for extending your helping hand for the betterment of Indian football. Hope we will always find your cooperation in the days ahead.
A. LIKE I SAID TO YOUR FELLOW GOAN JOURNALISTS IN NOVEMBER 2006, I AM IN INDIA FOR THE LONG RUN. YOU WONT SEE SPUNP QUIT OR SLOW DOWN.

Cristiano Ronaldo's interview before joining Real Madrid 2009 :: courtesy: All Sports Magazine . READ



Pic Courtesy :www.goa-fa.com



20.04.2009 :: kolkatafootball.com wishes thanks to Mr. Arindam Bhattacharyya - Goal Keeper of I-League 2008-2009 edition Champion team Churchill brothers for sparing some time out of his busy schedule with our Correspondent S.Mitra .


KFC: Congrats on winning I league. This is your first I league win as a player, how are your feelings?

ARINDAM:: Thanks a lot. Yes this is my first I-league win and I am extremely happy and overjoyed and I hope that I will win many more such titles in my future in whichever team I play. This year we worked very hard throughout the season. The I league was very tough this time. We had some tough times as well but we were always united and our team spirit was very good. This is the reason we emerged winners. I personally will relish this victory a lot because this is my first major trophy.

KFC: Do you want to continue in Churchill or want to change team and come to Kolkata or may be go to Mumbai?

ARINDAM:: I have not decided anything on this yet. Let us finish our Super Cup first on 26th April Against Mohun Bagan . After that I will go to Kolkata and then will make my decision.

KFC: We heard you were blamed for the goal you conceded against Air India, is this true? What do you have to say on this?

ARINDAM:: Yes, I was blamed but now things are okay. It happens in football and is part of the game. I think this is the beauty of my position.

KFC: What are your background? I mean, your schooling etc. Have you been part of any academy? Who was your first coach?

ARINDAM:: I am from a middle class family, finished my schooling in Barrackpur Central Model School,North 24 Pargans,Bengal. After that I went to TFA. I was there for 2 years, from there I went to Churchill Brothers and this is my third year in Goa. My first coach was Samir sir (L) and Bhola da .

KFC: What teams did you play before coming to Churchill?

ARINDAM:: I played only for TFA before joining Churchill Brothers.

KFC: As a Bengali, do you face any problem playing in Goa?

ARINDAM:: No, this is my third year in Goa. Till now I have not faced any kind of problem. It's very fun playing football in Goa.

KFC: What is the difference of climate in Kolkata or Goa?

ARINDAM:: The climate is hot in Goa but after sunset the weather is very cool.

KFC:Say something about Odafe? How does he motivate to teammates? Do you think he is the best foreigner player in India right now? Who do you think is the best Indian player at this moment?

ARINDAM:: He is one of the best player I have seen in my life. You know, it is very good to know that a quality striker like Odafe is in your team because he is always scoring goals. We know that if we concede any goal, Odafe Okolie is there to put one back. We play in much less pressure. He is a great team man. Among Indian players, I think Bhaichung Bhutia . is the best.

KFC: Which Indian player you think is most skillful player?

ARINDAM:: Bineesh Balan of our club. He is an extremely talented and skillful player.

KFC: Which two stoppers you feel are the best and you would like to play with?

ARINDAM:: I think Gourmangi and Mahesh Gawli will form a great pair in defence. I have played with Gourmangi and I know how good a player he is.

KFC: Your favorite team in English Premier league and favorite player?

ARINDAM:: I am a big fan of Manchester united and my favorite player in Christiano Ronaldo.

KFC: Which is the best goal you have saved? Which is the most bad goal that you conceded?

ARINDAM:: Both of the goals have been in the same match against East Bengal in Kolkata. The match was of this year's I league. I conceded a very silly goal, the worst I have ever conceded. In the same match, I made an absolutely stunning save, I was very satisfied by making the save.

who want to take football as profession, not only goalkeeping.

KFC: Who is your ideal player from childhood?

ARINDAM:: Oliver Kahn and Arindam (laughing).

KFC: In Kolkata, which goalkeeper do you think will make it big in future?

ARINDAM:: I have not seen any in recent times but Kolkata Goalkeepers are always good and you can see that in maximun I-eague Ist Division club'ss in India, the Goalkeepers are Bengali.

KFC: What is your past-time hobbies? Do u see hindi movies or listen to music? Who are your favorite actors, actress and singer?

ARINDAM:: I like spending time in laptop, net surfing, watching movies and biking. Yeah, I watch Hindi movies. My favorite actors are Akshay Kumar and Sonam Kapoor and I like songs of Shaan a lot.

KFC: What is your message for those who want to be goalkeeper in future?

ARINDAM:: Nothing much, just keep working hard. This is for all This is for all who want to take football as profession, not only goalkeeping.

KFC:Thank you for spending your time with www.kolkatafootball.com.

ARINDAM:: Welcome..
---
It was the summer of 1990, FC Barcelona was – a tradition in those years – preparing for the next campaign in Holland, when a rare situation occurred. Arch rivals Real Madrid wanted to take on Luis Milla and made their interest officially known. Not only was Milla a regular in Johan Cruyff's squad, he was also a product of Barcelona's Youth Academy.
"We can never allow this," vice-president Joan Gaspart fumed. "Ah, let Luis go. I already have a replacement. And believe me, he is much, much better," countered Cruyff nonchalantly, leaving Gaspart bewildered.Cruyff was talking about one Josep Guardiola i Sala, now 38, alternately playing in the second and highest youth team those days. The skinny kid, who made up for his lack of physical strength by his vision and skill, would play four games that season for the Barcelona first team. The year after that the midfielder grew into one of the cornerstones of one of the most legendary and successful teams of all times. And it is hugely remarkable that almost 20 years after his debut as a player, Guardiola as a trainer seems to be leading Barcelona towards new glory days. It is January 2009 and the national coach of Argentina, Diego Maradona (talk about life's surprising twists), is attending the Barcelona-Real Mallorca match to catch his star player Lionel Messi in action. He is highly impressed by the way the team he himself played for between 1982-84 is performing.
The day after the 3-1 victory, before the light training session, Guardiola asks if El Diego perhaps would like to say a few words to his squad. The legend gladly obliges and his words leave the squad glowing:
"You are an example to everybody. fans it is great to have players they can automatically identify with.I would like to congratulate you guys, you provide people all over the world real enjoyment of football. If you continue this way, the trophies will automatically follow."
WE CAUGHT UP WITH GUARDIOLA SOON AFTER FOR THIS EXCLUSIVE INTERVIEW

Courtesy:www.allsportsmag.in and HAKKIE - TIKKIE Media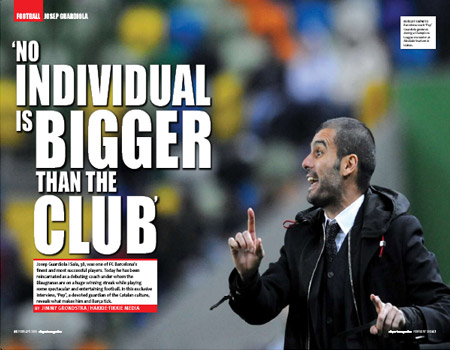 Q : What was the thought behind getting Maradona to talk to the Squad?

GUARDIOLA: : (A bit surprised by the question) I just thought the guys would appreciate it. And they did. If a special opportunity like this occurs,you have to seize it.

Q :I gather we are talking to a satisfied coach here…

GUARDIOLA: : Most certainly, although you always have to beware of satisfaction. There are always things that can be done better, and we still have such a long way to go.

Q : If we would have to describe the game of Barcelona this season in one word, it would be 'hungry'.

GUARDIOLA: : Perhaps, it's the best compliment a coach can receive. Next to qualities like skill and vision, hunger is the most important. Hunger to always want to keep getting better, hunger to win. That is what keeps the motor running.

Q : With you now on the bench, another Catalan coach (15th totally) is calling the shots at Camp Nou again. How important is that?

GUARDIOLA: : Well, it is not a necessity, but it undoubtedly adds a certain dimension. Don't forget, we also have had very successful coaches here that were not Catalan.

Q :Please take us back to late June 1984, when you first arrived at FC Barcelona. What do you remember about that?

GUARDIOLA: : (Leans back) Ah, everything. I come from Santpedor, 40 miles from here, and from my 12th year I started to live in La Masia, the residence for young Barça talent. You don't only train there, also live there. From day one I loved it. Playing football every day, with just one target, getting better. And all that in the shadows of Camp Nou. It could not have been better.

Q : October 19 last year against Athletic Bilbao, you had eight home produced players in the match squad.

GUARDIOLA: : Yes, we are very proud of that. It just is so special if you make your debut at the senior level in a shirt you have worn since you were a kid. Then that shirt really means something to you. You also hardly have to adapt, because you have learned to play in the club philosophy, we call that La Masia – the stamp. And then it does not matter where you came from. Lionel Messi is from Argentina, but if you look at his style, he is an ultimate Barcelona player. For our fans it is great to have players they can automatically identify with.

Q :Playing for that Dream Team. How memorable was that?

GUARDIOLA: : (Laughs) A dream. Four titles and in 1992 the first European Cup. Playing alongside Ronald Koeman, Michael Laudrup, Hristo Stoichkov and later Romario, not only were the results great, but also the way we played.

Q :You are regarded as a student of the Cruyff doctrine.

GUARDIOLA: : He has been instrumental both in my own career and for this club as a whole. As a player he led the club into the seventies. As a coach later on, he did the same. I have learned a lot from him, but you take something with you from every trainer, good or bad. And at the end of the day you have to do things your own way. Impersonating somebody never works.

Q : Barcelona is known as 'més que un club' (more than a club). Not only a source of regional Catalan pride, but the club also has 160,000 members. The charisma of Camp Nou is truly global. Through the eyes of the media FC Barcelona is watched daily and observed by the world. How do you cope with that?

GUARDIOLA: : Well, I try to be open as much as I can with the media. Sometimes, that is difficult, but it is the best way to get in touch and stay close to your fans. Of course, you cannot always speak your mind completely. But if you are honest and, for example, admit it when the team has not performed well, that prevents a lot of speculation.

Q : After two disappointing seasons it was time for a breath of fresh air at Barça. Not only did coach Frank Rijkaard leave, but also amongst other stars Ronaldinho (AC Milan) and Déco (Chelsea FC). When you were appointed, you suggested that it perhaps also would have been better for Samuel eto'o to leave. But he is still here. And in prolific form too!

GUARDIOLA: : At our training camp in America he regained our confidence. I must admit I am very glad he stayed. And so is he.

Q : In 2005 you started the shortened trainer course, last season you led Barcelona B and gained them a promotion. You are 38 years of age. Pretty young for a coach!

GUARDIOLA: : (Shrugs) Well, it is the same with a player as it is with a coach; when you are good enough, you are old enough. Of course, I still can learn a lot, gain experience, but I don't have to do it alone, I have a great technical staff and the technical director is, for example, Txiki Begiristain, so there also is a great amount of experience and knowledge.

Q : What is the proportion of attacking/defending in the playing style of Barcelona?

GUARDIOLA: : It seems a bit contradictory, but the more you want to attack, the more defending discipline you need. My first task as a player always was: guarding the balance, keeping the lines together, making sure the spaces between our players were not too big. From there we started to play football. Everybody has to work together; the forwards need to help in pressuring the defence, defenders with attacking. My way of approaching the game is that if the ball is in the other side of the field, I'm relaxed; if it's in ours, I'm not. Look at our backs, Daniel Alves and Éric Abidal, who like to attack a lot. This can only work when players like Yaya Touré and Xavi Hernández act as a jugador organizador, play controlled in midfield. Almost ever attack starts with Xavi; he does that fantastically. And with Carles Puyol we have a very reliable central defender, which also helps a lot.

Q : Characteristically, the game of Barcelona is the fast ball circulation towards forwards Samuel eto'o, Thierry Henry and Lionel Messi, who can all score goals or provide an assist. Another thing that catches the attention, is the quality on the bench, with top players like eidur Gudjohnson, Aleksandr Hleb and Bojan krkic sitting there. Rotating players usually brings about a lot of unrest. Not in this case?

GUARDIOLA: : Anybody playing for this team has my blessing, but nowadays in top football a big squad is instrumental. Man, we play so many matches. The key elements of this team are strength, desire, dedication and foremost, working hard. And although this team is overflowing with individual talent, no individual, absolutely no one, is bigger than the club.
---

"I would love to work for development of Indian Soccer"- FIFA Agent Yogesh Joshee

22.02.2009 :: Exclaims first ever Indian Origin FIFA & UEFA Licensed Player's Agent Yogesh Joshee during his visit to Kolkata.kolkatafootball.com wishes to thank Mr.Yogesh Joshee for sparing some time out of his busy schedule and meeting our Correspondent Rahul Sengupta at the Hotel Hyatt Regency, Salt Lake, Kolkata.

KFC: Tell us something about your Childhood? You were born in India but brought up in U.K share some of your experiences of England?

YOGESH: I was born in India but I was only eighteen months old when my Family moved to U.K. Out there in England we used to play street soccer with tennis balls. When we moved in during the 1970's the English people were fresh from their World Cup victory so football became a part of our life as we saw our peers engrossed in the game and we could not help stop ourselves from playing football.

KFC: Tell us something about your family? Do you come from a Sporting background?

YOGESH: No I never came from a sporting family but yes we loved sports as a recreation. But now things have changed, my son who is eight years old is playing at the Arsenal Soccer School and recently won a medal for his good performance and he is also playing for a local league side which is incidentaly coached and managed by me. I used to play amateur football and even now we play seven a side matches on Astro-turf every Monday. We have a team consisting of friends for the last fifteen years!

KFC:Tell us how you became an Agent when did you decide that you wanted to become a football agent?

YOGESH: I used to work with an Investment Bank and had experiences of managing Portfolios of investors. Apart from that my Brother-in-law is a professional Poker Player and I used to manage his affairs and once he won $1.2 Million. I used to meet other professional managers at PFA Parties and then I decided to sit for the Regulation Exam in 2008. There is a very strong Asian Community in U.K so I wanted to manage the Asian Players in English Football circuit.

KFC: Being an Indian dint you face problems while establishing yourself as an Agent of Football in England?

YOGESH: No of course not as I told you things have changed since we had arrived we are now more part of their society in fact people like our culture a lot so we never face such problems.

KFC:Your purpose of visit in India is regarding opening of your office at Delhi? Can you elaborate about your business?

YOGESH: You are right I reached Delhi on Monday and I opened a branch of my Company Match World Ltd at Delhi. Me and my friend Kenny Moyes runs the company its basically a sports management business. I met Kenny last year in Geneva during a Match Agent Conference; I am also a UEFA Licensed Match Agent. He was asking me about Indian football and we readily agreed to work together.

KFC: You have been a globetrotter yourself and have watched football and footballers in different parts of the world. What according to you is the difference and similarity of football in India and outside it?

YOGESH: I mean the similarity is football. It is a Universal language the fans the television coverage etc. adds interest to the game of football, the similarity with rest of the world is passion. People here in Kolkata are very much passionate about football. Imagine 100,000 people coming down to watch their favorite teams play what else you want?

If differences were concerned I would say footballers in India are very disciplined they have high moral values and knows how to respect people. That's where the difference lies.

KFC:What was the impression of Chris Coleman on Sunil Chhetri?

YOGESH: Chris Coleman expressed that Sunil Chhetri was a perfect gentleman and very humble in nature. He also said that Sunil is a Championship material or even higher! He is certainly positive about moving to Europe next season.

KFC:While you did a splendid job of arranging a trial for Sunil in Coventry. There were a certain section of the media saying that it would have been better for Chhetri to play somewhere in top Asian leagues like Japan or Arabia rather than playing in lower division sides in Europe. What do you fell about it?

YOGESH: well I am not pretty confident about the facilities that any Asian club can provide. In U.K there is a huge population of Asian people so Sunil Chhetri will not be isolated in an alien country so we have to keep many factors in our mind while we decide on the future of a player.

KFC:Tell us something about your future plans?

YOGESH: I love it in India. The people here are very passionate about football and moreover I am an Indian so it's my duty to work for the betterment of football in India. I will be the happiest person to work for development of football in this country.

KFC:Talking about development, Goa will have a Manchester United Soccer school very soon, so what's your take on it?

YOGESH: It's good to hear that big brands like Manchester United are investing money in Indian football. But Soccer school isn't really an academy I have never seen professional footballers coming out from a soccer school but anyways its good for a start at least.

KFC:Is there any other Indian footballer that are going to sign for your company?

YOGESH: There are a couple of young lads who have caught my attention but I cant tell you anything concrete as nothing has taken shape so far.

KFC: thanks a lot for speaking to us! Hope to see you back in Kolkata very soon.

YOGESH: It was nice talking to you; yeah surely I will be back in India soon!
---
06.02.2009 :: Throughout his long and varied playing career, never could former France international Vikash Dhorasoo have been described as your typical footballer. As fans of Le Havre, Lyon, Bordeaux, AC Milan, Paris Saint-Germain and Livorno can all attest, the diminutive midfield schemer had the ability to pick holes in the tightest of defences, particularly when playing at his free-spirited best. Now 35 years of age, the man whose 18 senior caps for Les Bleus took in the 2006 FIFA World Cup Germany™ has taken his life in a new direction since hanging up his boots in January last year. A French national, but with roots in both Mauritius and India, Dhorasoo's latest project involves promoting football in the latter nation - the main reason for his visit to the Home of FIFA in Zurich on Wednesday 4 February. There, he made time for a full and frank interview with FIFA.com. :

FIFA.com : Vikash, what projects are you involved in at the moment?

Vikash Dhorasoo : I've got a footballing project in India on the go . We felt there was a desire from the world of football and FIFA in particular to turn its focus towards this country. So I wanted to meet the people here (in Zurich) to see how we can work together on this project. This is because it seems to me that if there were ever an institution that was perfectly suited to this idea, that's FIFA.

FIFA.com :Why did you choose India in particular?

Vikash Dhorasoo :I was "labelled" as the first player with Indian blood to take part in a World Cup . Even though I didn't play much, France reached the Final and I became more famous. And that coincided with a period during which Indians were focusing more on the West and on football. On coming here to FIFA, I've been delighted to see how FIFA's perspective on football in India corresponds with my own vision of things. I have the impression that in every country in which FIFA chooses to start up a project, there is also a social component to it, and I like that.

FIFA.com :That aside, what else keeps you busy on a daily basis?

Vikash Dhorasoo :I'm a Paris town council representative. I work in the social domain and am not directly involved in football. That said, whenever I arrive in a neighbourhood, people start talking to me about football and PSG straight away. It's an excellent way of creating a bond and getting those kids to open up. They might say more to me than they would to other people, so I can then pass on the information to the mayor and we can take things forward.

FIFA.com :What do you look back on in your career?

Vikash Dhorasoo :I had some great experiences. The 2006 World Cup especially was the cherry on my cake - I was fortunate enough to have been chosen among the best players in my country. At that competition, despite the clearly "nationalistic" atmosphere, I could appreciate the sense of brotherhood and the friendly exchanges. That's something I agree with.

FIFA.com :What has given you the greatest sense of satisfaction?

Vikash Dhorasoo :I've met fantastic people everywhere. I'm also satisfied to have finished my career in Paris. But I've also seen how youngsters' attitudes have changed. Twenty years ago I just wanted to play for playing's sake, without thinking I'd end up earning a big salary. Nowadays I speak to lads who just want to earn loads of money, without really knowing if they want to play football or not. I'd like to turn that trend around. It'll be difficult, it'll need a lot of education and commitment in order to change people's mindsets. Football has a unique power to unify people, and it must use that to increase solidarity.

FIFA.com :Were you ever the victim of racism during your playing days?

Vikash Dhorasoo :I was asked to become a patron of (the organisation) "Paris Football Gay", which battles against homophobia, and I accepted because it was a way of fighting against all forms of discrimination. I've been subject to racism in my daily life as well as when I was a footballer, at Milan for example. The battle will be long and perilous but it must continue.

FIFA.com :What was it like to play for AC Milan?

Vikash Dhorasoo :Milan was a great experience. I've got an enormous amount of respect for it as an institution, and I saw how great a club it was. I wasn't one of the star names when I arrived, yet I was treated exactly the same way.

FIFA.com :In France you were tagged as something of a midfield "intellectual". How did that feel?

Vikash Dhorasoo :That didn't always help during my playing days, but on the other hand it's been a real help since my career ended. And my career post-football looks like lasting longer than my playing career! So, in the end I'm very happy to have been labelled that way.

FIFA.com :Was it a tough decision to hang up your boots?

Vikash Dhorasoo :The end of a career is always hard. I didn't finish on a glorious note, I'd been sacked by PSG and things didn't go well in Livorno. But that was the moment the mayor of Paris asked me to come and work for his team. So it all came together well and that rather sad moment ended up turning out nicely. Of course that was still a tough period. Football is my passion, it's the only thing I've done my whole life, and so it's not easy when that comes to an end.

FIFA.com :Do you still follow football?

Vikash Dhorasoo :I like watching it on television but, for the time being, I find going to stadiums to be too violent an experience. Football could be different, there's no reason why (the atmosphere in) stadiums should be so aggressive. I dream of changing the world, stadiums and people's mentalities.

FIFA.com :What is your view on the modern game?

Vikash Dhorasoo :There's something dramatic in what's happening in the major European leagues. This spectacle, that has such a big impact on youngsters, suggests to them that they should always be trying to earn more and more money. They don't understand all the implications of transfers. We have a duty to explain to them that they should play for pleasure, not just to become millionaires. This is what made Kaka's refusal to join Manchester City a good thing. That really gave people in the neighbourhoods something to talk about. Youngsters realised that his love for his club made him turn down an offer to double his salary.

FIFA.com :You made a film in 2006 and also acted in one recently. Could this be another potential career avenue for you?

Vikash Dhorasoo :I'm curious about it. I was offered a short role in a film, I said to myself 'why not?' and I went off and did it. But I've no intention to pursue an acting career - I performed alongside experienced actors and I was terrified. But if I could do it again, I would.

FIFA.com :Do you intend to get back involved in football one day?

Vikash Dhorasoo :In a sense I'm still involved, that's why it was important to me to come to FIFA today. I also write for a football magazine, which forces me to stay in the loop. But one day I would like to come back on the other side of the fence, by taking charge of a club for example.

Courtesy : www.fifa.com
---
06.02.2009 :: National coach Bob Houghton spoke to the-aiff.com about the progress made in the national team and also about Indian players making their mark in the international arena. Here are the excerpts:

Q:How would you describe the state of Indian football when you first took the national team job? What were the main challenges you felt needed to be overcome?

Houghton: We have made some progress if you compare it from some years ago. We were 163 and now we are 142 in FIFA rankings and we have advanced in Asian circuit as well and we have moved from 27 to 20. We have qualified for the Asian Cup finals so in that regards we have made progress and also if you look at the results though we recently lost to Hong Kong but that was our second defeat in 17-18 matches. So I think we have made progress with the senior team. And also we have made some good progress with the junior teams. The performance by Under 16 team last year was also spectacular. We are ranked 17th in Asia and we have managed to get U-13 camp and U-19 camp. So in all levels we are making progress and particularly with the AIFF Training centre, GOA, where we kept the U-16 boys in the camp for 18 months which made a big difference in their performance. There is one big challenge that is January 2011 and which is just less than two years from now on when we play in the Asian Cup finals. In between we need to get the team well prepared as we can. But of course now we have I League, Federation Cup and then we have AFC Cup for the Clubs that's Dempo and Mohun Bagan. It is quite difficult to see on the horizon a big enough gap and a long enough time to get the players together to get the advancement of the need.

Q: Do you feel the infrastructure in the country is improving rapidly enough or maybe more importantly coherently enough?

Houghton: Infrastructure, well unfortunately in this country is almost nonexistent for football I am afraid. There are very few quality stadiums and very few training grounds. I hope the FIFA's win in India with India project will help in developing couple of good facilities for us.

Q: With Indian players getting a chance to appear for trials in foreign club do you think Indian football is making its mark in the International arena?

Houghton: Yeah it is definitely making its mark and it won't be long before the first one goes and does well and then many more will follow. When I went to China in 1998 there were no Chinese players playing outside of China and after 8 years there were seven or eight that played in Premiership so once Clubs become aware that there are good Indian players then they will take more of them.

Q: Apart from the AIFF, who else needs to be involved in the game's development – does more help need to come from the government or the private sector for example?

Houghton: It's a combination of things that makes a successful national team in football as it is a worldwide game. It's not just a few countries that you are competing against it's the whole world. And if you are seriously capable to compete you need all help. You need all the sponsorship that we getting in development of the game and we need state associations to be accommodative. Also we need State Association and I League clubs to work on the development of the players so all need to come together to have a successful national team.

Q: You've talked about the need to recruit taller, more athletic players, something Japan did during their development – how is that progressing? Generally, how much are you competing with cricket for young Indian kids looking for a sport to play?

Houghton: We have been getting some bigger players in the team though it is not happening quickly and it can't happen quickly as we have to identify them when they are young and keep working with them. We will get some bigger boys and in current team also we have some bigger boys.

Q: As someone who has taken a club to the European Cup final, do you envisage a point in the future when Indian players will have what it takes to be playing regularly in the competition?

Houghton: Why not. When I took the club to the European club final the whole of that team came from a city where we were based – Malmo—and it is a very small place 250,000 people. And we got into the level as the development program was very good and therefore if we work hard on improving the quality of younger players then I don't see why an Indian player shouldn't be like Japanese or Korean.

Q: How much of a watershed was it to win the AFC Challenge Cup and qualify for the 2011 Asian Cup? Has it given the players a winning mentality? Can it act as a catalyst for further strides forward?

Houghton: I hope it works as a catalyst for further strides ahead as that's what I like to think. Ok it was a big success and the boys played and got along very well. But what's really required now is the victory to act as further incentive for the players to work hard and get fitter to be better players and for the players coming behind to recognise it. We can make those achievements if we work hard and get organised so I don't think that it could be a watershed. Ok if we go there and perform poorly then we are back to square one but if we can prepare and that is important that we prepare properly and give a good account for ourselves with best clubs and best teams in Asia. IF we do then it will do two things – one it will raise the portfolio of the game and secondly it will give us some belief that somewhere down the lane we can qualify for the World Cup.

Q: Recently AFC got out with a rule that we can have four foreign players in the I League and out of them one should be from Asian country. How much impact would it have on our Indian players when it comes to playing together?

Houghton: Well because I am a national team coach. I will be happy if there are no foreigners in the National squad. You have to accept the fact that clubs love foreigners because they give fans a bit more interest. I suppose one thing the foreigner does for us is they make us aware of the size of the players we are going to play against. If there were no foreigners let's say if there were no Odafe's then we will be totally less aware of the size of the opponents and then it will be very difficult to deal with them.

Q: You have been following the I League and you have been in favour of it always? How much do you think that it has improved as far as playing standard goes?

Houghton: It has improved a lot as compared to its previous editions and you can see it how better the game is now as compared to what it was two and half years ago. If Indian football has to make that great strides, forward then we really need I League to be the engine for that move because the national team will only be good when players coming from I league. Now if I League clubs are organised they have good coaches, good training and they improve the boys then the national team will be good. If the work done at the club levels is not good enough then it will be very difficult for us to take steps forward so I League is really the engine for it.

Q: So as a chief coach of the national team the way you train the team do you have plans to get the same structure to the club levels as well?

Houghton: What we are doing for the clubs is that we are bringing all the club coaches together on a regular basis. We just had them together during our national camp at Goa last month and when we have our next camp we will get them together again and we will try and get someone from overseas so that our coaches also get regenerated and they can get fresh ideas. So that's where I think we can help the most.

Q: With most of your senior players getting old have you identified your bench strength and can you name some players who will replace the senior team?

Houghton: Sunil would be around as he is young. This is the job of all coaches to coach the team in a way that new ones can replace the old ones so of course that's what we are doing. Are the ones coming behind capable of doing is what we have to see when they get a chance. But for sure we will be working hard with the U-19 team, the Olympic team which is U-21 that will provide some base to them. I am watching a lot of youngsters on regular basis and I know all the youngsters now playing in the I League. If they keep on playing well then they will be there in the team irrespective of what their age is. If the team keeps doing well then we might go into the 2011 Asian Cup finals with the same squad and at the same time it is for the younger ones to push themselves for the reckoning and if they get a chance then they have to capitalise on it and perform. So the challenge is for everybody – challenge for youngsters to make their way into the team and challenge for those who are in the team to perform and remain at the time. There are few I have identified – when we played in Hong Kong Rakesh Masih made his debut and he was good and the good thing is Anthony Pereira has come back from his injury, Sushil Kumar Singh and Nirmal Chettri are few who can make it but everything would depend upon their performance.

Courtesy: AIFF Media Release
---

23.01.2009 :: MR. EDDIE ROCK :: FIFA LICENSED SOCCER AGENT - spoke to our reporter Rahul Sengupta regarding Indian Footballers to play in MLS - USA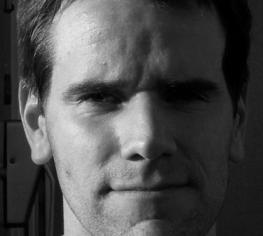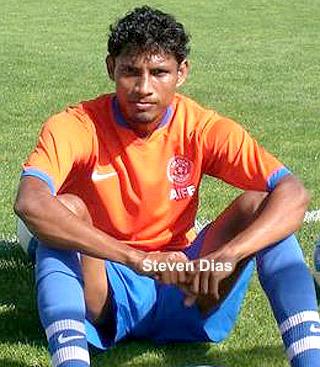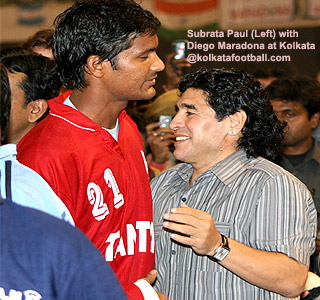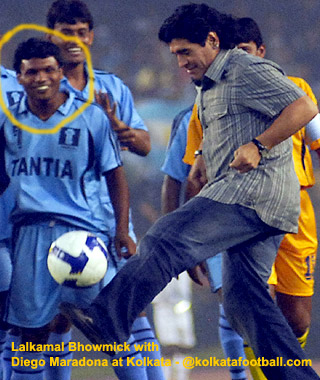 KFC : First of all thanks for identifying talent in Indian footballers and helping them to ply their trade abroad. Tell us something about yourself how you decided to become a football agent?

EDDIE : I was a student of political science and coached at the University of Chicago. I had experience of playing football at University till the U-23 level. After my graduation I pursued Law for my masters degree it was then when I served a year's internship at the MLS office, after that stint I decided to take my Agent licenses.

KFC :Staying in the USA how did you come to know about Indian footballers, after all, Indians are famous for everything but their football?

EDDIE : well I had my friend Arvind who is an Indian and knew much about Indian footballers. Arvind gave me a DVD of some footballers and it was after watching them,my team at Libero Spots Agency LLC decided to sign them and represent them.

KFC : India is currently ranked 142nd in FIFA where as USA is in the top 20. Do you think that an Indian footballer can play in a league which is meant for more developed players?
EDDIE : Yes, there are a number of players who can move outside India. For a player who is 25 years old, what he needs is a club with good facilities and that can provide him good opportunity to develop. As a matter of fact I am sure that we can find a good club for the players in our roster where they can hold down a place in the starting eleven rather than warming up in the bench for a "big" club.
KFC :Apart from Steven Dias are there any other players that you have signed and are there any more players you are willing to sign the dotted lines?
EDDIE : well we have already signed Steven Dias, Lalkamal Bhowmick and Subrata Paul. Apart from that there are 3-4 other players we've had discussions with over the last three month. I can inform you about it once everything is finalized.
KFC :Are there any clubs which have already shown interest in signing these players whom you represent?
EDDIE : MLS has shown interest in the players and we're in discussions with the league office. That said, Sweden and Denmark are ideal for India players because it highlights their technical ability and offers them the opportunity of being scouted on a regular basis from European clubs.
---
The man behind Sunil Chhetri's move to Coventry City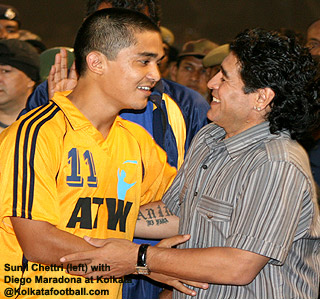 Must be wondering who is Yogesh Joshee?? Well Yogesh Joshee is the FIFA Licensed and FA ( England ) recognized Football Agent and perhaps the first and only football agent of Indian Origin. He is the man behind Sunil Chhetri's move to Coventry City .
ONE ON ONE WITH YOGESH JOSHEE :: Here's Yogesh Joshee speaking exclusively to www.kolkatafootball.com reporter Rahul Sengupta .
KFC : You were based in U.K so how did you get in touch with Sunil Chhetri and how did u make arrangements for him in Coventry?

YOGESH : I was in Portugal signing some Portuguese players for my agency when I saw an article in the local daily about the arrival of Indian team in Lisbon . I was born in India but brought up in Middlesex U.K so I decided to watch their practice session. I met Mr. Bob Houghton and he recommended me that Sunil Chhetri is the upcoming star in India . Can you name any other striker of his caliber currently in India ?

KFC :What are the chances of Sunil Chhetri securing a deal from the Championship side? What are your expectations?

YOGESH : of course I have high expectations for him. We are quite optimistic that he can break a deal with the club or else we would not have been working so hard on bringing him here. But playing in U.K is different from India the game style the pitches the environment everything is different from India.

KFC : you must be aware of Bhaichung Bhutia palying for Bury FC. But despite scoring 9 goals in the season he was released from the club just because his manager did not like him! Don't you think racism can go against Chhetri? And getting a work permit is also difficult? What do you feel?

YOGESH : Lots of things have changed since Bhutia's visit to England. There are many Asians playing for example Ricky Bains, Harpal Singh etc. we are professional agents and we will do our bit to make sure that Chhetri gets his Work permit.

KFC : With Chhetri's probable move to U.K who can benefit from it ?

YOGESH : India will benefit the most Chhetri can become the role model for players and soon we can see many other footballers following his footsteps and moving abroad we all want to see India in the World Cup some day. And that is possible only when Indian players get good global exposure.

KFC : What are your future plans? Any plans to improve football in India?

YOGESH : I was amazed when I was going through the FIFA Players Agent list I found that there were FIFA agents from small countries like Mauritius and Lesotho but no Indian Agent! So we are planning to open our branch in India very soon that can be very helpful for the footballers in India !
MR. SUBRATA DUTTA ( Vice-President of All india Football Federation And Indian Football Association, Bengal) EXPRESSED HIS VIEWS TO US AFTER GLORIOUS WINNING OF AFC CHALLENGE CUP 2008 BY TEAM INDIA
Interview taken by Shilarze Saha Roy, Kolkata : 18.08.2008


KFDC : How do you analyse the recent triumph of our National Football team in AFC Challengers Cup? Would this triumph help to bring back crowds in the stadium?

ANS :This victory would certainly help Indian Football in various ways.......

a) It would give impetus to the All India Football Federation to carry on the Development Programme more seriously.
b) Encourage the budding footballers to take professional football as their career.
c) Enhance the popularity of the game across the length and breadth of the country.
d) Draw the attention of the corporates which would accelerate the process of commercialisation of the game.
e) Increase the importance of the game in the eyes of all State Governments and the Central Goverment to provide the requisite infrastructure of the game.

KFDC :The majority of the team is comprised of the players from Bengal.How do you rate their performance.

ANS :Subroto Paul's perfomance was outstanding.Baichung and Sunil Chetry really played well. Performance of other players were quite satisfactory.

KFDC :Bob Houghton has been an important figure in Swedish Football with Malmo FF.Now his contributions in Indian football is also increasing with time.How do you analyse his perfomance from Nehru Cup to the recently concluded tournament.Do you think India should retain him as a coach till 2011 AFC Cup as Mr.Das Munshi has expressed his interest to do so?

ANS : Mr. Houghton has proved his worth as the coach of the Indian team. We are all happy with his performance and so we should not only retain him but should also entend all support to him so that he can deliver his best.

KFDC :Your take on Bob Houghton's decision of preventing Baichung Bhutia from retiring from International football.

ANS : Bob was right, Baichung is still the best striker of the country.

KFDC :Don't you think India should compete in more international tournaments to improve Fifa Rankings as Rankings create a lot of difference.

ANS : We should participate in those tournaments only which would really help us to do better and improve our ranking.I mean only those tournaments which are worth participating to improve the level of performance .

KFDC : What are the future plans of AIFF regarding betterment of our Football? How they are planning to develop our infrastructure in order to succeed. Some Examples.

ANS : The most important plan which is being implemented is the National football Academy at Goa. The house at Goa for the academy has already been purchased.Airtel has come forward to support this long term development programme financially.Training grounds have been identified and the process of acquiring and developing them are on.

AIFF has also identified stadium in some States which have I league playing teams. The President is interacting with the Government of those states to improve those stadium and bring them upto International standard.Besides, the AFC Vision Programme has been implemented successfully in somes states and soon it is expected to yield result.Talks are on with AFC to implement this Vision programme in Bengal and Goa soon.

KFDC :Do you feel that India's visit in Portugal for last two years has any way contributed these win? Do you think that we should tour to some other infrastructurally developed countries like Englnad,Spain,France,Japan,Korea etc. for better exposure.

ANS :I feel we should now limit our tours to only those countries which just better than our standard.Not to those countries which are head and shoulder better than us. If we can beat the teams of those countries who are some what above us then it would boost the morale of our players and also encourage them to do even better.We should progress step by step steadily.

KFDC :Do you think with all these recent successes, we can turn the table and prove our critics wrong.

ANS : Our team has already proved those crtics wrong who criticised after we lost to Maldives in the final of the SAFF cup.

Well lastly we, the Team Members of Kolkatafootball.com, are very much grateful to you for giving us some valuable time and supporting our cause of developing and integrating the indian football.

with regards, kolkatafootball.com - Team.
---
FACE 2 FACE
: Mr. Satyam Roychowdhury
Managing Director, Techno India Group
Sitting in Middle : Mr. Satyam Roy Chowdhury
By Aantan Bhattacharya, Kolkata : 18.07.2008


Q. Hello Sir, first of all heartiest greetings and congratulations from the entire team of kolkatafootball.com for being associated with Aryan football club on a mammoth 10 years contract.
A. Thank You, the pleasure is all mine

Q. Now that Techno India Group has inked a sponsorship agreement with Aryan, where do you see them on the Kolkata football canvas in the coming 3-4 years, keeping in mind their current 1st division Group "A" status and performance stats? Do you see them playing in the CFL premier division soon?
A. This is just the beginning and we have a long way to go. The Club has a lot to achieve and we are extremely hopeful of achieving the best

Q. What will be your strategy to overcome poor phases if unfortunately the results are not satisfactory? Will there be any flexibility in the budget?
A. Our strategy is to have a positive outlook in all our ventures and aim for the best.

Q. Would you like to disclose the amount of sponsorship and the areas in which your organization intends to help out the club?
A. No. Our goal is to provide a nurturing environment for the players and members whereby the club can achieve its long lost glory. For this, we are ready to commit to this in a long term basis.

Q. Speculations are in air regarding Techno India's own football academy and team would you please enlighten us on this issue?
A. TIG has already planned a sports academy where among others we wanted to initiate a research and training in various sports like football, cricket etc. The academy would have the best training facilities which would enable the coaches to impart training to the students. It will be world class facility where training will also be provided in lesser popularized sporting activities like archery, billiards etc. Young boys and girls with a flair for a sport will be enrolled in this academy whereby they will be provided nutritious food, training sessions with coaches and an academic grounding. Coaches will be sourced from all around the world and care will be taken to impart training in the most scientific manner. TIG will also provide support to retired sportspersons and help them to develop an alternate career.

Q. Techno India is one of the most reputed technical education and knowledge management group, then what made you invest in football development and that also a century old football club which has a thin fan base as compared to the Derby biggies?
A. It is the immense love for this game that has prompted us to take up this initiative. Like all other ventures, we want to have a grass root level initiative where we want to connect with the football loving masses and promote the sport which has a huge potential in our country.

Q. As far as ciné stars are concerned, they often find themselves with schedule difficulties. Megastar Mr. Mithun Chakraborty had also been associated with IFA as a goodwill ambassador but could not devote that much time to promote the sport as it was desired; don't you think it may be all the same with your ambassador, super star Mr. Chiranjeet? If not then in which activities are we going to see him in the next ten years?
A. Chiranjeet is close friend and an integral part of our club and we are glad to have him as a part of our team. He was very much forthcoming and wanted to be a part of this initiative. Apart from possessing a sound technical knowledge of the game, he is an excellent motivator and we believe that his inputs will go a long way in giving our team an extra edge.

Q. Do you think this corporatization of football clubs in Kolkata in recent times with the likes of Mr. Vijay Malya whose UB Group has been associated with the two Kolkata football giants East Bengal and Mohun Bagan, is going to bring a revolutionary change in contrary to AFC (Asian Football Confederation) president Mr. Hammam's remarks "Indian football is still 100 years lagging behind", during his last visit to India with FIFA president Mr. Sepp Blatter, who on the other hand had commented "India is a sleeping giant" of world football.
A. It is good sign that corporate houses have finally realized the true potential of this game and are appreciating the potential and mass appeal of football. Infact at this juncture, the future of the game appears very positive to us.

Q. Is the IPL success story anywhere behind the scene?
A. IPL has been a landmark in the history of Indian cricket and the same model if employed for football will spell wonders for the sport. IPL has been an eye-opener and is source of inspiration for all of us.

Q. Well apparently, this is all about helping a 124 years old club regain its past glory, but do you have any plans for the 'real' football development, the IFA nursery league boys? Is there any plan to invest huge sum at the grass root level so as to produce more Chuni, P.K and Baichung in future?
A. TIG is planning a Sports Academy and I am confident that the Academy will take care of that. The Academy will undertake every effort to explore sporting talents from every district of West Bengal to begin with. These talents will then be placed in our Academy where they will be given a rigorous training in their chosen area of sports in addition to grounding in academics. As they grow, they will be trained to participate in various sporting meets whereby they will have a chance to display their true potential. This itself is huge investment as we will be putting all our efforts to deliver the best infrastructure, best manpower, resources to develop world class sportspersons

Q. Ok, do you personally take some time out to go and watch football matches? Which is the last match you watched, both national and international?
A.I do try to watch matches and given my schedule this does become a tad difficult. However, I did see the Euro Final and I must say it was one of the finest football matches of recent times.

Q. Personally, which Kolkata football club is your personal favorite and why?
A. Right from my childhood days I have been an ardent admirer of the Mohun Bagan Club and being a life member of the same, I am very much attached to it. Now the Aryan Club too will hold a special place inside my heart

Q. Apart from the modernization and corporatization of clubs, don't you think its time now to apply technology to the way the universal sport is portrayed here in this part of the world as compared to the international clubs, with their own supreme quality official websites and IPTV infrastructure?
A. Technology of course can be implemented like the way the foreign clubs do. However we must remember that football in India is at a grass root level and superior technology might not be effective here. Once we achieve our primary goals and take the sport to the next level, we will definitely implement the required technology

Q. To finish with, our national team captain and football icon Baichung Bhutia has created history on 12th July 2008 when he scored 2 back-to-back goals at the famous Allianz Arena of Munich for a "GOAL 4 AFRICA" charity match against world famous sportsmen and footballers, on the auspicious occasion of Nelson Mendela's 90th birthday. Would you like to convey him any message?
A. It was an awesome feat and he has proved himself and silenced his critics. Apart from my heartiest congratulations I would offer him my best wishes.

Thank you so much for sparing some time for this interview to Kolkatafootball.com. We wish your venture every success.
A. Thank You
---
FACE 2 FACE
: Atanu Bhattacharjee - Ex India Goalkeeper

By Abhishek Bhattacharyya from Kolkata : 23.06.2008


Atanu Bhattacharjee has been one of the finest goalkeeper India has ever seen. He started his footballing career with Howrah Union.The former Mohun Bagan,East Bengal,Mohammedan S.C. and India Goalkeeper is the last Indian to be selected in All Star Asian Team in 1986.Just like we say "Charity begins at home".Atanu da's football also kicked-off at home.

His father Late.Umakanta Bhattacharjee was a left winger and played for clubs like Arians,Bhawanipore and International.His elder brother Debashis Bhattacharjee also played for Red and Yellow brigade.We got up, close and personal with this living legend of Indian football as he expressed his thoughts on UEFA Euro 2008 and Indian football.

Please tell us your take on UEFA EURO 2008.Who do you think will win the competition.
Ans :Its really exciting to see the football giants of Europe taking on each other.The competition has been very unpredictable.Its hard to pick a winner.But now we are down to 4 teams. Those four semi-finalists have given their best to reach here and I think Germany will win it.I love the way Germany play their football.Germany plays power football and are technically strong than any other European teams.But I think Russia also has a chance because Guus Hiddink is doing a great job along with his whole team.

Which one player has impressed you in this year's competition.
Ans : Hmm…I think it has to be Russia's Roman Pavlyuchenko.The 26 years old Spartak Moskva Forward has been performing consistently.

Your favourite match till now
Ans : Netherlands crushing the Italians 3-0.

Please Say your Semifinal prediction between Turkey vs Germany and Russia vs Spain
Ans :I think Germany will win 2-0 against Turkey and Russia will win 2-1 against Spain.

You have been a role model to many of the current generation Indian GoalKeepers.Who was your Role model ?
Ans :My role model has been the former Russian Goalkeeper Rinat Dasayev.I had a chance of interacting with him during the Nehru Gold Cup two decades back.It was a great experience then.I also liked Germany's Toni Schumacher.

:Tell us three things a young Goal Keeper needs to follow in order to suceed.
Ans :1)Practice hard , 2) Be fearless and 3)Keep a Never say die attitude.

Who is your favourite Indian Goalkeeper in recent years ?
Ans :It has to be Subrata Paul.But he still has a long way to go and that's why he should keep on working.

:Your contemporaries like Monoranjan Bhattacharjee (Coach East Bengal),Alok Mukherjee , Debashish Mukherjee (Goalkeeper Coach East bengal) are into serious coaching these days.Are you planning to take up coaching once again in near future.
Ans :Why not!If I get a good offer in future I will surely take up the job again.

:Tell us why our kolkata teams are not able to perform well in I-league and Asian competitions.
Ans : We don't give our players the time to settle here properly and then there is pressure from all corners.Things get decided by seeing one match.We need to be more professional in order to achieve success.
I think we should concentrate more on I-league.Our teams should be made by keeping I-league in mind.We should also look to get some good foreign players. It seems that we cant think beyond Barretto.

:Your favourite club Mohun Bagan has appointed Karim Bencherifa as their new coach.Your take on that
. Ans ::Well,he is a great coach and Churchill's performance last season bears testimony to the fact.He is young and was also a ex-player and knows the nuances of modern day football and I wish him best of luck for the upcoming season.

:On Baichung being invited to play in Goal4Africa match.
Ans :Ya it's a great honour for him.Its great to see a Indian player being selected for this match.

A messege for the Indian football fans.
Ans:Support Indian football.Because our football needs your support and things are looking good.We are improving so just be with the footballers.
---
120th Durand Cup Champion Churchill Brother's Striker ODAFA OKOLIE
120th Durand Cup:Man of the Match in Final and Winner of Golden Boot (11 Goals in 4 Matches)
Enjoying my stint with Churchill Brothers: Odafa Okelie
K.chakrabarty:He converts even if there is a little sniff of a goal…Odafe Okelie's goal scoring rate will tell you the rest of the story…In Durand Cup, the Nigerian striker pumped in a dozen goals to justify his top scorer's award in last NFL and helped Churchill Brothers to win the Durand Cup….. Kolkatafootball.com had caught up with Odafa Okelie in Goa, before Churchill Brothers left for Delhi to play in Durand Cup…Following are the excerpts of the interview…
Neme: Odafa Okolie Onayeke
Country:Nigeria
Position:Can Play as Striker,Defencive Midfielder,Even as Goal Keeper
Status:School and College Team Captain in Nigeria
Academy: Pepsi football Academy - Nigeria
Current Club:Churchill Brothers,Goa,India
Previous Clubs:2003 -City F.C-Kolkata,Peerless S.C-Kolkata,2004 -Mohammedan S.C-Kolkata 2005 -Mukti Joddha Samsad (Bangladesh), 2005 -Churchill Brothers
Achievements:Top Scorer with 13 goals in Bangladesh Football League 2005
Achievements:Top Scorer with 12 goals in 2nd Divn.AIFF Ongc NFL 2005
Achievements:Top Scorer with 22 goals in Goa Football League 2006
Achievements:Top Scorer with 18 goals in 1st Divn.AIFF Ongc NFL 2006 - 2007br> Achievements:Top Scorer with 11 goals in Durand Cup 2007
Current Achuevements:Year 2007-08(Upto Janyary 08) :: Scored 56 Goals in 46 Matches ( 5 Hattricks)

Q. How do you find the team this year??

Odafa: Well, it is full of youngsters and like last season we will perform well… All players are eager to do well and hopefully Churchill Brothers will shine in NFL…

Q. First Professional League is about to start…What are your expectation??

Odafa: I'm playing football professionally for quite some time now and it is nothing new for me, but obviously I-League will help Indian football to grow. The game is advancing in India and professional league will make it more competitive in the country…

Q. You must be looking forward to surpass the last year's record…

Odafa: (smile)…Yes..My duty is to score goals and I'm happy that I'm doing it consistently.. I'm confident to deliver even this year.

Q. Are you happy playing in Churchill Brothers??

Odafa: I've a lot of friends in Churchill…Off the field I spend time with them and that makes the understanding even better when we play together…The club management is very supportive and I'm enjoying my stint with the club.

Q. Churchill Brothers came very close of winning major tournaments but failed a number of times…Are we going to see any difference this year.

Odafa: We played really well last year but couldn't win the title…Hopefully everyone will contribute together this year and who knows we might come on the top!

Q.Your team won Durand Cup.As a Captain what is your feelings??

Odafa:I am very very happy because, as a Captain I scored the winning goal for my team. A Team Leader has to set an example by his performance and I did it in the match.
---
Bob Houghton Deserves a long term contract: Henry Menezes
How Indian team suddenly started to perform well???? Is this game going through a consolidation phase in India?? Can we keep the momentum go?? Henry Menezes accompanied the Nehru Cup winning Indian football team as a commentator with Zee Sports …..The Mumbai F.C manager shared his opinion on a number of issues in an Exclusive interview with Kolkatafootball.com. on 19.09.2007
KFDC: How different is this side from the Indian sides of recent past??

Henry: The footballers played a different style of game altogether in Nehru Cup….The team played an aggressive brand of soccer …We are capable of creating upsets playing like this, at least team India have proved that …. Bob's boys looked mentally stronger than ever before.

KFDC: We are 16 places up in the FIFA ranking ( 145 currently)after the Nehru Cup…Can we enter the top 100???

Henry: India will face Lebanon next and I am hopeful about our chances…We should win if the team play this kind of soccer ….We will reach at least 120 within this year. I'm confident; the team will continue their brilliant run.

KFDC: How is NFL's contribution to the team's success in Nehru Cup??

Henry: We have to raise the standards of NFL….The foreign players playing in the NFL now are not of the highest standards. Federation allowed the foreigners to play in NFL just to raise the standards of our boys. But if we continue to recruit foreigners like this the purpose is never going to be solved. It's high time before we come out with some solution.

KFDC: There were no higher ranked teams apart from Syria…How do you rate our victory in Nehru Cup??

Henry: See, success never comes in a day. It would come gradually and you have to be patient. It was good for the side the way matches were scheduled. We gained confidence after a big win against Cambodia and that later on helped the boys to perform brilliantly against Kyrgyzstan and Syria.

KFDC: How do you rate our chances in near future??

Henry: I am ever optimistic. If the players continue to train under Bob Houghton and stay fit through out the season, I am hopeful that the team would go a long way in Asian standards. This team will rule the sub continent football.

KFDC: Have you spotted any particular footballer in this tournament… Who was the most transformed footballer??

Henry: It would be sheer injustice if I name a single player ….Steven Dias, Subrata Paul, Mahesh Gawli..Every one played tremendous football. But I must say Sunil Chhetri was the best of the lot. I've heard people saying Sunil in not doing justice to his potential…But this guy proved every body wrong in Nehru Cup. Who knows; he must have had more inspiration partnering Baichung Bhutia ….It's commendable, the way Baichung helps the youngsters.

KFDC: Can we keep up the momentum??

Henry: Nehru Cup win has helped football back into the lime light. Now comes our real test. Players like Subrata Paul, Steven Dias, and N.P Pradeep will play for the national side for a while but we would miss the services of the senior players after some time. We have to find out the raw talents from the junior and sub junior football to replace them. It's difficult to become professional in a single day but it's important to build a professional mentality.

KFDC: One last question…How do you rate Bob Houghton as a coach??

Henry: Bob is in charge of the side for the last one and half years…But how many international matches India played under his coaching?? …Our success in Nehru Cup has shown that we are capable…AIFF should help Bob with more international exposure. …He should get a long term contract from the Federation. A supporting team consists of assistant coach, physio, physical trainer and a match analyst should accompany him through out the year. I am confident success will come.
---
Mr.Nuno Mousinho-Esteves (right)with Alberto Colaco(AIFF General Secretary)

15.09.2007 :Mr.Nuno Mousinho Esteves of Football And Friends - Portugal said to Kolkatafootball.com Reporter Nabarun Mukherjee

Qs: -1) First of all, on behalf of Kolkatafootball.com , we convey our heartiest congratulations to "Football & friends" for arranging the Portugal trip for the Indian footballers.

We are confident the experience gathered by the Indian Footballers from this trip will certainly help them to perform bettering the coming days. Taking the cue from above, can you tell us for how long your organization has been organizing such kind of trips for the foreign footballers?

Apart from India , is there any other country for which you have arranged such practice matches in Portugal ?

A:Thank you very much for your kind words. It was na honour for us to host AIFF in Portugal . We are a sports marketing agency especiallized in football.We do organize training camps for clubs and national teams, but this was much more than a tour.Football and friends organized this tour in cooperation with FPF - Portuguese Federation and LPFP - Portuguese League as part of a long term partnership with AIFF.

Qs: -2) Is India the first Asian country to visit Portugal through your organization?

A: Yes it was. Soon a Malaysian group will follow.

Qs: -3) What is your basic idea about Indian Football?

A: When we started Project India last year, we were aware of India 's low FIFA rank. Our perception then was far from the reality we have discovered since then.The talent pool is there. Indian players are as talented as any other player.There is a long way ahead but time will come when India will rank Top 5 in AFC.

Qs: -4) As you know, Portugal is at least 15 times ahead of India in the FIFA football ranking. Is this the main reason for which you have arranged practice matches of India with the Group-'D' &'E' teams of second & third division teams of Portugal? ?

A: yes there is. It was a technical decision made by Bobby Houghton and his staff. We could provide any kind of clubs to play India NT. Their decision was based on the need to offer Indian players levelled competition. They needed to work of tactics and team spirit. It would have been much more difficult to achieve that against I Liga opponents.

Qs: -5) In the Portugal trip, out of four matches, India had won and drawn two matches each - what is your opinion about this?

A: Perfect. It worked just fine for Houghton's goals as well for the moral of the team. The games were good to watch.

Qs: -6) In your opinion what are the basic lacunas of the Indian Footballers that have let them so behind from their European counterparts?

A: There isn't a simple answer to this question. Indian players are as talented as anyone else. The game in Europe is played at an entire different level. I consider that the youth development systems in Europe are the best in the world. This is the main difference for the rest of the world, not just to India .

Qs: -7) Let aside the Indian Captain Baichung Bhutia, who are the other Indian footballers that have made an impact in your minds? What are their basic attributes that have made you think so?

A: As far as talent goes, I would pick at least half a dozen to play here, but professional football in Portugal is played at a very high level. The competition is fierce, with players from all over the world. Any player that hopes to play Pro in Portugal must be a complete athlete with a very strong attitude.If I had to pick just one I would bring Sunil Chetri.

Qs: -8) Apart from the national team, is there any scope for organizing such trips for the Indian club sides to play practice matches with the leading clubs of your country?

A: Our partnership with AIFF goes far beyond a NT tour. We are on board to help upgrade anyone's game. Indian clubs are most welcome to start a business relationship with us that will allow them to create a bridge with Portugal .

Qs: -9) As you must be knowing, Kolkata is the Mecca of Indian Football. Is there any scope for your organization to come over here and work as mutually convenient?

A: We are aware of Kolkatta's importance in Indian football. Our path will be designed in cooperation with AIFF so I would expect to enter Kolkatta soon.

Qs: -10) As evident from the photographs of the matches you have sent, most of the matches there were either played in open ground or in scarcely populated stadiums- What is the main reason behind this?

A: The summer vacation period in Portugal goes July 15th to Aug 31st, when most people go south to the beautiful beaches of the Algarve .Also the purpose of this tour wasn't commercial so we didn't advertise the games, as Bobby Houghton asked for a quiet atmosphere around his team so that they could fully develop their program.

Qs: -11) How were the local populace and media enthusiastic about the trip?

A: The media did cover the tour. Portuguese sports channel SportTv will air soon a 25 min program about the NT tour. Summer is football off-season. The populations rest the overdose of football we have here. As you can imagine in a country with a 10,000,000 population that have 400 senior teams competing in 5 Divisions!

Qs: -12) Are you again interested to arrange such friendly matches with the Indian teams in future?

A: We are holding hands with AIFF for the long run. As I promised in our Football Marketing & Youth Development Conference (Marriott Goa – 25th November 2006) we will dress in blue until the day India reaches top 5 in AFC.

Qs: -13) What is your opinion about Indian victory in ONGC NEHRU CUP by beating Syria ?

A: GREAT ! It came as no surprise. I loved it and I celebrated as it was Portugal . For almost 3 weeks I had the privilege and pleasure to be among India 's finest footballers (and technical staff). I witnessed their evolution and their talent. This was just the first step. I truly believe India is on the right path with Bobby Houghton and we will be always ready to help.

Qs: -14) How do you want to contribute more to the success of Indian Football in the days ahead?

A: By maintaining an open line with AIFF, we will be ready to respond to your needs as well to suggest improvements. Like I said before we are partners for the long run. It must be done step by step, making adjustments along the way.

Qs: -15) Last but not the least, as you know, Kolkatafootball.com had been playing a pivotal role in reaching every bit of news of the Indian trip to Portugal to the millions of Soccer fans at home. We solicit your valued opinion on the same.

A: Media is crucial to help the development of the game. The football industry relies very much of the awareness of its sporting achievements. A win on the pitch is great but it will be even greater if it reaches millions outside that stadium. Media coverage will lay the basis to increase the fan following, making football commercially more attractive to sponsors.

At the, on behalf of the millions of Indian Soccerfans in general and Kolkatafootball.com in particular, we thank you once again for extending your helping hand for the betterment of Indian football. Hope we will always find your cooperation in the days ahead.

A: It is an honour for us to be trusted by AIFF with such noble task, which is to bring India back to higher grounds.

Thank you!

Nuno Mousinho-Esteves Football & Friends LINDA VELHA.Portugal
---

Baichung Bhutia is still a positive influence for National Team: Derek Pereira
29.08.2007::Steven Dias, Surkumar Singh, K. Ajayan, Mahesh Gawli and Sur Kumar Singh---- All five played together for Mahindra United last season….The 'fabulous five' are performing consistently for team India in Nehru Cup; Mahindra coach Derek Pereira feels proud for his boys…. Derek shared his opinion on the national football team.

Kolkatafootball.com: How do you evaluate India's performance so far in Nehru Cup?

Derek: India is playing good football. It is an overall improvement what I've seen so far ….The team is playing good attacking football.

Kolkatafootball.com: Do you feel increase in the standards of National Football League is the reason India's good show in Nehru Cup?

Derek: Not really; we need to improve the coaching standards of NFL…The credit goes to Bob Houghton for India's good show. Bob is a thorough professional….And the result has slowly started to reflect in national team's performance.

Kolkatafootball.com: India is already up 11 places in FIFA ranking after a couple of wins under their belt….It is expected rise a few places more next week. How is our chance to break into the top 100?

Derek: It is still some time needed for a top 100 ranking. May be two to three years more….It's a gradual process and we need to build up step by step. Apart from developing a good team we have to build our bench strength as well who should be capable to replace these national team boys any time.

Kolkatafootball.com: Steven Dias is a revelation in Nehru Cup. Was he under utilized before in National squad?

Derek: Yes; may be it is like that way. Steven is doing very well and already won two Man of the Match award in this tournament…..These days most of the coaches are looking for strong footballers with good height. Steven is not that type but proved out to be an asset for the team.

Kolkatafootball.com: Indian football team will train in Dubai before the world cup qualifier match against Lebanon…Isn't it a great decision?

Derek: Yes, of course it is a great decision…. The atmosphere in Dubai will be almost similar to Lebanese condition. It is going to help the players….In Nehru Cup India is playing the countries which are very close to our ranking or may be a few places up…Victories against these team definitely boost the confidence up. Psychologically it helps.

Kolkatafootball.com: Baichung is still scoring goals for the country…..

Derek: Oh yes…. He plays with a lot of spirit and as always he is still a positive influence for Team India. It is very nice to see he is helping the boys to perform as a team.

Kolkatafootball.com: One last question…..How is India's chances against Syria in the final?

Derek: I haven't seen the earlier match against Syria; just saw the highlights in television and the way India fought, it seems anything can happen. The defense looked a bit un organized. Twice it was totally split and India conceded goals. We have to minimize the lapses in defense but if we fight with the right spirit anything can happen. We have to fight till the end. By kolkatafootball.com Team - Mumbai
---
20.08.2007:KARIM BENCHERIFA MAKES A MARK IN INDIAN CLUB FOOTBALL…
He knew that it was never going to be an easy task to manage a team which is full of youngsters, a team which is generally known to be inconsistent in nature and off course a team which didn't have any star footballer in their ranks…..But Karim Bencherifa perhaps loves to take the challenges and it was one of those challenges which brought him in India a year back from Singapore. After NFL 2007 there shouldn't be much difference in opinion that Karim proved himself as the best coach in Indian club Football.
Chances of winning the championship wasn't there but the youngsters from Churchill Brothers was in a mission to establish themselves in Indian Football…They ran faster and looked fitter than any other team in last few rounds of NFL….Churchill looked like a team that could play ten rounds more in the championship----Thanks to their Moroccan coach Karim Bencherifa. Dempo might have won the NFL but there is hardly any doubt that Churchill played the most attractive soccer….The club management is happy with the way the team has performed but Karim said he expected a finish in top three.
The team was full of rookies and the task was to make them believe in their abilities….Karim did it with style and the team looked like a bunch that is full of motivation….To everyone's surprise Churchill Brothers lost only thrice in the entire NFL which was off course the minimum among all teams. Karim describes it as the success of his youth brigade.
After his first year in Indian club football Karim feels the standard of the game in this country is progressing steadily and with the introduction of professional league next season the graph will only rise.
Karim has one of the most impressive C.V's in Indian football at the present moment. The Churchill coach was mercurial in Woodlands Wellington's championship win in Singapore football. Earlier Kencherifa had a successful stint with the Brunei national team as well.
---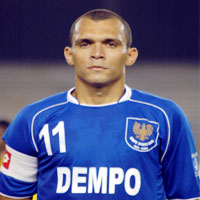 20.05.2007::Subroto Egoist, Subhash is the best in Indian club Football -- Beto (Dempo)
During his stint with Mohun Bagan hardly anyone noticed Roberto Mendez Silva's ability to play as a game maker….Two years have passed and Beto has emerged as one of the best in India as far calling the shots of a game is concern. The Brazilian, who played a crucial role in Dempo's second NFL triumph, was ecstatic after the feat was achieved. Beto said this is the best moment during his three year stay in India. Zee Sports reporter Kuntal Chakraborty had a one to one interview with the Dempo skipper in Goa after their NFL victory. Q. I guess this is your best moment so far in Indian football
Beto: Obviously Yes. I've had a fairly decent time in Mohun Bagan but unfortunately couldn't bring laurels for the club. In Dempo Armando Colasso helped me to transform as a player…. I took more responsibility and thank God that we are the NFL Champions this year and that too under my leadership. No doubt this is my best moment in Indian football so far.
Q. What is special about Armando Colasso,???? Do you reckon him as the best Indian coach?
Beto: He will definitely feature within the top three coaches in Indian club football. Armando is cool and always stands behind the players…Yes, even when they are not performing well. He knows how to squeeze the best out of a footballer….But well; I feel Subhash Bhowmik is probably the best coach I've come across in India. Bhowmik has the ability to read the minds of the players and he is the best strategist as well. Apart from these two, Karim Bencherifa is also doing well.
Q. How different is it playing in Kolkata and Goa???….It's two years now that you are here in Dempo.
Beto: Well off course differences are there….In Dempo I've found it much easier to adjust with the local Goanese boys as their style of game matches with the Latin American style. They are more creative which a contrast to the Kolkatan style of game is. In Kolkata footballers play with more force….But I miss the crowd, the spirit of the game and enthusiasm of Kolkata.
Q: Your Set pieces, especially free kicks have been a revelation this year. We have hardly seen this during your stay in Green and Maroon………..
Beto: I couldn't do much about it as I was not allowed to…I mean I've never got any help from the coach at that point of time. Subrata Bhattacharya hardly gave me any opportunity to explore my set piece abilities. He was an egoist and was always busy to prove his own point rather than to serve for the team's cause.
Q. How do you compare yourself with Barreto and Christiano Junior after your three years stint in Indian football?
Beto: I'm not good at all these comparisons…You can do it much better than me, I guess (Smiles)... Frankly speaking I've seen both of them already playing in Indian football when I stepped in…I've gained confidence watching their success initially. I can't compare but I feel I've done well enough in last three years.
Q. Which Indian footballers have impressed you so far?
Beto: First of all I should mention Ashim Biswas' name…I think he has got all the abilities of a good striker. I'm sure he will grow in years to come and I want to see him playing to his full potential. Baichung and Alvito have also impressed me for their style of play and yes, for their commitment towards the game as well.
Q. Would you like to make a come back in Kolkata if East Bengal or Mohun Bagan come up with better offers than Dempo???
Beto: Money can't buy me happiness….My family is happy here in Goa. I love the atmosphere in Kolkata but I should give priority to my family's decision. East Bengal officials are in conversation with me and I'm trying to convince my wife (Smiles again)…Well she will have the final say.
Q. What is Dempo's success "Mantra" this year???
Beto: "Learn from your mistakes"….That's what we had told ourselves after our loss in the Federation Cup. That learning experience was necessary at the middle of the year. We played as a unit after that and that was crucial in a marathon run like NFL.
Q. Any resolution next year???
Beto: I have many...One of those off course winning the NFL and Federation Cup in same season…But ahead of everything I want to stay happy with my family. By the grace of god I am happy now.
---
India must Wake up : Hammam
Hammam :Media plays a big role in improving football. Just before, in the press conference, you have seen that there is a big board at the back of the stage. You must have noticed that on the board there are logos of the sponsors of the Asian Football Confederation. Among the sponsors, there are, Fly Emirates, Epson - such big names. Those viewing the board, may think that the pivot points of Asian Football is limited in the East and West Asia because Epson which is a computer-oriented company has its main branches spread over the China, Japan and South Korea, and Fly Emirates is the airlines company of the Arab Emirates. Now tell me, are there no representatives in the Asian Football from the vast space between East and West Asia?

Is there no Football in India, Bangladesh or in the middle-east countries? But the actual fact is not that. In India, there are some football clubs which are among the oldest clubs in Asia. Here in India, I just came to know, that one of the most popular football league takes place every year. Then, tell me why, there is not a single logo of Indian sponsors in the logo board of AFC? Well, the reason is, football is not so popular in this region. It is undoubtedly true that the Business houses place advertisement there where they can get some mileage other than some social issues. Rightin this situation the media should come forward and may take a great role in promoting and popularizing a game or a tournament. During the World Cup football, the amount of news and information published in the media makesit clear that football is very popular here in India. At the same time it is also true that football in foreign countries is much more popular, than local football.

Media should aware the general people that in other countries' football league is played in the same way. The best players from the world plays in European football league that we watch in the TV and therefore the game becomes more appealing. But it is not true that all the leagues in all the countries' are as good. Club culture is the most important thing in the football in all countries all the time. Media should broadcast this with more importance.

Actually this is the first time we are trying to improve the standard of the Asian football in an organized way. This is the very beginning. It is true that the standard of Indian football is not very good but at the same time it is also true that there are a lot of football geniuses here.

The problem is in the infrastructure. India is a large country. Until now, no arrange ments were made to mark the places and upload them. We are trying to do that. As for example players from North-East India especially from Manipur, have skills, structure of the body and interest in football is not less than that of Japan or Korea. What they lack is scientific training. We are trying to impart scientific training to them. We are also interested to the players of Western India. At the same time Jath and Pathans of India have body structure for European power football.

We are trying to make training centers near Delhi. We hope if we could make this process successful, our dream to see India at World Cup arena will come true.

Face to Face interview with Rafique Sattar (Executive Editor of Kick-Off) at kolkata during U-20 AFC CUP

Compiled by : Tanmoy Mukherjee
---
THE WAY OF THINKING SHOULD ALWAYS BE POSITIVE : BOB HOUGHTON
Kick-Off:What is your impression about the present Indian Football ?

Coach : Well! It is too early to make any comments.I need some more time before giving a full picture of the Indian Football.But what I can say is the problems I have confronted from the date of taking over the charge of Indian National Football Team,the reserve bench is not equipped with competent players.If any player of the first eleven gets injured, the proper substitute is hardly available.The reason is not that there is dearth of genious footballers in India but there is lackof proper arrangement to spot them.

Kick-Off : What arrangement you propose to pick up the talented Footballers ?

Coach : It would better try to start it from the end.I have observed in the National Coaching Camp that players practise faultly chest trapping,some turn to the left side and some to the right side.But the internationally admitted system is that after chest trapping,the ball should drop down just in front of the foot of the receiving player.Here very few players are seen practising this advantageous system.On the other hand they are receiving the ball by chest and terning to the right or left and ihe the sequel the ball after being recocheted received by the opponent player in most of the cases.

Kick-Off : Does this happen in regular manner?

Coach :In fact,I think the boys receive coaching in different coaching camps in different manner and as aresult they learn trapping and shooting in different ways.

Kick-Off : How this type of coaching system be changed?

Coach : The only remady I can suggest is to introduced uniform code of coaching system throughout the country.

Kick-Off : It has been learnt that you are not happy with the coaching camps playing grounds and other inrastructure in some case ?

Coach : Exactly.perhaps they are not atall nearer to the International standard.But I think there is no use commenting over these shortcomings,we should make proper utilization of the resources,we have had in our hands at present.Simulteneously linear coaching system has to be introduced to ensure supply lines of good footballers so theat the quality team be formed in future.

Kick-off : We should definitely show politive mental attitude in line with what you suggest.But in spite of that are you hopeful that India may qualify to play in the World Cup in near future?

Coach : See! World cup is a very big affair.Initially we should comtemplate on Asian Level and thereafter it would be better to go up step by step.

Kick-Off : In which aspect The Indian Football is lacking ?

Coach : The Indian Footballers are not lacking in skill but they are lacking in Strength and Stamina.Individual game should be stopped .On the other hand the wings should be properly used in order to strengthen the attacking front.This coaching should be start from the very initial level of each footballers of the country.

Kick-Off : Do you think it possible to introduce linear coaching system in India where people of different language,races,relegions,culture live?

Coach : I know it very well about Indian culture.But we should go ahead with positive thinking inspite of these prevailing difficulties.

The Chief Coach of Indian National Football Team Mr. Bob Houghton expressed his views to the reporter or KICK-OFF Magazine Mr.Sabyasachi Mullick about Indian football.
---
In Zurich as part of the delegation to present the FIFA President, Sepp Blatter, the International Journal of the History of Sport award, I asked him about the Indian subcontinent. Firstly, a hi tech 21st century office, it was fascinating to see replicas of all the age group world cups displayed all round. As my colleague Tony Mangan put it, "The building is a futuresque Kafka!!" :Dr.Boria Mazumder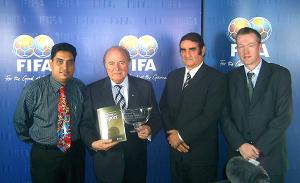 Ranked 157th in the world, it is difficult to even broach India at the hallowed head quarters of football's governing body.
However, Blatter surprised me when he mentioned that India was part of FIFA's vision document for the near future and it wants to tackle the problem of Indian football head on. It was indeed fascinating to know that India ranks fairly high in FIFA's priority list in the near future. Here are some excerpts from the interview:
Boria : Does India really matter to FIFA? We languish at 140 in the world rankings yet the passion for the game is intense. How do you view India?


Sepp Blatter : To use a footballing term, tackle, we intend to tackle the question of India in the next few months. In fact, an Indian delegation led by the AIFF President Priyaranjan Dasmunshi is due to visit FIFA on 19-20 December and discuss threadbare possible mechanisms of collaboration. This will be followed by a visit of the FIFA President to India in February where he plans to outline the FIFA vision for the Indian subcontinent. India, Blatter contends, is a sleeping giant that now needs to be awakened. Far more than performances on the ground, football, FIFA feels, can be used as a mode of life to help alleviate several problems of Indian day to day life.

Boria : Do you know that when the world cup was played in Germany almost the entire Indian nation had come to a standstill. Normal routine of work was disrupted with people watching live games in the evening and highlights in the morning?

Sepp Blatter: Football is a world passion and it is great to know that people in India love their football like this. I know it is not the number one sport in the country. Cricket is number one there but we are determined to help Indian football come up. I have already had a rather fruitful meeting with the Lok Sabha speaker Somnath Chatterjee in Germany during the world cup and FIFA is rather keen to work hands on with the Indian government. If football can do a great job in China , Japan and Korea , not to mention Brazil and Argentina , there's no reason why India should lag behind.

Boria : What about Africa? The next FIFA world cup will be played in Africa. We in India often feel that socio-economic and political conditions in Africa is not much different from that of India's. If Africa can, why can't we?

Sepp Blatter : Indeed. The whole purpose in giving the world cup to Africa was to get this message across to the world that football is much more than a mere game. Of course it is entertainment for the masses of soccer fans and it gives great fillip to nationalism all over the world, but it is far more than anything else a way of life, a culture that aims to unite the world. And India is very much a part of this vision. All the differences in a diverse country like India can be overcome with the help of passions like soccer.

Boria : Priya Ranjan Dasmunshi is by profession a politician. He is also President of the AIFF. Do you think he can do justice to his job?

Sepp Blatter : I know Mr. DasMunshi well enough to say that he is extremely passionate about Indian football and is very keen to develop football in India. In fact, I would say that because he is a politician and a member of parliament he should find it simpler to get things done. He is leading the India delegation to Zurich in December and we plan to accomplish much during the visit.

Boria : We have heard you plan to come to India in the near future, in early 2007, Is this true?

Sepp Blatter : Yes, I have plans touring the subcontinent in February 2007. The dates are not final yet but surely the planning is on. It will indeed be a very exciting trip for me. With all its diversities and knowing about its passion for football, it will be lovely to go to India. And your national league will then be on I am told. May I can I will watch a game as well.

Boria : You are an accomplished sports administrator. This award too is in recognition of your services. What is the most defining moment of his career?

Sepp Blatter : The most poignant moment of my life came when I visited some of the Tsunami afflicted areas and handed footballs to the children. The way a few of them embraced the ball was just amazing. It was not a mere ball, which is kicked around for joy, it was their life. This is what we aim to achieve. Far more than providing entertainment for people and championing nationalism for nations, we view football as a mode of life, as a culture that will help bring the world closer together. And this is where India comes in as well.

Boria : What do you feel about issues of Fair Play and cheating?

Sepp Blatter : Extremely serious. Cheating is surely there because people want the laurels. This is what makes Fair Play even more important. If you see the official FIFA flag you will see how concerned we are about Fair Play. At this point, Blatter presented us with the commemorative gold medal distributed to the two world cup finalists, Italy and Germany . A terrific piece of handiwork, we were moved.

Boria : Thanks a ton for this. A much treasured thing for me.

Sepp Blatter : Yes, they were bleeding in Germany for this. What a world cup it was and the players were all giving it their very best. Such intense competition is what makes football the most loved passion of the world.

Boria : Football, more than anything else, unites the world. What do you feel about this?

Sepp Blatter : You are right. The United Nations has 192 members. We, in FIFA, have 202. This is a matter of great pride and also great responsibility. We have to run the sport well to ensure that this passion grows further. At the same time we will have to harness this passion well to serve society.

Boria: Not always do academics recognize sports administrators. What do you feel about the award?

Sepp Blatter : As I have said before, I and the entire FIFA family is honoured that IJHS has given me this award. It is a privilege for us all. Thank you.

Exclucive Interview taken by World Famous Sports Historian Dr. Boria Mazumder and Compiled by Mr.S. Mullick
---
GO TO MAIN PAGE