10TH YEAR CELEBRATION 2015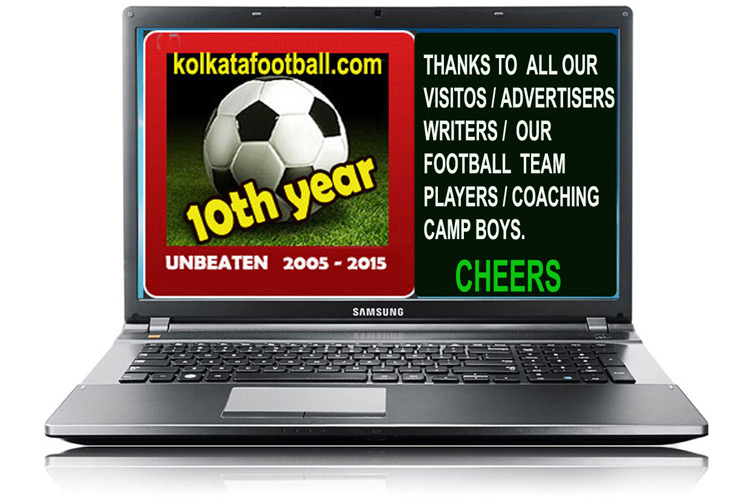 THANKS TO ALL - A.Chakraborty (LALTU) : Founder/Owner/Chief Editor





13.08.2015 : It was 13th August of 2005, when www.kolkatafootball.com started itís journey. At that time very few football sites were operated from India, specially Kolkata. In fact, many of the social media portals like Twitter, Facebook. Orkut, Pinterest etc didn't even exist and the ones which did had not even reached India at that time. Indeed it was a tough and challenging beginning which we had to overcome.

Since then, in the last ten years we have established ourselves as one of the premier and leading football websites of India covering all the national football tournaments along with live match updates and statistical analysis. We cover the prestigious Kolkata football league irrespective of the division and categories [ from Premier to 5th division]. We also cover Football Leagues of top associations. We are also engaged in reporting top important international football tournaments also. Not only this, kolkatafootbll.com inspiring to make news of the associations who are organizing football tournaments at state level or national level.

Being a responsible entity, we are not only covering football news but also trying to invest, cultivate and raise upcoming footballers at the Mecca of Indian football. We have been actively promoting local grassroot level football coaching camps with BARASAT UNITED FCC and have also founded our own junior football team "kolkatafootball.com FC" operated from our headquarter at Barasat where our U-13 and U-16 boys are being trained by experienced -AFC- Licensed coaches in the camp since last four years. Our football team has been regularly playing local tournaments, friendly and practice matches to enrich their experience.

A football tournament organized few months back with the help our coaching camp which was a part of our tenth year celebration, where the winning team was awarded the "Kolkatafootball.com Challenge Trophy". The football tournament was inaugurated by Mr. Subrata Dutta, the Vice President of AIFF and the President of IFA (WB).

We are really thankful to all personnel and organizations, who have helped and encouraged us in these ten years of our journey. We can assure all our well wishers and viewers that our dedicated team will definitely continue the hard work in the days to come and give this universal sport a new dimension.