MESSI-2012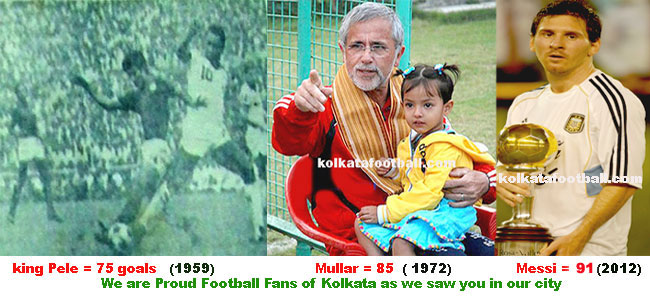 LEONEL MESSI ENDED 2012 CALENDER YEAR WITH 91 GOALS (OFFICIALS) with 9 hattrick and 7 yellow cards.

23.12.2012: Against Real Betis on 9th dec 2012 in La Liga, Barca star Messi broke German legandary Footbller Gard Mullar's 40 year's 85 goals which Mullar scored in a calender year of 1972 and helped West Germany a 3-0 win against soviet Union in the final of European championship.

Before Mullar he also broke King Pele's 75 goals of 1959 calender year on 11th Nov 2012 against Real Mallorca in La Liga match and now he ended his 2012 calender year with 91 official goal when his team Barcelona beat Real Valladolid.

Out of his 91, Messi scored 14 penalty goals and 64 goals from inside the penalty area. He scored goals twice in 22 games with nine hat tricks, including two times four-goal in a game and a Champions League-record five goals against Bayer Leverkusen in March 7-1 win of Barca. For playing with Berca, Messi scored the first goal for his team in 21 matches and 40 of his 91 goals were scored in the last half-hour of the matches.

MESSI scored 9 Hattricks with his 91 goals in 2012 calender year. Two hattricks against Malaga and others are Valencia, Bayer Leverkusen, Granada, Espanyol, Doportivo La coruna and two international matches against Sqitzerland and Brazil.

He was shown 7 yellow cards in 2012 calender year: Doportivo, Chelsea(UCL), Getafe, Atletico Madrid, Real Madrid (COpa Del Rey), Real Betis and Espanyol.

MESSI 91 GOALS DETAILS : He was unable to score in 22 matches for Barcelona and Argentina in 2012 calender year.


CopadelRey  04Jan 2012 	Barcelona 4-0 Osasuna 	2 goals
LA-LIGA  15Jan 2012 Barcelona 	4-2 Real Betis 	2 goals  
LA-LIGA  22Jan 2012 Malaga 	1-4 Barcelona 	3 goals (HATTRICK ) = 7 Goals ( January)
 
LA-LIGA  04Feb 2012 Barcelona 	2-1 Sociedad 	1 goal  
UCL 14Feb 2012 	B Leverkusen 	1-3 Barcelona 	1 goal  
LA-LIGA  19Feb 2012 Barcelona 	5-1 Valencia 	4 goals (HATTRICK ) 
LA-LIGA  26Feb 2012 Atl Madrid 	1-2 Barcelona 	1 goal 
INTFeb29, 2012 Switzer   1-3 Argentina   3 goals(HATTRICK ) = 10 Goals (FEB)

LA-LIGA  11Mar 2012 Racing 	0-2 Barcelona 	2 goals  
LA-LIGA  17Mar 2012 Seville 	0-2 Barcelona 	1 goal  
LA-LIGA  20Mar 2012 Barcelona 	5-3 Granada 	3 goals(HATTRICK ) 
LA-LIGA  24Mar 2012 Mallorca 	0-1 Barcelona 	1 goal  
LA-LIGA  31Mar 2012 Barcelona 	2-0 Ath Bilbao 	1 goal  	
UCL 07Mar 2012 	Barcelona 	7-1 Leverkusen  5 goals(HATTRICK ) = 13 Goals (MAR)  

UCL 03Apr 2012 	Barcelona 	3-1 Milan 	2 goals 
LA-LIGA  07Apr 2012 Zaragoza 	1-4 Barcelona 	2 goals  
LA-LIGA  10Apr 2012 Barcelona 	4-0 Getafe 	1 goal  
LA-LIGA  14Apr 2012 Levante 	1-2 Barcelona 	2 goals  
LA-LIGA  29Apr 2012 Vallecano 	0-7 Barcelona 	2 goals = 9 Goals (APR)  
 
LA-LIGA  02May 2012 Barcelona 	4-1 Malaga 	3 goals (HATTRICK )
LA-LIGA  05May 2012 Barcelona 	4-0 Espanyol 	4 goals (HATTRICK )
COPA D REY 25May 2012 Barcelona	3-0 ATL. Bilbao 1 goal = 8 Goals (MAY)


INTJune2, 2012 Argentina 4-0  Ecuador 	1 goal = 4 Goals (June)
INTJune9, 2012 Brazil    3-4  Argentina  3 goals (HATTRICK )

 
INTAug15,2012 Germany    1-3 Argentina  1 goal
LA-LIGA  19Aug 2012 Barcelona 	5-1 Sociedad 	2 goals 
Super Cup 23Aug 2012 Barcelona  3-2 Real Madrid 1 goal  
LA-LIGA  26Aug 2012 Osasuna 	1-2 Barcelona 	2 goals  
Super Cup 29Aug 2012 R.Madrid   2-1 Barcelona 	1 goal  = 7 Goals( AUG) 
 
INTSept07,2012Argentina  3-1 Paraguay 	1 goal 
LA-LIGA  15Sep 2012 Getafe 	1-4 Barcelona 	2 goals  
UCL 19Sep 2012 	Barcelona 	3-2 Sp. Moscow 	2 goals = 5 Goals (SEPT)

LA-LIGA  07Oct 2012 Barcelona 	2-2 R.Madrid 	2 goals  
INTOct12, 2012 Argentina 3-0 Uruguay	2 goals
INTOct16 2012 Chile  	1-2 Argentina 	1 goal
LA-LIGA  20Oct 2012 Deportivo 	4-5 Barcelona 	3 goals(HATTRICK )  
LA-LIGA  27Oct 2012 Vallecano 	0-5 Barcelona 	2 goals  = 10 Goals (OCT)


UCL 07Nov 2012 	Celtic 		2-1 Barcelona 	1 goal
LA-LIGA  11Nov 2012 Mallorca 	2-4 Barcelona 	2 goals === (76 Goals Broke PELE's 75 goals Record)  
LA-LIGA Nov17 2012 Barcelona    3-1 Real Zaragoza  2 Goals
UCL Nov20 2012 Barcelona        3-0  Spartak Moscow    2 Goals
LA-LIGA Nov25 2012 Barcelona    4-0 Levante        2 Goals= 9 Goals (NOV)


LA-LIGA Dec01 2012 Barcelona    5-1 Atletico Bilbao 2 Goals
LA-LIGA Dec09 2012 Barcelona    2-1 Real Betis      2 Goals==== (86 Broke Gard Mullar's 85 Goals) 	 
COPA DEL DEC12 2012 Cordoba -  Barcelona	0-2	        2 GOALS
LA-LIGA  DEC16 2012 Barcelona - Atletico Madrid	4-1	2 GOALS
LA-LIGA	 DEC22 2012 Valladolid - Barcelona	1-3	1 GOAL==== 91  Goals ( 9 GOALS IN DEC)


MESSI BROKE PELE AND MULLAR'S 1 CALENDER YEAR GOALS RECORD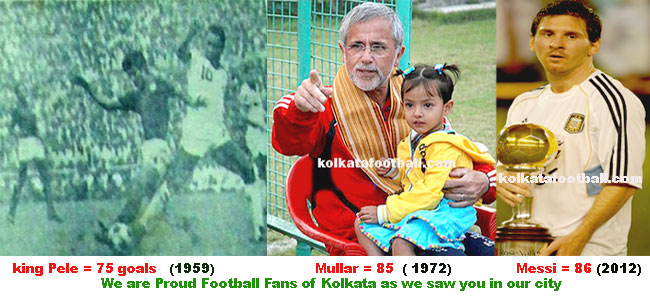 10.12.2012 : 40 years ago, when German legandary Footbller Gard Mullar helped West Germany a 3-0 win against soviet Union in the final of European champions to Scores 85 goals for club and country in a calendar year who Broke Pele's 75 Goals which Pele scored in 1959. No in 9th December 2012, The Argentine Mega Star Leonel Messi broke Gard Mullar's 85 Goals Record when he scored two vital goals of Barcelona's 2-1 win agains Real Betis in the La-Liga match. Srill Messi will get Three more matches within the calender year.

Messi Broke Pele's 75 calender year goal by 76 on 11th Nov 2012 against Real Mallorca in Spanish LA Liga as Barca won the match 4-2. Out of the 86 he scored the 25th Goal against Atletico Bilbao, 50th Goal against AC Milan and 75th Goal against Centic. He scored 5 goals against Bayern Leverkusen in last years UCL which Barca routed them 7-1.

In a reaction of Mullar, after breaking his record by Messi, he said the he is happy as the World best Player has broken his 40 yeards record where he scored 85 goals in 60 games. Mullar scored 72 goals for his Club Bayern Munich and 13 for national team West Germany. Now Messi has broken his record in 25 years age.

MESSI scored 8 Hattricks with his 86 goals so far.

MESSI 86 GOALS DETAILS


CopadelRey  04Jan 2012 	Barcelona 4-0 Osasuna 	2 goals
LA-LIGA  15Jan 2012 Barcelona 	4-2 Real Betis 	2 goals  
LA-LIGA  22Jan 2012 Malaga 	1-4 Barcelona 	3 goals (HATTRICK) = 7 Goals ( January)
 
LA-LIGA  04Feb 2012 Barcelona 	2-1 Sociedad 	1 goal  
UCL 14Feb 2012 	B Leverkusen 	1-3 Barcelona 	1 goal  
LA-LIGA  19Feb 2012 Barcelona 	5-1 Valencia 	4 goals (HATTRICK) 
LA-LIGA  26Feb 2012 Atl Madrid 	1-2 Barcelona 	1 goal 
INTFeb29, 2012 Switzer   1-3 Argentina   3 goals(HATTRICK) = 10 Goals (FEB)

LA-LIGA  11Mar 2012 Racing 	0-2 Barcelona 	2 goals  
LA-LIGA  17Mar 2012 Seville 	0-2 Barcelona 	1 goal  
LA-LIGA  20Mar 2012 Barcelona 	5-3 Granada 	3 goals(HATTRICK)  
LA-LIGA  24Mar 2012 Mallorca 	0-1 Barcelona 	1 goal  
LA-LIGA  31Mar 2012 Barcelona 	2-0 Ath Bilbao 	1 goal  	
UCL 07Mar 2012 	Barcelona 	7-1 Leverkusen  5 goals(HATTRICK) = 13 Goals (MAR)  

UCL 03Apr 2012 	Barcelona 	3-1 Milan 	2 goals 
LA-LIGA  07Apr 2012 Zaragoza 	1-4 Barcelona 	2 goals  
LA-LIGA  10Apr 2012 Barcelona 	4-0 Getafe 	1 goal  
LA-LIGA  14Apr 2012 Levante 	1-2 Barcelona 	2 goals  
LA-LIGA  29Apr 2012 Vallecano 	0-7 Barcelona 	2 goals = 9 Goals (APR)  
 
LA-LIGA  02May 2012 Barcelona 	4-1 Malaga 	3 goals (HATTRICK)
LA-LIGA  05May 2012 Barcelona 	4-0 Espanyol 	4 goals (HATTRICK) 
COPA D REY 25May 2012 Barcelona	3-0 ATL. Bilbao 1 goal = 8 Goals (MAY)


INTJune2, 2012 Argentina 4-0  Ecuador 	1 goal = 4 Goals (June)
INTJune9, 2012 Brazil    3-4  Argentina  3 goals (HATTRICK)

 
INTAug15,2012 Germany    1-3  Argentina  1 goal
LA-LIGA  19Aug 2012 Barcelona 	5-1 Sociedad 	2 goals 
Super Cup 23Aug 2012 Barcelona  3-2 Real Madrid 1 goal  
LA-LIGA  26Aug 2012 Osasuna 	1-2 Barcelona 	2 goals  
Super Cup 29Aug 2012 R.Madrid   2-1 Barcelona 	1 goal  = 7 Goals( AUG) 
 
INTSept07,2012Argentina  3-1  Paraguay 	1 goal 
LA-LIGA  15Sep 2012 Getafe 	1-4 Barcelona 	2 goals  
UCL 19Sep 2012 	Barcelona 	3-2 Sp. Moscow 	2 goals = 5 Goals (SEPT)

LA-LIGA  07Oct 2012 Barcelona 	2-2 R.Madrid 	2 goals  
INTOct12, 2012 Argentina 3-0  Uruguay	2 goals
INTOct16 2012 Chile  	1-2  Argentina 	1 goal
LA-LIGA  20Oct 2012 Deportivo 	4-5 Barcelona 	3 goals(HATTRICK)  
LA-LIGA  27Oct 2012 Vallecano 	0-5 Barcelona 	2 goals  = 10 Goals (OCT)


UCL 07Nov 2012 	Celtic 		2-1 Barcelona 	1 goal
LA-LIGA  11Nov 2012 Mallorca 	2-4 Barcelona 	2 goals === 76 Goals Broke PELE's Record  
LA-LIGA Nov17 2012 Barcelona 3-1 Real Zaragoza  2 Goals
UCL Nov20 2012 Barcelona 3-0  Spartak Moscow    2 Goals
LA-LIGA Nov25 2012 Barcelona 4-0 Levante        2 Goals= 9 Goals (NOV)


LA-LIGA Dec01 2012 Barcelona 5-1 Atletico Bilbao 2 Goals
LA-LIGA Dec09 2012 Barcelona 2-1 Real Betis      2 Goals==== 86 Broke Gard Mullar's 85 Goals