News
||
EURO CUP 2021- RESULT ||
COPA AMERICA 2021- RESULT ||
Live Update

----- REFRESH PAGE
INDIAN FOOTBALL TRANSFER NEWS/ DAILY NEWS ( 2021)
LEGENDARY FOOTBALLER & COACH SUBASH BHOWMICK PASSES AWAY
22.1.22:
The Legendary footballer and Coach, Subash Bhowmick passes away at a Hospital in South Kolkata this morning at 3.30am after a prolonged illness at the age of 72. Bhowmick was under Dialysis for the last three months had to admitted in the Hospital after he was infected by Covid.
Born in English Bazar, Malda in 1950, Subash Bhowmick joined East Bengal from a Kolkata 1st Division club Rajastan in the year 1969 and proved his class as a striker over the decades in the top two clubs of Indian football, East Bengal and Mohun Bagan. He was awarded the East Bengal 'Lifetime Achievement Award' in 2017.
SUBASH BHOWMICK' CAREER AS A FOOTBALLER
1969–1970 : East Bengal
1970–1973 : Mohun Bagan
1973–1976 : East Bengal
1976–1978 : Mohun Bagan
1978–1979 : East Bengal
INDIAN NATIONAL TEAM : 1970–1985
Though Subash Bhowmick had a short international carier, but he is one of the rare footballer of India who scored a hatrik at the international level. Bhowmick made his national team debut on July 30 1970 in the Merdeka Cup against Farmosa. He represented India in 24 matches and scored 9 goals which includes a hat-trick against the Philippines in the Merdeka Cup in 1971. India won the match by a margin of 5-1.
SUBASH BHOWMICK' CAREER AS A COACH/TECHNICAL DIRECTOR
1999–2000 : East Bengal
2002–2005 : East Bengal
2006-2007 : Mohammedan
2007–2008 : Salgaocar
2008–2009 : East Bengal
2010–2011 : Mohun Bagan
2012–2013 : Churchill Brothers
Subash Bhowmick was a successful Technical Director and coach was responsible for East Bengal's LG Asean Club Cup in Jakarta in 2003. East Bengal won San Miguel Cup in Kathmandu in 2004, the National Football League in 2002-03 and 2003-04 under his leadership. East Bengal won Kolkata Football League from 2002-2004, IFA Shield in 2002, the Independence Day Cup in 2002, and the Durand Cup in 2002 under the guidence of Subash Bowmick.
Bhowmick worked as a Technical Director at Mohun Bagan, Mohammedan Sporting and Churchill Brothers of Goa. Churchill Brothers won I League in 2012-13 under his leadership. Mohun Bagan won Sikkim Gold Cup in 1992 under his coaching.
QATAR WORLD CUP: 1.2 MILLONS REQUEST WITHIN 24 HOURS
FIFA MEDIA - 21.1.22:
The start of ticket sales for the FIFA World Cup Qatar 2022™ has generated huge demand around the world. More than 1.2 million tickets have been requested by fans worldwide in the first 24 hours of the initial sales period.
The highest demand came from fans from Qatar, followed by Argentina, Mexico, the USA, the United Arab Emirates, England, India, Saudi Arabia, Brazil and France.
More than 140,000 tickets have been requested for the final due to take place on 18 December 2022 at Lusail Stadium, and over 80,000 for the opening match.
Given the remarkable interest from all over the world, FIFA would like to remind all football fans that FIFA.com/tickets is the only official and legitimate website on which to apply for FIFA World Cup Qatar 2022 tickets.
All successful, partially successful and unsuccessful applicants will be duly notified of the outcome of their applications by Tuesday, 8 March 2022, along with the steps to follow and the deadline by which to pay for allocated tickets.
ATK MOHUN BAGAN & KERALA BLASTERS MATCH POSTPONE, ODISHA MATCH RESCHEDULED
ISL MEDIA - 19.1.22:
Hero Indian Super League (ISL) has decided to postpone Match No. 66 between Kerala Blasters FC and ATK Mohun Bagan scheduled to be played on Thursday, January 20, 2022, at Tilak Maidan Stadium, Vasco, as Kerala Blasters FC are unable to field a team and safely prepare for and play the match.
Match No. 53 between ATK Mohun Bagan and Odisha FC has been rescheduled to Sunday, January 23, 2022, at the PJN Stadium, Fatorda. Kick-off is at 9:30 PM IST. The match was originally scheduled for Saturday, January 8, 2022.
MUMBAI CITY IN GROUP B OF AFC CHAMPIONS LEAGUE
MFC MEDIA - 17.1.22:
Mumbai City FC have been drawn in Group B of 2022 AFC Champions League along with Al Jazira (UAE), Al Shabab (KSA), and Air Force Club (IRQ) at the 2022 AFC Champions League Group Stage Draw that took place in Kuala Lumpur, Malaysia on Monday, January 17. 40 teams were drawn in 10 groups of four teams each at the draws, with five groups (A-E) in the West Region and five groups (F-J) in the East Region.
Mumbai City FC, who qualified for the 2022 AFC Champions League by winning the Indian Super League 2020/21 League Winners' Shield, will compete in the Asia's biggest club football competition from the West Region for the first time in the Islanders' history and will become only the second Indian club to do so.
As per the revised scheduled released by the AFC earlier this week, the 2022 AFC Champions League Group Stages of the West Region will begin from April 7, 2022 to April 27, 2022 with double round-robin matches to be played at one centralised venue, keeping in mind health and safety restrictions.
KERALA BLASTERS AND MUMBAI CITY MATCH POSTPONED
16.1.22:
Indian Super League decided to postpone the 62nd match between Kerala Blasters FC and Mumbai City FC scheduled to be played on Sunday, January 16, 2022, at Tilak Maidan Stadium, Vasco .
In a media release in the afternoon it is stated, "The decision has been taken in consultation with the League's medical team after it was assessed Kerala Blasters FC do not have the requisite number of players available for the match. The League will work closely with the medical experts to monitor and ensure the safety of all the players and support staff in the squad and others involved."
ISL earlier postponed the match between Odisha FC vs ATK Mohun Bagan on 8th and ATK Mohun Bagan vs Bengaluru FC on 15th due to the outbreak of Covid among the footballers and support staffs.
ATK MOHUN BAGAN'S SECOND SUCCESSIVE MATCH POSTPONED
15.1.22:
The 61st match of Indian Super League between ATK Mohun Bagan and Bengaluru FC postponed by the organisers owing to the spread of covid between the footballers and the support staffs of the participating teams. The match is scheduled to be played on Saturday, January 15, 2022, at Pandit Jawharla Nehuru Stadium at Fatorda.
In a press release issued by ISL Media it is stated, "Each match is assessed on a number of factors including the ability of the clubs to field a team; the severity of Covid-19 breakout at the club(s); and the ability of the club personnel to safely prepare for and play the match."
This is second successive match of ATK Mohun Bagan, that was postponed. Earlier, the match against Odisha FC on 8th January was postponed by the organisers.
MARIO REVIRA APPOINTED AS HEAD COACH OF SC EAST BENGAL
1.1.22:
SC East Bengal announced the joining of Mario Rivera as their head coach for the rest of the 2021-22 Hero Indian Super League season after Jose Manuel Diaz parting away with the club.
This will be Mario's second term with the club. He guided East Bengal to a second-place finish in the 2018-19 I-League season after he was appointed as head coach. Mario worked as Assistant coach under former East Bengal's Spanish coach Alejandro Menendez for 32 games in 2018-19 season. Mario Rivera, is a UEFA Pro Licence holder, guided East Bengal to the second position in just seven matches.
Rivera will undergo the mandatory quarantine period as per the rule of Indian Super League and will take over charge thereafter.
ANTONIO PEROSEVIC BANNED FOR FIVE MATCHES.
28.12.21:
SC East Bengal footballer Antonio Perosevic face a five-match ban by the All India Football Federation (AIFF) Disciplinary Committee for his misconduct with Referee Rahul Kumar Gupta in the match against North East United FC . Perosevic has also been ordered to pay a fine of Rs 1 Lac for his 'violent conduct towards match official' during the 2021-22 Hero Indian Super League match. This was intimated by a Press Release issued by Indian Super League.
In the terms of the decision passed by the Disciplinary Committee on Tuesday, Perosevic has been informed that a 'repeat violation may be met with more severe punishment'. The player and the club have 10 days should they wish to lodge an appeal.
SC EAST BENGAL PART AWAY WITH MANUAL DIAZ
28.12.21:
SC East Bengal finally decided to part away with their Head Coach and his deputy after he failed to create any impact in the current eighth edition of the competetion.
In a Press Release SC East Bengal stated, that head coach Jose Manuel Diaz and his assistant Angel Puebla Garcia have mutually agreed to part ways with the club due to personal reasons.
Indian international and Assistant coach Renedy Singh has taken over charge as interim Head coach the statement further added.
SC East Bengal have drawn four and lost four matches in the Hero ISL 2021-22 edition are at the bottom of the League table with 4 points, needs a win in order to consolidate their position in their second appreance in Indian super League.
OUR TEAM IS READY TO CHALLENGE IN I LEAGUE: WESTWOOD
8.12.12:
Round Glass Punjab FC is one of the important team in the forthcoming I League 2021-22 which will going to commence on and from 26th December at Kolkata.
Ashley Westwood, the Head Coach of Round Glass Punjab FC, in a virtual media meeting shared his thought before the start of the tournament. While answering to a question, Westwood said, "The Club has been thought about and built for the right reasons. Our Founder Sunny (Gurpreet) Singh has a keen interest in sports and wants to create opportunities for the children and youth of Punjab, where he hails from, to play sports. He wants to enablethe Wholistic Wellbeing of people through not just sportsbut also a focus on nutrition, learning, encouraging a healthy lifestyle, and other aspects of wellbeing."
Regarding the strength of his team, Westwood said, "The players we have signed give us balance and have been brought onboard for not only their abilities but also their professionalism and experience. I know the players I've worked with earlier will do things the right way and be role models for not only the younger players at the Club, but also those at our Academy and our fans. We wanted a balance of youth and experience in the squad so we can challenge for the I-League."
The team is in pre season training since last few weeks. As Ashley Westwood said, "Pre-season has been good. It's a new team and the more time we spend with each other, the better it is. Being in this environment, which means living and working together day in and day out, helps bring the team together and allows us to find out more about one another and understand the character of each member of the team,which is part of our decision-making process."
Astley Westwood is quite familier with Indian football as he was the successful Head coach of Bengaluru FC in I League.
AIFF RELEASE HERO I-LEAGUE 2021-22 FIXTURE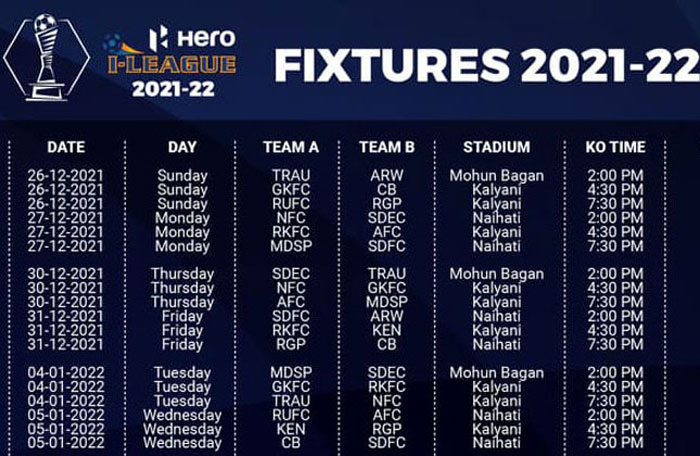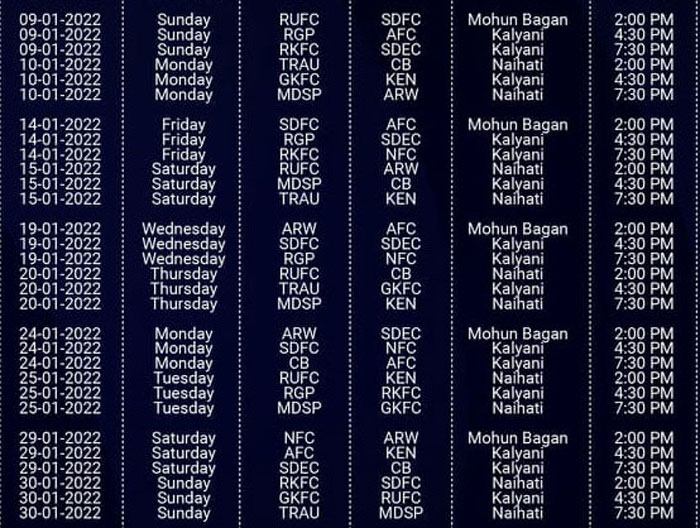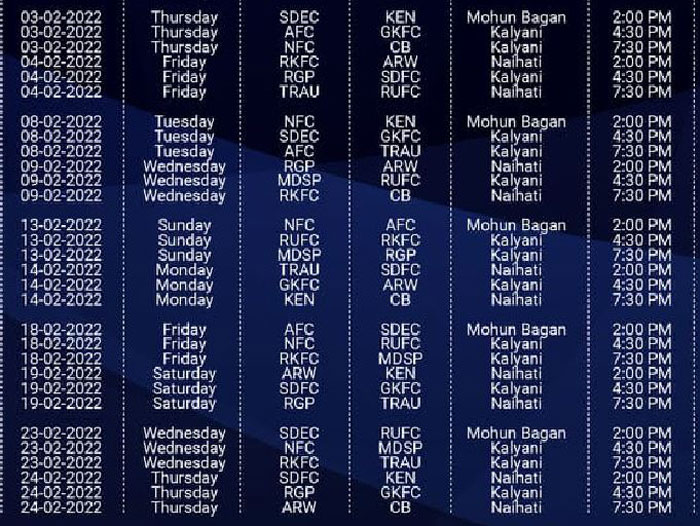 ATK MOHUN BAGAN DECLARE THE NAMES OF THEIR CAPTAIN IN COMING ISL 2021-22
17.11.21:
ATK Mohun Bagan decided to depute three captains for the forth coming 8th edition of Indian Super League. In a Press Release ATK Mohun Bagan confirms that
Roy Krishna, Pritam Kotal and Subasish Bose
will act as the captains of the Mariners. ATK Mohun Bagan believes in team game and especially the Spanish coach Antonio Habas reiterated the need for joint leadership to keep the team's unity intact. Though Roy Krishna and Pritam Kotal have done the aptainship last year also.
In an interview with the ATK Mohun Bagan, Pritam Kotal said, "The coach has put his trust in me. It is a big gift. It is a great honour to have the opportunity of captainship with the Green Maroon Jersey. However, the philosophy of our team is different. Someone might have a captain's band in his hand for the rules, but practically everyone on the team is the captain.
Everyone tries to give the best with equal responsibility. " Another Bengali player also thinks almost in the same line, Subhasish said, "We are the boys of Bengal. Getting the chance of captainship in the Green Maroon jersey is a different passion for us. The coach has chosen me, it's an honour, and the responsibility has increased."
ATK Mohun Bagan are all set to face Kerala Blasters FC in the inargual match of the 8th edition of ISL.
FC GOA ANNOUNCES THEIR SQUAD FOR INDIAN SUPER LEAGUE
9.11.21:
FC Goa today announced their twenty eight member squad for the upcoming Indian Super League at Goa.
The squad includes the following footballers.
GOALKEEPERS:
Naveen Kumar, Hrithik Tiwari, Dheeraj Singh Moirangthem.
DEFENDERS:
Leander D'Cunha, Saviour Gama, Sanson Pereira, Dylan Fox, Lalmangaihsanga (Papuia), Seriton Fernandes, Ivan Gonzalez, Aibanbha Dohling, Mohamed Ali.
MIDFEILDERS:
Edu Bedia (c), Muhammed Nemil, Alberto Noguera, Princeton Rebello, Danstan Fernandes, Alexander Romario Jesuraj, Redeem Tlang, Nongdamba Naorem, Glan Martins, Brandon Fernandes, Makan Winkle Chote, Christy Davis, Flan Gomes.
FORWARDS:
Devendra Murgaonkar, Jorge Ortiz, Airam Cabrera.
The new season will witness an increase in the number of Indian players in the playing XI with each club now mandated to have a minimum of seven (7) Indian players on the field at any point in time.
With the changes, clubs can sign a maximum of 6 foreign players of which one is required to be from an AFC member nation. Each club has also been mandated to increase their development player signing from minimum two to four, while continuing to have two of such development players be part of the match-day squad.
The FC Goa squad sees three (3) players from last season's Developmental Team being promoted to the first team viz. Hrithik Tiwari, Lalmangaihsanga (Papuia) and Christy Davis.
The squad features two new faces with prior ISL experience in Dylan Fox and Nongdomba Naorem joining the squad after spells with NorthEast United and Kerala Blaster respectively.
SC EAST BENGAL ANNOUNCED THIRTY THREE MEMBER SQUAD FOR ISL
8.11.21:
SC East Bengal for their second appreance in Indian Super League today announced their thirty three members squad.
THE DECLARED 33 MEMBER SQUAD FOR ISL
GOALKEEPERS:
Arindam Bhattacharya, Sankar Roy, Suvam Sen.
DEFENDERS :
Daniel Gomes, Joyner Lourenco, Raju Gaikwad, Adil Khan, Hira Mondal, Ankit Mukherjee, Goutam Singh, Tomislav Mrcela, Franjo Prce, Sarineo Fernandes, Akashdeep Singh.
MIDFEILDERS:
Jackichand Singh, Sourav Das, Angousana Wahengbam, Amarjit Singh Kiyam, Md Rafique, Lalrinliana Hnamte, Bikash Jairu, Amir Dervisevic, Darren Sidoel, Romeo Fernandes, Songpu Singsit, Loken Metei.
FORWARDS :
Balwant Singh, Thongkhosiem Haokip, Naorem Mahesh, Siddhant Shirodkar, Daniel Chima Chukwu, Antonio Perosevic, Subha Ghosh.
The Head coach of Red and Gold Brigade Jose Manuel Diaz told the club media," "The squad has balance and a mix of youth and experience. We have players who have been there in the league from its inception. The foreign players have also played at the highest level and we believe the overall depth of this squad is good."
SC East Bengal will play against Jamshedpur FC on November 21 in their opening match of the 8th edition of Indian Super League.
SC EAST BENGAL RETURNED TO ICONIC RED AND GOLD DESIGN
6.11.21:
SC East Bengal today introduce their new kit ahead of the 8th edition of Indian Super League.
The new kit was unveiled virtually by two heroes of yesteryear Manoranjan Bhattacharjee and Shyam Thapa in presence of SC East Bengal advisor Srenik Sett and the manufacturer of kit, Managing Director Bhagesh Kotak of Reyaur Sports .
This year SC East Bengal returned to iconic home kit which has been a big part of the club's heritage since 1921. The jersey designed as red and gold fields, vertically split into two halves. This iconic club jersey was redesigned and introduce since 1921.
The Head coach of SC East Bengal while taking to the club media said, "The players need to earn their shirt. The club is 100 years old and it has rich history. The jerseys this time reflect the tradition of the club and our players in the squad need to show they can take the legacy forward."
The white away kit, with red and gold trim on the collar, sleeves, and bottom of the shirt, is also a classic. This design earned SC East Bengal the moniker of 'maidan-er German'.
The third kit, this time, is an evolution of last season's away kit, paying tribute to Bengal's love for fish and East Bengal's connection with Ilish (Hilsa).
ODISHA FC ANNOUNCED THE NAME OF FOOTBALLERS AND CAPTAINS FOR ISL
3.11.21:
The Bhubaneswar based Indian Super League club Odisha FC announced its official squad for the upcoming 8th edition of the tournament.
Odisha FC had already announced the three captains for the season - Vinit Rai, Victor Mongil, and Hector Rodas, while three youth team graduates promoted in the senior team - Deven Sawhney, Akshunna Tyagi, and CVL Remtluanga.
THE TEAM FOR 8TH EDITION OF ISL
GOALKEEPERS:
- Kamaljit Singh, Arshdeep Singh, Ravi Kumar.
DEFENDERS:
Gaurav Bora, Lalruathara, Sahil Panwar, Hendry Antonay, Lalhrezuala Sailung, Sebastian Thangmuansang, Deven Sawhney, Victor Mongil, Hector Rodas.
MIDFEILDERS:
Thoiba Singh Moirangthem, Vinit Rai, Paul Ramfangzauva, Isaac Vanmalsawma, Isak Vanlalruatfela, Liridon Krasniqi, Javi Hernandez, Jerry Mawihmingthanga, Nandhakumar Sekar, CVL Remtluanga, Nikhil Raj.
FORWARDS:
Akshunna Tyagi, Daniel Lalhlimpuia, Aridai Cabrera, Jonathas Cristian De Jesus.
The squad includes six foreigners - Victor Mongil, Hector Rodas, Javi Hernandez, Aridai Cabrera, Liridon Krasniqi (AFC), and Jonathas De Jesus while seven youngsters - Lalhrezuala Sailung, Deven Sawhney, Thoiba Singh Moirangthem, Isak Vanlalruatfela, CVL Remtluanga, Akshunna Tyagi and Nikhil Raj have been classified as developmental players.
Odisha FC will play the opening match against Bengaluru FC on November 24 at Tilak Maidan, Vasco.
KERALA BLASTERS ANNOUNCED TWENTY EIGHT MEMBER SQUAD FOR ISL
2.11.21:
Kerala Blasters FC officially announced their 28 members squad ahead of the 8th edition of Indian Super League 2021-22 at Goa. Kerala Blasters FC will play the opening match of the competetion against ATK Mohun Bagan on the 17th of November at Fatorda stadium.
The footballers in the squad are:
GOALKEEPERS:
Albino Gomes, Prabhsukhan Singh Gill, Muheet Shabir, Sachin Suresh.
DEFENDERS:
Sandeep Singh, Nishu Kumar, Abdul Hakku, Hormipam Ruivah, Bijoy V, Enes Sipovic, Marko Lešković, Denechandra Meitei, Sanjeev Stalin, Jessel Carneiro.
MIDFEILDERS:
Jeakson Singh, Harmanjot Khabra, Ayush Adhikari, Givson Singh, Lalthathanga Khawlhring, Prashant K, Vincy Barretto, Sahal Abdul Samad, Seityasen Singh, Rahul K P, Adrian Luna.
STRIKERS:
Chencho Gyeltshen, Jorge Pereyra Diaz, Álvaro Vázquez.
The squad consists of footballers like Jeakson Singh, Prabsukhan Gill, Sanjeev Stalin, Hormipam Ruivah, Givson Singh, Sachin Suresh, Muheet Khan, to fulfill the mandatory Development player's criteria and Academy Players, Bijoy V and Sachin Suresh, who have followed the likes of Sahal Samad, Ayush Adhikari, Muheet Shabir and several others by earning senior-team promotions, will look to further continue their progress in Goa.
MERLIN GROUP TIED UP WITH RONALDINHO FOR THEIR FOOTBALL ACADEMY
26.10.21:
Merlin group, one of the largest real estate company unveils it's coveted association with world famous sports icon in their themed sports township 'Merlin RISE - The Sports Republic' in the state of art academics in Football, Cricket, Swimming and MMX Matrix training centre. These academies are going to set up at Rajarhat in New Town, Kolkata which is adjacent to the airport and other important locations of Kolkata.
The R10 Football academy of the Brazalian legend RONALDIHNO will be operational within next 5 months along with the Yubraj Singh centre of Exellence. R10 Academy has an exclusive training system and a Virtues Programme for boys and girls between the age group from 4-17 years in different location of the world.
The Sports City will have a state of art gymnasium with the updated uquipments, proper trainning and diet guidence along with the provisions of MMA Matrix and other modern facilities.
Speaking on the occasion Saket Mohta, MD of Merlin Group said,"The scouts will find out talents from the different parts of the country. The promising talents of the academy will be benefitted with a special package in due course. RISE with exellent facilities will attract the children in the playground."