Live
|
News
|
Fix
|
Team
|
Result
|
Table
|
sceb
|
atkmb
|
cfc
|
mfc
|
fcg
|
krb
|
neu
|
hfc
|
ofc
|
bfc
|
jfc
|
SF-Final
|
Stat
|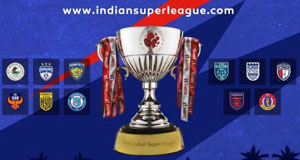 ISL 2021-22 ALL RESULT:CHENNAIYIN FC ( BELOW)
MATCH-12: 29/11/2021 : NORTH EAST UNITED FC - (
1-2
) - CHENNAIYIN FC (FT)
CFC
: Lallianzuala Chhangte 41', Aniruddh Thapa 73'
NEU
: V.P. Suhair 48'.
HERO OF THE MATCH
: Lallianzuala Chhangte ( CFC)
CLUB AWARD
: CHENNAIYIN FC.
NEUC
: Subhasish Roy, Provat Lakra, Gurjinder Kumar, Mashoor Shereef, Khassa Camara (C), Federico Gallego, Hernan Santana, Pragyan Gogoi, Suhair Vadakkepeedika, Laldanmawia Ralte, Mathias Coureur.
CCFC
: Vishal Kaith, Reagan Singh, Jerry Lalrinzuala, Narayan Das, Slavko Damjanovic, Lallianzuala Chhangte, Anirudh Thapa (C), Ariel Borysiuk, Mirlan Murzaev, Vlagyimir Koman, Rahim Ali.
REFEREE
: Ashwin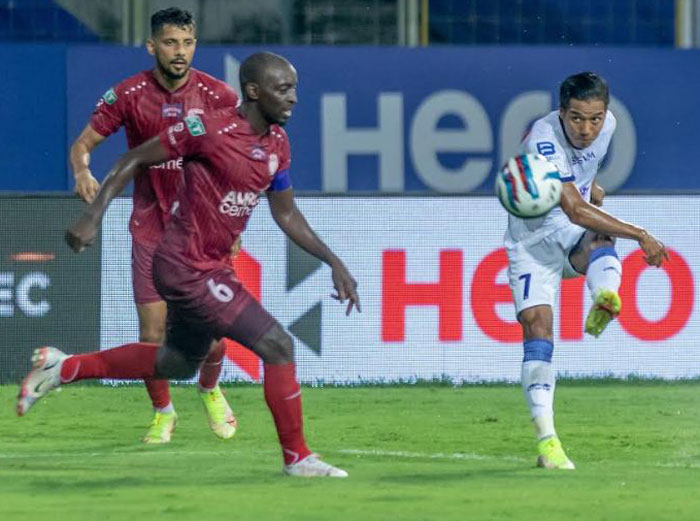 Young Indian talent took centre-stage as Chennaiyin FC rallied to beat NorthEast United FC 2-1 in a 2021-22 Hero Indian Super League (ISL) at the Pandit Jawaharlal Nehru Stadium in Fatorda on Sunday.
Lallianzuala Chhangte (41') broke the deadlock with a powerful shot from a defensive error but VP Suhair (50') made the most of the Chennaiyin goalkeeper being out of position to equalise. Captain Anirudh Thapa (74') sealed the deal with a fine strike.
Federico Gallego's return to the starting XI for the first time this season headlined team news even before the first whistle. Mathias Coureur too came back into Khalid Jamil's team. Meanwhile, Narayan Das had a new role at centre back for Chennaiyin as Jerry Lalrinzuala assumed his position at left back.
Apart from a moment where it seemed Lallianzuala Chhangte had beaten Subhasish Roy Chowdhury's nearside to squeeze a goal, it was all NorthEast in the opening exchanges. Gallego's quality was on display as he peppered the Chennaiyin defence several times. VP Suhair and Laldanmawia Ralte too had a few sniffs in the opposition box to keep the Highlanders on top.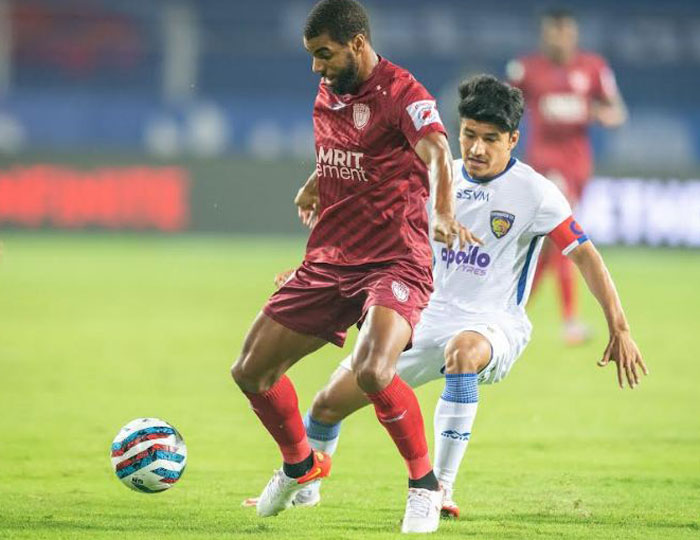 Unfortunately, Gallego could only last 24 minutes as he pulled up injured yet again. NorthEast United, already missing the services of Deshorn Brown in the game, had to put in Pat Flottmann, going in for an added defender.
The game was thrown open with chances at both ends. Suhair's header from a long throw-in was saved by Vishal Kaith and then Hernan Santana's long-ranger went inches above. Chhangte, who had earlier blazed over the bar, made amends before half time. After some exquisite counter-press through the right, Reagan Singh squared the ball into the box. Khassa Camara mistimed his interception and Chhantge pounced onto the ball to slot it home after a deflection off the bar.
Jamil made two changes post the break and results immediately showed. Five minutes in, VP Suhair, relatively unmarked, had no problems in guiding the ball past Vishal Kaith from a long-throw in by Provat Lakra. NorthEast had found the equaliser with more than 40 minutes to go.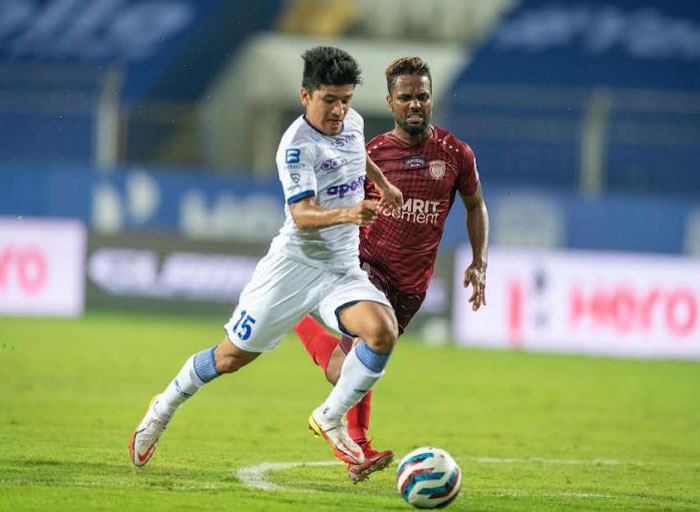 Lalkhawpuimawia shot wide despite having an empty net to aim at. Gurjinder Kumar's long ranger took a deflection off Slavko Damjanovic and ricocheted off the post. With Kaith, yet again out of position as he was for the goal, the Mizoram-born striker failed to hand his team the lead. Post the hour mark, Mirlan Murzaev found the back of the net but Rahim Ali's through ball to the Kyrgyz was deemed offside.
It was then the new captain, Thapa to have his final say in the game. Murzaev laid in the midfielder from a long ball. Thapa sprinted full pace to go past marker Camara and shoot fiercely to restore the lead, crucially closing the game for Chennaiyin FC.
MATCH-5 : 23.11.2021 : HYDERABAD FC - (
0-1
) - CHENNAIYIN FC (FT)
CFC
: Vlagyimir Koman (Pen 66')
HRRO OF THE MATCH
: Vlagyimir Koman ( CHENNAIYAN FC)
CLB AWARD
: CHENNAIYIN FC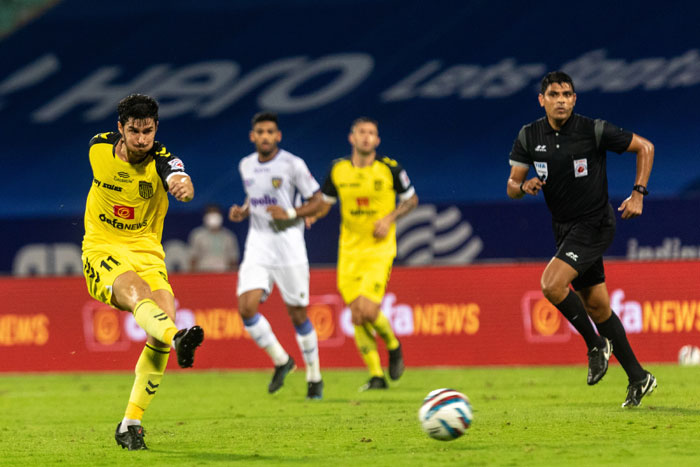 HFC
: Laxmikant Kattimani, Chinglensana Singh, Juanan (Joel Chianese), Joao Victor (C), Yasir Mohammad, Edu Garcia, Hitesh Sharma (Sahil Tavora), Halicharan Narzary(Nikhil Poojary/Rohit Danu), Bartholomew Ogbeche (Javier Siverio), Akash Mishra, Asish Rai.
CFC
:
Vishal Kaith, Reagan Singh, Salam Singh (Edwin Vanspaul), Lallianzuala Chhangte (Ninthoinganba Meetel), Rahim Ali, Anirudh Thapa (C), Ariel Borysiuk, Mirlan Murzaev (Lukasz Gikiewicz), Narayan Das, Slavko Damjanovic, Vlagyimir Koman.
REFEREE
: PRANJAL BANERJEE
In a game of determination to last the longest, Chennaiyin FC pulled off a hard fought 1-0 win over Hyderabad FC, here in a 2021-22 Hero Indian Super League (ISL) match at the Athletic Stadium in Bambolim on Tuesday. Vlagyimir Koman (66' P) scored from the spot to give Chennaiyin a crucial lead, ultimately sealing all three points as Hyderabad were left to rue their wastefulness in front of goal, especially in the first half.
Hyderabad, whose average age of its Indian players in the lineup was just 24, was dealt a major blow early on with Halicharan Narzary limping off in under 10 minutes. That did not deter their resolve to stamp their impression as former ATK Mohun Bagan man Edu Garcia's shot was cleared away in a hurry but Bartholomew Ogbeche could not follow through.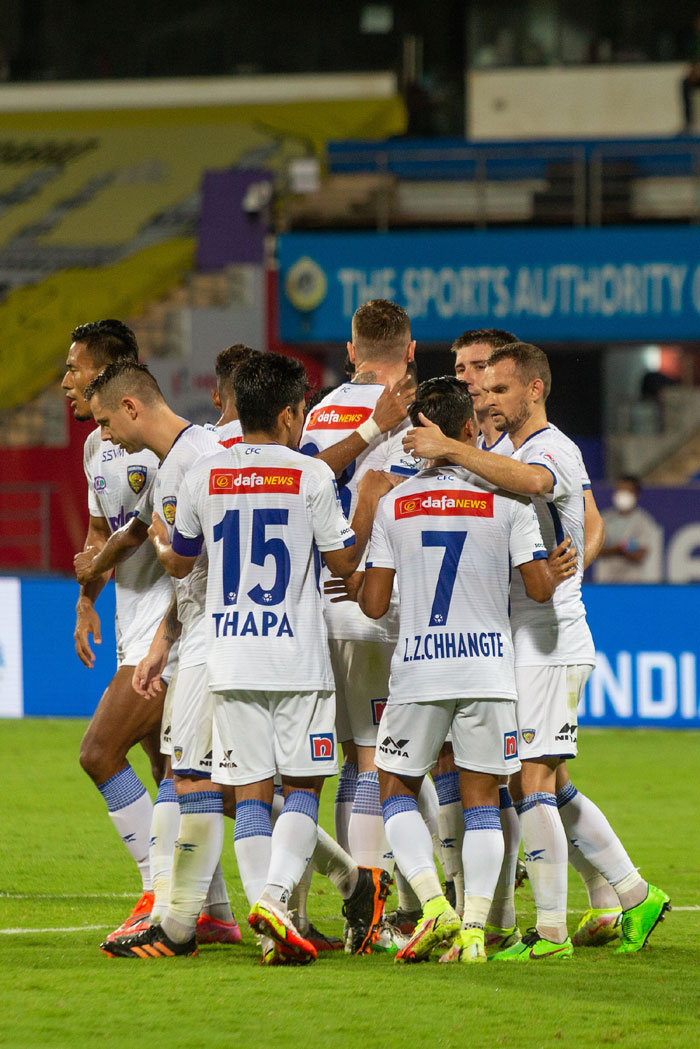 Chennaiyin had goalkeeper Vishal Kaith to thank for keeping the former champions in the game. The Himachal Pradesh-born was tested a few times but he emerged unscathed. Hyderabad were in fact wasteful in the opportunities the brittle Chennaiyin defence gave them. Ogbeche missed more than handy chances but substitute Nikhil Poojary's work-rate near the box only gained him new admirers.
Kyrgyz playmaker Mirlan Murzaev almost gave Chennaiyin a glimmer of hope late in the first half, but his header went off-target from a darting cross in by Reagan Singh. Chennaiyin carried over the momentum post the break. Mirlan Murzaev and Lallianzuala Chhangte proved hard to contain. Chhangte arguably had the best chance of the night when he beat Akash Mishra on the run, cut in and shot hard, only to be tipped off by Kaith.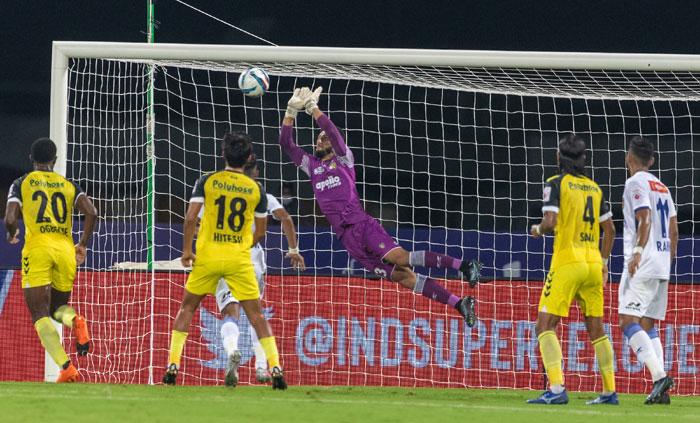 New captain Anirudh Thapa then made it count for his side winning a penalty as he was brought down by Hitesh Sharma inside the box. Former AS Monaco man Vlagyimir Koman stepped up to deliver a powerful piledriver that gave goalkeeper Laxmikant Kattimani no chance, breaking the deadlock with little over 20 minutes to play.
Chennaiyin led against the run of play leaving Manolo Marquez to make four changes at a go. Joel Chianese, Javi Siverio, Sahil Tavora and young striker Rohit Danu were introduced in the 77th minute. However, there wasn't to be another goal as Hyderabad will look for answers ahead of their big game against defending champions Mumbai City next.