NAGALAND - 5th FROLIC Cup 2017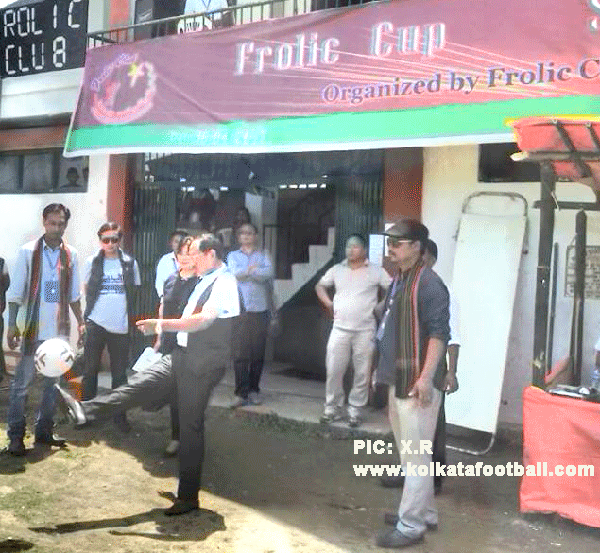 39 teams to take part in 5th Frolic Cup 2017
18.04.2017 : The 5th Frolic Football Cup kicked off today at local ground, Medziphema, with 39 teams in the fray to win the coveted Frolic Cup. Zhaleo Rio, MLA, 5 Ghaspani II A/C, graced the inaugural function as the Chief Guest while Sara S. Jamir, ADC, Medziphema, was the Chief Patron.
Addressing the gathering, Rio cited the examples of Dr. T. Ao, Baichung Bhutia, Sunil Chetri, etc and encouraged the youngsters to remain steadfast on their aim to become reputed sportsmen someday. He further challenged the youth that "if others can, it is also possible for Nagas to excel in all sports, and particularly in soccer, for a football-crazy area like Medziphema sub-division", while kicking home the fact that "hard work and dedication are the ideals every youth should cultivate in order to be successful."
He also welcomed the lone team from Assam to the tournament and at the same time, lauded the efforts of the organiser, Frolic Club, for giving special privilege through the platform of football so that the youths may excel.
39 teams will take part in the 5th Frolic cup, 2017,to be played at Medzizphema from 18 to 29th April by Frolic Club, Medziphema,.
The participating teams are Starlit FC Maova, Khanakhuru students Union, Tsiepama village youth Organisations, Blue Boys Fc Medz, TBCM BKK, Molvom Youth & Students Union, Young menace Khanakhuru, Sporting Club Phaipijang, Young generation Piphema, Kuki Youth Club A Mdz, Kuki Youth Club B Mdz, Lhangkichoi FC, Yiese FC, FC Simlai Sirhima, Hekheshe FC, Kickers FC CMd, Recreer FC Piphema, Khanglai Khaibung, Milcom FC, Leingai FC Mdz,Khaibung FC, Alato FC, United FC Mdz, Sparkle United FC, Sirhima Youth and Students Union, Young Challenger FC, Peduzha FC, Black Hornets FC, Baptist Church A Mdz, Frolic Club Junior, Winfield Mdz, United Falcon Club, Medziphema Village Youth Organisation, Scamper United FC, The Gunners, Genesis FC Mdz village, Rural Legend Cmd,Zougam FC Assam and Tribal FC.
Frolic Club Medziphema formed by a group of like-minded colony youths (Ward-3) with a humble beginning in 1998 and has, till date, over 300 registered clubbers including minors of their colony. Frolic Cup Football Tournament is a biennial event for football lovers, originally introduced for Medziphema and adjoining areas .However over the years its popularity grew from strength to strength and now starting attracting teams even from other districts of Nagaland.
Roll of honour
2008 -Kuki Youth Club, Medziphema
2011,-Excelsior Club, Medziphema
2013- Naga Regiment, Kohima
2015-Tsiepama Youth Club