NAGALAND - 3RD PENALTY SHOOTOUT FUTSAL - 2017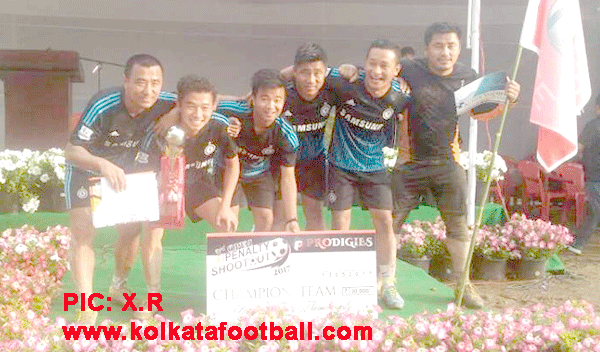 METHELE wins 3rd Open penalty shoot-out football tournament.
13.05.2017: Xav. R : 32 teams will take part in the 3rd Open Penalty Shoot-Out Tournament on May 13 starting at 9.00 am at D. Khel (Seikhazou) Ground, Kohima Village under the aegis of Prodigies Group. The chief guest for the opening function will be Khekaho Assumi , parliamentary secretary , YRS and the guest of honour Kruyie Pienyu, Rtd Joint Director LRD.

3rd Open penalty shoot-out football tournament held on May 13 at Seikhazou, D.Khel Kohima village, organized Prodigies 32 teams took part in the tournament.

Champion – METHELE- Rs. 30,000 /-

Runner-up - SNIPERS Rs. 20,000/-

Third- Zavi's Club -Rs. 10,000/-

Fourth –SHALEKO FC Rs.5000/-

Leketuolie Liezietsu (METHELE) - Best goal keeper (gift coupon worth Rs.5000)

===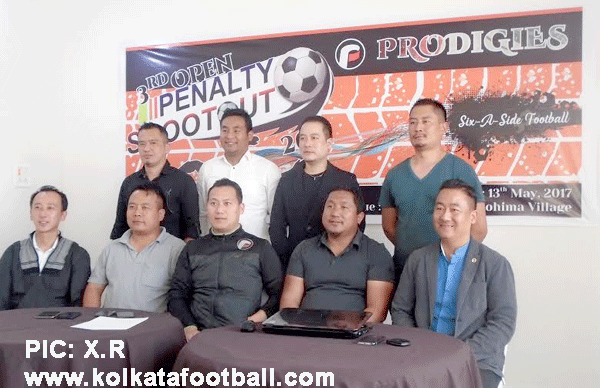 04.05.2017: Xav. R : Prodigies Group under the aegis of Khedi Baptist Church Kohima today announced that the 3rd Open Penalty Shoot-Out Tournament under the motto "Innovating a stronger fellowship" will take place on May 13 at D. Khel (Seikhazou) Ground, Kohima village. 32 teams participated in the 2nd edition last year.

The event aims to provide a platform for the youth to have a positive and uplifting experience, to promote professional football players and clubs and share the stage with them and to create new and strong partnerships with local business communities to sponsor opportunities for people to participate in well-established sporting events.

The organisers also expressed hope that the youth departments in the various churches will participate in the tournament and have an exciting and innovative fellowship through sports.

The tournament will be played on knock-out basis. Rules & Regulations for the tournament

All team shall comprise of six players including a goal keeper

All team shall have either a manager or a coach

All players are to be in matching numbered jerseys

All players are to be in the proper football attires (Jersey set, football boots and football stockings)

Winners Prize - Rs. 30,000

Runners-up Prize - Rs. 20,000.

3rd prize - Rs. 10,000.

4th prize - Rs. 5000

Best goal keeper (gift coupon worth Rs.5000).